Printed from https://www.writing.com/main/view_item/item_id/2028441-Dear-Me-2015
Dear me,

I know it has been a good while since I have been in touch, so I felt this was a good time to check in. I see you, sat there in your fluffy dressing gown at nearly 2pm on a Saturday afternoon. I know you're pretending to rest. But really this is a lie isn't it? You look like you're resting but your mind is racing at 200mph! I'm right aren't I?

The past twelve months has been a real mix of ups and downs. I'm going to simply list the downs so we can move on and concentrate on the positives for the rest of this letter:


Dealing with relationship problems

Finding out that planning a wedding is more stressful than you thought

Getting Chicken Pox at age 28

Chris getting hospitalised in Mexico and you having to come home alone

Breaking my foot

Coming to the conclusion that your depression has returned and going back on pills

Dealing with the fact that breaking your foot has had a long-term effect on your mobility.

Other than the last two items on the list, everything is in the past and don't require you to stew over them any more. Even the last two items, just are what they are. I know you're scared about your foot and the way depression leads to anxiety. But you're dealing with things so well and I am proud of you. Onwards!

Obviously, the wedding was slightly overshadowed by what happened to you and Chris not long after. But it is really important for you to remember what a truly wonderful day you had. Everyone had a great time and everything went exactly to plan. Although, I hope the marriage lasts as I cannot see you wanting to go through all that again.

Also, there is the small matter of an Honorary Doctorate that should make you feel really positive about 2014. Being awarded one of these is a massive deal and you should recognise it as such. You have a habit of brushing off big achievements as nothing. Stop it! Recognise that you're doing well for once!

You're doing well at work too. I know things haven't been as busy or as lucrative as you would like. But what you are doing everything to the best of your ability. I also know you have been looking around at other jobs. There is nothing wrong with that. I think a part-time job to go with everything you do now will do you no harm at all. Consider it.

I'm really impressed with the progress you made with your writing in 2014. You came on leaps and bounds. You started to really get your teeth into poetry; you got a few poems published and won quite a few contests on writing.com. You also completed NaNoWriMo despite thinking you'd crumble. Be proud of yourself and make sure you keep up this momentum.

Now, to this year: You have already made a list of things you would like to do in 2015 over at "2015: Things I'd like to do"
. Make sure you check this regularly to remind yourself of what you should be doing to make yourself happy.

However, before I go on, I need to tell you to relax. Your mind goes 200mph because you want to do everything all at the same time. Stop for a second. You do not need to do everything immediately. You do not need to get up at 6am at the weekends because you think you're going to run out of time. If a blog entry is late for a contest, the world will not end. I am aware that this is a big part of your depression, but beating yourself up will only make things worse. If you do nothing else this year, I'd like you to take note of these two images/quotes: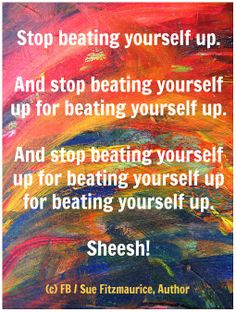 Normally, when people get depressed they sleep a lot to avoid things. As I've pointed out, you don't tend to do this. However, there are two things you've avoided. The first is reading: you love reading. Yet you have only finished one book in the past six months. As the one who runs "The Book Club"
, you should be setting a better example. You wrote a good review ("Book Review: The Calling - James Frey"
) the other week. I'm not going to set you a target for the number of books I want you to read in 2015. Instead, I'm going to ask you to read more so you can write more reviews. There's a purpose for all the books you keep buying but not reading.

The other thing you've avoided for a long time is writing in your journal. Just like you keep buying books and not reading, you keep buying notebooks and not writing. I would like you to sit down at your abandoned desk, at least every other day, and write a page or more of whatever pops into your head. You want to be a writer, don't you? I promise you that both reading and journaling will improve your writing, no end. Cross my heart!

I think I am going to leave things there; I have given you a lot to think about and I don't want to overwhelm you. But I want to leave you with one last thing to remember:



You are a strong, clever and loved woman who can do anything she sets her mind to. Don't ruin it by beating yourself up!



Until next time!

Yours always


Me x


Word count: 912
© Copyright 2015 Fran 🏅🇬🇧🇬🇧🏅 (frannywill at Writing.Com). All rights reserved.
Writing.Com, its affiliates and syndicates have been granted non-exclusive rights to display this work.
Printed from https://www.writing.com/main/view_item/item_id/2028441-Dear-Me-2015