Printed from https://www.writing.com/main/view_item/item_id/2036447-Easter-Bunnies-Newsletter-2015
| | |
| --- | --- |
| | Angel and I are writing another Flair For Writing Newsletter. |
Flair For Writing Easter, Bunnies Newsletter
Editor: Megan Princess Morticia Megan Rose

Assistant Editor: Angel


** Image ID #1967200 Unavailable **


Hello Everyone! It is almost Spring and Easter is coming up. Here is our Easter Newsletter. Angel and I love Easter. We celebrate Jesus being risen from the tomb. Angel wrote a passage and I will be writing about bunnies and Celtic times as it applies to Easter. We hope you will enjoy this newsletter.



Angel has this to say:

Easter, which celebrates Jesus Christ's resurrection from the dead is Christianity's most important holiday. It has been called a moveable feast because it doesn't fall on a set date every year as most holidays do. Instead, Christian churches in the West celebrate Easter on the first Sunday following the full moon after the vernal equinox on March 21. Therefore, Easter is observed anywhere between March 22 and April 25 every year. Orthodox Christians use the Julian calendar to calculate when Easter will occur and typically celebrate the holiday a week or two after the Western churches which follow the Gregorian calendar.

Here in the USA, we celebrate by going to church on Easter Sunday. We dress up in our best dresses and hats. The boys wear cute little suits, little girls with their pink and blue dresses. After church, most of us go home and have a fantastic Brunch. Some of us are cooking a ham, others cooking turkey and many other selections of food for Easter. Parents search for eggs to put in Easter baskets outside by the trees, anywhere in in the yard for our children to go hunt for them. It is fun to watch the kids searching for eggs to put in their baskets and watching the expressions on their faces. I remember creating a big basket for my son when he was a small boy. I miss those times.

I hope you and your family enjoy time together to celebrate Jesus' resurrection. Hugs to you all of you. Angel

Ostara was the fertility Goddess in Celtic Times. Rabbits were her sacred animal. She helped animals have babies as well as humans.,plants grew and food and farming were plentiful. Brightly colored eggs and chicks were left for Ostara for her gifts of abundance.

The Easter Bunny is a folkloric figure and symbol of Easter, depicted as a rabbit bringing Easter eggs. Like Santa, the Easter Bunny decided which children were good and received Easter goodies.

Sometimes, the Easter Bunny wore clothes and carries a basket filled with colored eggs and toys to homes of children and would bring them the night before Easter. This was first a German tradition.

Eggs like rabbits are fertility symbols. Birds laying eggs and rabbits having babies became symbols of the rising fertility of the earth at the Vernal Equinox. Female rabbits can become pregnant with a second litter while still being pregnant with the first litter. It is no surprise that rabbits are associated with Easter folklore.

Eggs are sometimes dyed red in association with the sacrificed Christ. Mary Magdalene found one of these at a feast and showed the King who sentenced Jesus to death that this was a sign that Jesus was still alive and coming back. The King didn't believe her but he soon found out it was true. Children love to dye eggs of different colors. Like Angel, I loved dying Easter eggs with my son and hiding them and giving him prizes for finding them.

Some countries have a witch wizard instead of an Easter Bunny. I think witches are for Halloween and bunnies are for Easter.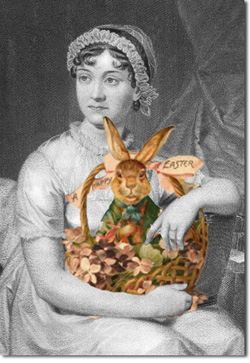 Here is our Easter Newsletter. Angel and I hope you have enjoyed this newsletter. Have a Happy Easter!




© Copyright 2015 Princess Morticia Megan Rose (tigger at Writing.Com). All rights reserved.
Writing.Com, its affiliates and syndicates have been granted non-exclusive rights to display this work.
Printed from https://www.writing.com/main/view_item/item_id/2036447-Easter-Bunnies-Newsletter-2015