Printed from https://www.writing.com/main/view_item/item_id/2061778-A-Princess-Hopes-For-Something-Beautiful
| | |
| --- | --- |
| | A Princess must enter the forest to receive a special gift. |
The beautiful Princess had been married for a few years.
She wanted a child but was told that she couldn't have children.
The Princess left the castle late one night. She had until Midnight
to get her wish fulfilled and she left in plenty of time. It was a scary night.

The clouds were grey. The land by the forest
was barren and so was she. She felt so sad.
She crossed the bridge but a troll jumped out of his house and
she thought that she was doomed. She drew her sword and the
ugly, nasty, mean troll backed off. She entered the dark forest.

A fairy with sparkles and wings of bright
hues appeared. The fairy smiled and looked
into the Princess' sad eyes. "I know why you
are here. Your eyes reflect pain."
The fairy threw magic dust on the Princess. The Princess sneezed.

She felt different. A bell sounded. It was midnight. Could it be?
Yes! Her wish had been granted. The fairy told her to go home
to the castle to her Prince. The Princess thanked her. She headed
home. The Prince asked where she had been. She smiled and kissed him.

The Princess got her wish. She and the Prince had their baby a year later.
They had three more children and ruled the land years later. The fairy flew
to the castle to look at the children. The fairy was happy. She loved granting
wishes. She flew home to the forest on Pegasus. All was right with the kingdom.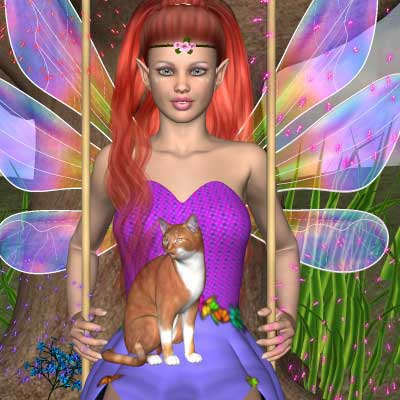 ** Image ID #937475 Unavailable **


© Copyright 2015 Princess Megan Rose (tigger at Writing.Com). All rights reserved.
Writing.Com, its affiliates and syndicates have been granted non-exclusive rights to display this work.
Printed from https://www.writing.com/main/view_item/item_id/2061778-A-Princess-Hopes-For-Something-Beautiful