For a full list of previous issues, go to: "Blogging Bliss Newsletter Archives"


Get Blogging Bliss automatically each month.
Subscribe at:
"Blogging Bliss NL Subscription Request"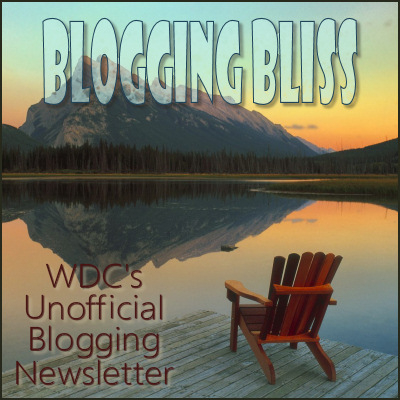 November, 2015
Issue: Thirty-Five
This issue is rated
ASR
per WDC's "Content Rating System (CRS)"

NOTE: Items linked in this newsletter may be of a higher rating.
Publisher/Editor-in-Chief:
Wordsmitty ✍️
Editor:
Fivesixer
Proofing Assistant:
QueenOwl ~ A New Day Dawns


1. Editor's Note
2. Featured Topic
3. Editor's Picks
4. Welcome
5. Blogging News
6. Blog Events
7. Special Item
8. Miscellaneous


This Month's Editor:
Wordsmitty ✍️
Hello again. Another month, and another edition filled with all the blogging info you're been waiting for.
This month the Feature dives into the realm of having multiple blogs. It's not for everyone, but many do have more than one. When you consider the points, maybe one isn't enough.
I know many may not have had much time to blog while doing NaNoWriMo, but there's still been lots of good entries and new bloggers as well as old blogs being reenergized. Make sure to give them a read and let them know you did.
Also, remember to drop us an email or leave a note in the
Blogging Bliss Newsletter Forum
if you have an idea for the newsletter or have a good tip on a blog. Enjoy this issue and let us know what you think.
Keep on Bloggin'!
WS

One Blog, Two Blog, Three Blog, More?
by
Wordsmitty ✍️
Most of us use our blog for anything that strikes us. We may wax on the beautiful morning walk and include a rant on a prompt we say. It might even include a few lines of a poem that popped into our head while we wrote. All sorts of little bits. After all, as a type of journal, that's what it's for.

However, I'm sure we discovered that some folks have multiple blogs. Not just old, filled ones, but different ones for different things. One for this group's blog prompts and another for another group's. There may be one for discussing ones writing, one for work, one for family, one for writing ideas, and even one just for stories. These may all be on WDC or some may be here as well as on other web sites.

So, you may be wondering why have all these blogs and whether you should have more than one. The simple answer is "why not?" For the longer answer, we need to look behind what's driving these.

First, let's consider what a blog is. It's a "web log." A log is used to track something. Many of us probably forget this base since we just consider it a journal by date whether it's daily or less (or more) frequent. However, blogs can also be by topic or event or collection of thoughts. This would sure make it easier if you ever needed to find something rather than have everything in one blog and each entry.

Second let's consider readers. If you're just doing entries about your daily life or family, you may want to have those just available to friends and family. Or those who want to read that may find it better to not have to sift through all your daily prompt responses that they may not be interested in. Limiting who can see your blog may not be that important to you, but keeping track of entries that are done for different reasons could be very helpful. Ever tried to find an old entry that didn't have the piece you were looking for in the title?

Third (as we continue a list) is to decide how many different things are in your entries and how you format and title it. Doing all blog prompts in one blog may make sense. Each can have section with a header to tell them apart. The trick may be to have the prompt subject in the entry's title. If you're not searching for the prompt, then that may not matter.

A work blog or specific subject blog that focuses on a single topic may be the most obvious to have as a separate blog. These are usually serious blogs that would be better served by standing alone. The same might be true for personal blogging, the old diary type journal.

Of course, this brings us to what might be the most important factor: how much do you blog or look back at blogs? If you have short entries and responses to prompts, putting them all together would be simple and easier than doing lots of separate entries. Having multiple blogs can take up more time and require you to remember all those you have and put things in the right place. Organization always takes time and it just may not be that important.

So the next time you're considering giving your blog a face-lift, think about whether you've grown beyond a single blog as well. You can always have more than one. It's your blogging.
Please note that some blogs are restricted to Upgraded Authors and higher.
"You Mean I'm Going to Die?!"
by
vivacious
"Dear Diary"
by
Cobe
"Invalid Entry"
by
L.L. Zern
"Everyday Things"
by
sindbad
"Invalid Entry"
by
PuppyTales
"Invalid Entry"
by
angela32
"Invalid Entry"
by
Shana-Batgirl-Allen ~WeGotThis
"Stray leaves"
by
Bryce Kenn


Here's a WDC member's off-site blog:

The Philadelphia Museum of Art
by
Inked Bday Girl - 30 on 7/4


This is one from the Internet:

3 Kick-in-the-Pants Tips to Unleash Your Creative Awesomeness
We'd like to welcome the new bloggers, old bloggers starting a new blog, and blogging restarting their entries in old blogs after a break. Please note the rating on each blog.
dwarf2012 with blog "Invalid Item"
innerlight is healing
with blog "Invalid Item"
elusive ennui warm inside
with blog "Invalid Item"
Greenspring
with blog "Invalid Item"
Kerri J. Miller
with blog "Invalid Item"
Budroe
with blog "Invalid Item"
J. M. Kraynak 8th Year at WDC
with blog "Invalid Item"
IdaLin
with blog "Me, in thoughts and phrases"
[18+]

Maineiac
with blog "Invalid Item"
Take some time and check out all of them.

CONGRATULATIONS
to 30-Day Blogging Challenge
October 5 Day Mini Challenges Participants. There's too many to list here, so please check out the Winners and all others celebrating at Invalid Item
.


CONGRATULATIONS
to Blogging Circle of Friends
Blogger of the Week:


October 18, 2015 to October 24, 2015 - Princess Megan Rose
October 25, 2015 to October 31, 2015 - Seshat
November 1, 2015 to November 7, 2015 - ShelleyA~9 years at WDC
November 8, 2015 to November 14, 2015 - ShelleyA~9 years at WDC
November 15, 2015 to November 21, 2015 - MD Maurice

There's always blogging things happening. Check out these:

Blogger's Tips-N-Tricks

Are you editor material or would you just like to help with the Blogging Bliss?
We're looking for editors and guest writers. As part of the staff, you get all the pleasure out of bringing to readers great blogs you've read, spectacular ideas you have about blogging, and magnificent news from blogging activities all the while improving your writing craft beyond just putting words on a page. And it's a lot of fun.
Please let me,
Wordsmitty ✍️
or one of the other editors listed at the top know, and you too could see your byline distributed across WDC.
Do you have a question or a topic about blogging?
We'd like to hear your feedback and comments on our newsletter. It's very important to us to know what you think.
Plus you may get your blog featured in a future newsletter.
Blogging Bliss Newsletter Forum (E)
Discussion of ideas and suggestions about blogs and the Blogging Bliss newsletter
#

1911857

by Wordsmitty ✍️
.



To read the blogs of WDC members, please go to:
Official Blog Page
.
If you have a blog entry that you'd like to promote, whether it's yours or someone else's please visit:
"The Blog Board"
(may also be accessed under Things to Do and Read).



LOOKING FOR GUEST WRITERS:
If you think that you'd like to be a guest writer for our newsletter, please let us know because we're looking for YOU. Please contact: Wordsmitty ✍️
or any of the editors listed at the beginning.



WE HOPE YOU ENJOYED THIS MONTH'S ISSUE.
We thank you for your readership and we'll see you next month.


UNTIL THEN, HAPPY BLOGGING!