Printed from https://www.writing.com/main/view_item/item_id/2104600-Woman-and-Wolves-A-Snowy-Day
| | |
| --- | --- |
| | A poem for Stormy's Poetry Contest about a woman, wolves and the snow. |
I won a honorable mention in Stormy's Contest.

Words to use: blanket, glow, snowflakes, trees, twinkle, silence, coat, light

A beautiful blonde woman walks in the woods,
a blanket of snow covers the ground
and the woods are pretty as the snow twinkles
The woman has her white wolves to protect her.

The sun barely shines but gives off enough light.
The woman and wolves are content and she smiles.
Trees bow down to her as she walks by.
Silence is golden. The wolves run ahead.

A man appears. He is the woman's knight and she is a
Princess. They embrace and share a kiss. He puts his
coat over her shoulders and pets the
wolves. The Princess has a certain glow today.

The King has given his permission for the two to marry.
The Princess and Knight are happy and in love. Clouds
appear and snowflakes are falling.
They laugh and the wolves chase and bite at the flakes.

It is a good day. A wedding will take place soon. The snow
will be gone. The Princess and Knight will have a beautiful
Wedding and the wolves will be there and the kingdom
and everyone in the land will have a beautiful life.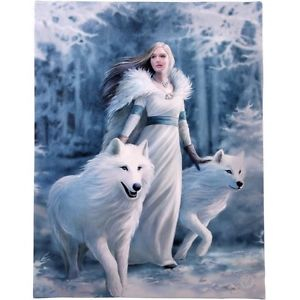 © Copyright 2016 Princess Morticia Megan Rose (tigger at Writing.Com). All rights reserved.
Writing.Com, its affiliates and syndicates have been granted non-exclusive rights to display this work.
Printed from https://www.writing.com/main/view_item/item_id/2104600-Woman-and-Wolves-A-Snowy-Day