Printed from https://www.Writing.Com/view/2110906
Jane Austen Newsletter February 2017
Editor: Princess Megan Lily Munster


Hello Janeite Fans:

February. Valentines Day. A perfect month for a Jane Austen Newsletter. I am happy to write the latest edition. Jane didn't have a steady man but I bet she enjoyed going to the balls and did her best romance writing during this month. I could take a lesson from her.

Jane Austen has a coin with her picture on it. Okay. Silhoutte image of her. It is available in the United Kingdom. I would love to get my hands on one of these. I just had to share this.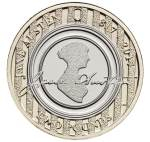 "Pride and Prejudice" was published January 28, 1813. Another four years and the novel will be 200 years old. When it was published, Jane's name wasn't on it as the author. This is so sad. She got credit for her novesl later. Darcy will be 200 years old as well. His character, anyway. No matter who plays Darcy, Colin Firth is the best Darcy. I did like Matthew Rhys in "Death Comes To Pemberly." I also like the handsome Darcy in "Lost In Austen." I want to thank Witchy Lyn
♥OctOGRE tHiNg♥
~Minja~
for letting me know my favorite Jane Austen Novel was published on this date. I love reading sequels of the P&P characters and writing my own. Happy Birthday, Pride and Prejudice!

I also read that weddings are being planned based on the Jane Austen wedding dresses in Jane's time. I would love to have had a Jane Austen Wedding. How many of us could our grooms to dress up like Mr. Darcy? I think my husband might have going along with it. He didn't like wearing a tux so dressing like Darcy shouldn't have mattered. Guess I will never know. A Wedding on Valentines Day would be nice as long as it didn't snow. A beautiful Jane Austen Wedding. I can appreciate it.

Jane Austen's favorite author was Fanny Burney and Jane got her writing ideas from her. Fanny despised the lower classes because in real life, Fanny was rich and in a better position then Jane Austen. Fanny's novel "Evelina" was about a rich family and the servants were described as lower class as well as the nurse. Jane loved this author but Jane didn't write about the lower class like this. She had respect for them. So, would this Fanny consider the Bennett sisters lower class? I have never heard of Fanny Burney and if I came across her novel, I might read it. Jane admired it. This Fanny Burney was "Mistress of the Robes" to Queen Charlotte. She was known as a famous author but I had never heard of her.

Jane had 33 nieces and nephews and they never thought of her as an author. They thought of her as Aunt Jane and they loved her. This is sweet.

Adam Roud is working on a sculpture statue of Jane Austen and it will be displayed in Basinsstoke where Jane's father had his Rectory. It is supposed to be completed by the 200th Anniversary of Jane's death later this summer.

This is all I have this month. I hope to be back next month with another newsletter and more news about the 200th Anniversary of Jane's Celebration Activity. Thank you for reading.


The Darcy Writing Challenge (ASR)
Writing challenge to earn the Darcy Merit Badge.
#

2077921

by Princess Megan Lily Munster
Jane Austen Writing Challenge (ASR)
A Writing Challenge for all Jane Austen Fans.
#

2017404

by Princess Megan Lily Munster
Jane Austen Meeting Place (ASR)
A place to meet other members and write about what you love about Jane Austen.
#

1992432

by Princess Megan Lily Munster
Jane Austen Discussion Forum (ASR)
A Forum for authors and members who love Jane Austen.
#

1710273

by Princess Megan Lily Munster

** Image ID #2105954 Unavailable **


© Copyright 2017 Princess Megan Lily Munster (tigger at Writing.Com). All rights reserved.
Writing.Com, its affiliates and syndicates have been granted non-exclusive rights to display this work.
Log in to Leave Feedback
Printed from https://www.Writing.Com/view/2110906