Printed from https://www.writing.com/main/view_item/item_id/2111976-A-Dance-In-The-Yard
(2)

by

w0lfbane

A dance within the afterlife, written for Dark Dreamscapes Poetry Contest.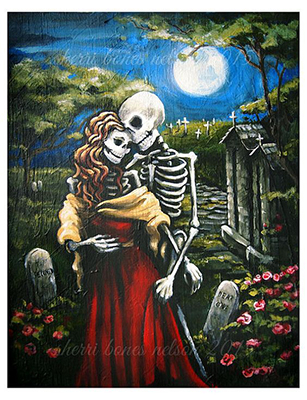 A Dance In The Yard

Will you be mine for all eternity?
I will caress you inside of our grave.
These roses succle with fertility.
For you, it's something special that I gave.
And now it's time for me to be your slave.
We lay together in unending dread.
I long to hold you and your soul I'll save.
As nothing rolls around inside my head.
Now finally you are up, no longer dead.
Within moonlight, why don't we take a walk.
Your dress stained colors; that blood loving red,
But their is no sound when I try to talk.
So I'll throw some rose pedals on the ground,
To show you my love as we dance around.

(Spenserian)
112 words
14 lines
© Copyright 2017 w0lfbane (w0lfbane at Writing.Com). All rights reserved.
Writing.Com, its affiliates and syndicates have been granted non-exclusive rights to display this work.
Printed from https://www.writing.com/main/view_item/item_id/2111976-A-Dance-In-The-Yard