Printed from https://www.writing.com/main/view_item/item_id/2114071-Jane-Austen-Newsletter-March-2017
Jane Austen Newsletter March 2017
Editor: Princess Megan Rose


Hello Austenites
March. Spring. Flowers, rain, Bunnies, Pemberly. Notice the cover. I would rather be at Pemberly. I am with ♥HOOves♥
on this who tells me she is going to Pemberly today. Meaning, she is reading "Pride and Prejudice." Who wouldn't want to see Darcy on a nice Spring Day? This is what's new with Jane Austen.

Someone wrote Darcy should have been 40 some years old and not good looking but appealing. It was also written that he should have sagging shoulders and white hair. Colin Firth wouldn't have fit this part and Darcy was perfect the way he was. Colin Firth is my Darcy. I think you would agree.

The 200th Anniversary of Jane Austen's death will include exhibitions, talks, tours and teas. Toasting with tea? Why not? It is Jane Austen. 12 novel quotations will be written on benches. There will be Jane Austen picnics at Jane's House Museum in Chawton and at Winchester Cathedral where Jane is buried. What I could find out, this will be at Bath.

There is a stage play about young Jane Austen from the book "Meeting Miss Austen" by Cecily O'Neill. This is about Jane as a teen-ager and she talks about her dreams and hopes for love and marriage. I hope to read the book and seeing the play would be nice, too.

I also read an opera is being planned using one of Jane Austen's novels. I am not sure if I would like an opera about one of Jane Austen's novels. I like opera but a Jane Austen opera, I am not so sure.

Another L5 Note picture of Jane Austen was given in payment at Charlie's Bar in Ireland. I would love to have one of these to add to my Asian money and Queen Elizabeth money my Dad bought me home when he was in the Air Force and Viet Nam. How sweet this Jane Austen note would be to add to my collection.

Charlene Turner Smith. Helen Maria Williams. Mary Robinson. Catherine Crowe. Never heard of these ladies? Me, either. Let me tell you about them. They were women writers from 1760-1910. Charlene Turner Smith was abused by her husband and turned to writing. She was one of Jane's favorite authors. Helen Maria Williams was a War Correspondent reporter and she wrote some romance novels. Catherine Crowe wrote stories like Edgar Allan Poe. Mary Robinson wrote like Charlotte Bronte. I found this info interesting.

A TV Channel in Italy that shows Catholic Masses and Doris Day Shows are going to air "Pride and Prejudice." The Bishops have concerns about Darcy's scenes being in the water with his wet shirt on. This shouldn't be a problem. I know Italian women will love it.

This is all I have this month. I want to thank everyone who reviews and appreciates my Jane Austen items. I hope to be back next month with another newsletter for all you Janeite Fans!


The Darcy Writing Challenge (ASR)
Writing challenge to earn the Darcy Merit Badge.
#

2077921

by Princess Megan Rose
Jane Austen Meeting Place (ASR)
A place to meet other members and write about what you love about Jane Austen.
#

1992432

by Princess Megan Rose
Jane Austen Discussion Forum (ASR)
A Forum for authors and members who love Jane Austen.
#

1710273

by Princess Megan Rose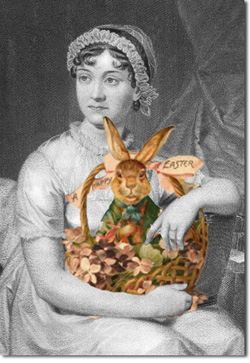 ** Image ID #1767030 Unavailable **
** Image ID #2098665 Unavailable **

© Copyright 2017 Princess Megan Rose (tigger at Writing.Com). All rights reserved.
Writing.Com, its affiliates and syndicates have been granted non-exclusive rights to display this work.
Printed from https://www.writing.com/main/view_item/item_id/2114071-Jane-Austen-Newsletter-March-2017