Printed from https://www.Writing.Com/view/2125468
(56 lines)( word count 354)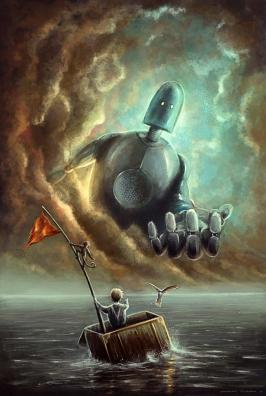 The Calm In The Storm

I know I am just a little tomboy,
from me, I doubt you will believe a lot.
But, I saw this for myself and
I'm telling you - Jesus is a robot!


My brother and I were in
a dingy behind our daddy's boat.
The rope that tied us together
fell into the water, but it didn't float!.

A storm was coming toward us.
A wind pushed our boats into the swells.
We were no longer in the safety of
our dad, he didn't hear our yells.

My brother did not understand.
The trouble we were in.
He climbed about the sails as if
he knew how to swim.

When I couldn't see my daddy
or his boat anywhere.
The only thing I knew to do
was to bow my head in prayer.

" Jesus, I know you love me, the
Bible tells me this.
Could you please help me and
my brother get out of this mess?

And if you could, dear Jesus,
could you let us see you there?
I hope you are not mad and
Your face doesn't give us a scare.

But could you please get us
back with our dad again?
I promise to be good and do my
chores,- Amen"

Just as I finished praying, the
clouds began to split,
I bright light filled the sky,
In fear, I yelled, "oh spit!"

Just when I 'bout wet my pants,
The bright light dimmed.
That when I blinked my
eyes and that's when I saw Him.

He said to us, "fear not, for I have
come to help you. Because I care
I am robot- like in your eyes
so your brother I wouldn't scare."

He reached out toward us and
then we were once again.
Behind our Daddy's fishing boat
in our dingy headed toward dry land.

My Daddy says I must have fallen
asleep or maybe hit my head.
I decided to let it go and
keep the truth to myself instead.

My dad almost had me convinced
Until I looked again to the sky.
Through a cloud a robot hand
emerged and gave a wave goodbye.

















© Copyright 2017 Maci (maci202 at Writing.Com). All rights reserved.
Writing.Com, its affiliates and syndicates have been granted non-exclusive rights to display this work.
Log in to Leave Feedback
Printed from https://www.Writing.Com/view/2125468