For a full list of previous issues, go to: "Blogging Bliss Newsletter Archives"


Get Blogging Bliss automatically each month.
Subscribe at:
"Blogging Bliss NL Subscription Request"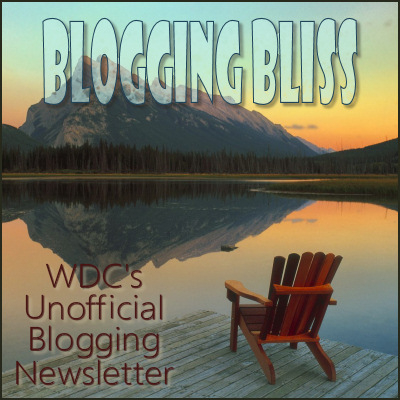 February 2018
Issue: Sixty-Two
This issue is rated
ASR
per WDC's "Content Rating System (CRS)"

NOTE: Items linked in this newsletter may be of a higher rating.
Publisher/Editor-in-Chief:
Wordsmitty
Editor:
Fivesixer ☮
Proofing Assistant:
QueenOwl Is Back


1. Editor's Note
2. Featured Topic
3. Editor's Picks
4. Welcome
5. Blogging News
6. Blog Events
7. Special Item
8. Miscellaneous


This Month's Editor:
Wordsmitty
Hello, blog enthusists. Hope the new year has filled you with great writings and blogs - yours or others you've read. There's been many great offerings, and there's a few we've enjoyed listed below in Editors Picks, that you will enjoy. Make sure to leave a "Like" or Comment when you read.

Even though February has been a short month and almost over, there's been new and revitalized blogs appearing. Check each out because you may find a new (or an old) friend as well as enjoy their blogging.

A short month means a short Feature. No, it's not how to create the shortest blog ever (you can search that on the web, though). It's more soul searching of a blogger. Read and you'll see.

Remember the Quills are coming up and you can also start nomination for the 2018 Quills. The Blogging Bliss is proud to be one of the sponsors for the Best Blog Award. You, too, can help by supporting the Quills with a donation. It's a lot to do as well as takes a lot to give out those awards. Remember, this is by members of WDC and not WDC itself.

The latest blogging events and news are listed below. There's many, so you should be trying (blogging or reading) lots of different ones.

Keep on Bloggin'!

WS

Soul of the Blogger
by
Wordsmitty
Blogs are more personal than other writing. Not that they need be about the person, but they most often come from a deeper feeling than your average story. Poetry is typically similar as it builds on eliciting images and feelings from the reader. But a blog is formed by words that come from images and feelings of the blogger brought directly and quickly from mind to page, usually without extensive editing and revision.

Oh, my. Heavy stuff. Simpler might be better.

When someone blogs, they usually don't go through a lot of planning or character studies. The stuff, oops, words they use come naturally. I've never heard of anyone stopping to check a thesaurus to find a better word. Nor do the phrasing and structure of paragraphs get a pause to see if action is building or falling to keep the tension and hold the reader.

So you say that's because blogs don't matter that much. Really? It's just like practice. Seriously? There isn't a beginning or ending with a thread leading the reader through. You're kidding, right?

If that were true, wouldn't blogs just be rambling bits and jumbles? They aren't (mostly), so how can that be explained? Magic?

In a way, yes. It's the magic of the writer's/blogger's mind. It has learned how to put thoughts down in a coherent way. It may not be absolutely perfect and occasionally stumble on technical points, but it weaves a story of sorts, perhaps a snapshot of one might be the way to explain it.

If it's flowing automatically, does that mean it's coming close to the core of the blogger? It could be the deep wishes, hidden emotions, or just plain personal beliefs, especially if you follow a blog over time. Consider it chapters of a book that may need assembly or clues to a mystery.

Of course, it doesn't seem mysterious. It just seems like everyday life, ponderings, knowledge shared. But when you add all that up, the result can be surprising. Ask anyone who analyzes people.

A blog is personal to the blogger and reveals the blogger to the reader. Without conscious effort, bloggers are baring their souls, aren't they?

Blogs may be restricted to Upgraded Authors and higher. These entries may have a lower content rating than the overall blog.
"Yesterday's.. no, wait! Every day's frustrations!"
from "
Confessions of a girl who sail the world
"
[
GC
] by
~Minja~
"Laugh, play, dance, and sing"
from "
Caerlynn's Positivity Cafe
"
[
13+
] by
Caerlynn
"So if you need a hero, just look in the mirror."
from "
Selah // Something Witty
"
[
13+
] by
LdyPhoenix
"It's Time to Twist and Shout"
from "
Shadow Puppet Storyteller
"
[
18+
] by
Walkinbird
"Wow... did I go off in a different direction."
from "
"Oh, Really, Joey, you can't say that!"
"
[
18+
] by
Why Joey... Loves The Beach
"Late Summer"
from "
Musings from the shores of Lake Taupo
"
[
E
] by
Belingwe
"Addiction is a strange thing"
from "
What's up with Whatsit
"
[
ASR
] by
Mrs. Whatsit
"The Drifter"
from "
Is This For Real?
"
[
18+
] by
HWinB.C.
"I'm feeling like sunshine! "
from "
Behind the scenes with Hanna
"
[
13+
] by
Hanna ~ Living in my own world
"Awake"
from "
Blog
"
[
E
] by
drifter
We'd like to welcome the new bloggers, old bloggers starting a new blog, and bloggers restarting entries in old blogs after a break.


Iris Blume
with blog "Mumblings of a Writing Addict"
[E]

Genipher
with blog "What's Genny For?"
[E]

JASmith
with blog "February 2018 and Forward"
[E]

Lostwordsmith
with blog "Wandering- Not Lost"
[GC]

Bhaskar
with blog "Kuwait Diary"
[ASR]

Tileira
with blog "Dragon Daughter"
[18+]

QueenOwl Is Back
with blog "Journal/Blog"
[E]

LJ-Swinging on the stars
with blog "Invalid Item"
Autumn
with blog "Invalid Item"
Seshat
with blog "Our Mommy & Daddy by: Popeye & Destiny"
[E]

Go check out all of them and leave a Welcome or Welcome Back.

CONGRATULATIONS
all bloggers and members who have turned or returned

Y-E-L-L-O-W

this month.



K.HBey
Gypsy Ann 🐿
Legendary Mask aka Girlw/a💓
Genipher
All Smiles ...
Prosody
D.B.
Schezar
Sew-no-more 🤗
Ironworker
S.z.kamoonpuri
PureSciFi - And the Oscar goes
Bryce Kenn
Veritas
Kerri J. Miller 🐾
Jim Hall
Azrael Tseng
timtu in touch with his i.d.
Rhoswen - Relentless Victory
CanImagine
Golden Eagle Eye
Cat Voleur
CONGRATULATIONS
to Blogging Circle of Friends
Blogger of the Week:


January 21 - January 27 - Chris Breva Quills Sponsor
January 28 - February 3 - MD Maurice
February 4 - February 10- QPdoll
February 11 - February 17- Chris Breva Quills Sponsor

There's always blogging things happening. Check out these:
"30-Day Blogging Challenge"
by
Fivesixer ☮
. March will be an Official month. Get there and blog!
"Blogging Circle of Friends "
by
CJ Reddick
. Always on. Join and get daily prompts plus chat a spell at:
Blogging Circle of Friends Prompt Forum (E)
This is the forum where blog prompts will be posted for the Blogging Circle of Friends.
#

1901904

by Lyn
"Blog City ~ Every Blogger's Paradise"
by
Lyn
. Take up residence or just get a second home to receive blog prompts and enjoy community events. Now offering prompts seven days a week. Stop by City Hall for:
Blog City Building Permit (E)
Blog City Building Permit
#

1779478

by Lyn
"Blog Harbor from The Talent Pond"
Sail in with
Jeff
to even more blog prompts and fun.

Blogger's Tips-N-Tricks
Did you ever think about publishing your blog or making a backup for when your Internet connection goes down? Sure, you can copy-and-paste from each entry and the intro, but there is an easier way.
Just send 100 billion gift po . . .
Just open your blog and click the gear icon in the upper right. Then click the "Export as HTML." What's HTML you may be wondering.
Let's just say that it's sort of the code that your browser uses.
A pop-up window appears with a box inside it. Under that is a list of "Quick Instructions." Follow those or just save as a file with htm or html extension, then open in your browser. Whatever app you open the export in, you can save or print.
Why not just use the little "printer icon" in the upper right of your blog? Because it, unfortunately, only prints one page that is currently showing in your browser. That may only be ten entries. Of course, you could print one page at a time depending on how long you have to sit and do this.
And if you're wondering how best to save your blog, you might want to consider saving it as a PDF file. Many applications, like newer Microsoft Word, can do this. Current Apple Mac systems can from about anything.
All you need now is a cover and a binder or stapler to start assembling that blog book. *read*

Are you editor material or would you just like to help with the Blogging Bliss?
We're looking for editors and guest writers. As part of the staff, you get all the pleasure out of bringing to readers great blogs you've read, spectacular ideas you have about blogging, and magnificent news from blogging activities all the while improving your writing craft beyond just putting words on a page. And it's a lot of fun.
Please let me,
Wordsmitty
or one of the other editors listed at the top know, and you too could see your byline distributed across WDC.
Do you have a question or a topic about blogging?
We'd like to hear your feedback and comments on our newsletter. It's very important to us to know what you think.
Plus you may get your blog featured in a future newsletter.
Blogging Bliss Newsletter Forum (E)
Discussion of ideas and suggestions about blogs and the Blogging Bliss newsletter
#

1911857

by Wordsmitty
.



To read the blogs of WDC members, please go to:
Official Blog Page
.
Also you can click on Bloggers in the WDC lefthand column.



If you have a blog entry that you'd like to promote, whether it's yours or someone else's please visit:
"The Blog Board"
(may also be accessed under the Community link in the WDC lefthand column).



LOOKING FOR GUEST WRITERS:
If you think that you'd like to be a guest writer for our newsletter, please let us know because we're looking for YOU. Please contact: Wordsmitty
or any of the editors listed at the beginning.



WE HOPE YOU ENJOYED THIS MONTH'S ISSUE.
We thank you for your readership and we'll see you next month.


UNTIL THEN, HAPPY BLOGGING!
If you would like to not get the Blogging Bliss monthly, you may unsubscribe from "
Blogging Bliss Newsletter Subscribers
"
by going to the left column under My Account and click on Group Memberships (or click this link
Group Memberships
) then click "Leave Group."