Printed from https://www.Writing.Com/view/2197213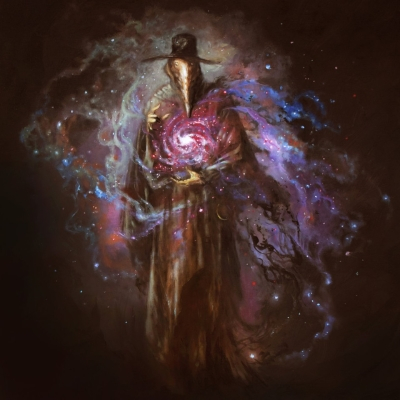 Leaving Earth an eon ago,
in stasis, until this morning.
Destination, Praxis III.

Eager faces all, we gather
for a look through the viewport
to gaze upon our future home.

"What is that?" a sharp voice asks.
Coming into view a maelstrom,
filling the space ahead of us.

Firing of the spaceship's rockets
causes a change of course - too late.
The maelstrom couldn't be avoided.

Squealing and groaning, the ship's pulled
into the fey bending of space
where no stars exist for guidance.

Would we be lost here forever?
A shape appeared in the distance.
A ship to show us the way out?

The shape drew near -an octopus?
Fearful minds debate - does it live?
While deadly weapons are deployed.

Not deterred by explosions, it's
like an arrow staying on course,
one of its arms circling the ship.

Into its giant ichory maw,
the ship is effortlessly pulled.
The voyagers lose all their hope.

Filled with people deep in stasis,
a ship, in a space octopus,
roams a maelstrom forever lost.

* * *

30 lines

Form: blank verse: unrhymed verse, especially the unrhymed iambic pentameter most frequently used in English dramatic, epic, and reflective verse.

Structure: 8 syllables per line.

Note: this is my first try at blank verse.
© Copyright 2019 Paul D (pdmarques at Writing.Com). All rights reserved.
Writing.Com, its affiliates and syndicates have been granted non-exclusive rights to display this work.
Log in to Leave Feedback
Printed from https://www.Writing.Com/view/2197213