Jake McCrary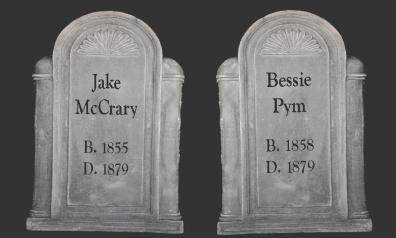 Jake McCrary, dead and buried,
mouldering in the grave.
Sweet Bessie Pym lies next to him
whose soul she tried to save.
Young Bess began her marriage plan
before she turned sixteen.
A wedding cake for her and Jake
was long her fondest dream.
Bess learned to sew, to tie a bow,
and bake an apple pie.
She grew up fair with honeyed hair
and caught Jake's roving eye.
Jake liked to ride and sleep outside,
he tried the cowboy way.
But dung stained tails on dusty trails
soon wore the shine away.
For Bessie's sake he tried to make
a life of settle down.
But dry goods stores and stable chores
were traps that Jake called town.
A dollar a day ain't much pay
and work clothes did not suit.
A gun that's fast can earn quick cash,
so Jake learned how to shoot.
A hired gun may get things done
the law does not approve.
When men get shot the scene gets hot
so Jake stayed on the move.
Though fond of Bess, Jake could not rest,
excitement drove him on.
Drunken whirls with dance hall girls
became his siren song.
The cash he sent remained unspent
Bess didn't want the loot.
She hatched a plan to save her man
and spare him from the noose.
She cast her lure and Jake took spur,
sweet Bess he yearned to see.
But Sheriff John Tate did lie in wait
to end Jake's outlaw spree.
"Love must survive, take Jake alive,"
Bess begged of Sheriff John Tate.
"Now don't you fear, Bess just stand clear
when Jake comes for the bait."
"Just do your time and you'll be mine,"
was Bessie's urgent plea.
But filled with fear when Tate appeared
Jake spurred his horse to flee.
"You lousy cur, yer dead fer sure!"
The sheriff took deadly aim.
Love did not yield; Bess made a shield
and snuffed the muzzle flame.
Filled with remorse, Jake stayed his horse
and turned to make a stand.
A bullet ripped and down he slipped
where Bess lay on the sand.
Jake's course was run; he dropped his gun
and reached for Bessie's hand.
Her lips found his for one last kiss
their blood pooled on the sand.
Jake McCrary, dead and buried,
mouldering in the grave.
Sweet Bessie Pym lies next to him
whose life she could not save.
Terrence G. Fisher 2019