Full Counts
All Words: 1172

Fat people who haven't lifted a finger (or anything else) to exercise in months should not go climbing hills.

What?

The new term is 'pleasantly endowed'?

Hey, I'm talking about myself here. I don't need to be politically correct. I'm fat, and the extra weight doesn't help when I'm huffing and puffing my way up a hill.

"You can do it," my friend Buvana urges me. "Just put one foot in front of the other, and soon we'll be on top."

"If I put one foot in front of the other, I go one step more, not to the top," I grumble.

I'm feeling frustrated with myself. I hadn't expected this climb. I should've expected it. I should've got myself in shape before attempting it. After all, when you visit a place called 'Nandi Hills', you should anticipate that there will be a hill, shouldn't you?

Why are we trekking up Nandi Hills? Excellent question. It's my new obsession that has brought us here. No, not an obsession with hills. An obsession with post-marks. Now you're lost, and you're wondering whether to click out and quietly exit this story, as we wonder whether to quietly exit the trek. But you're reading on, as we climb on.

So -- an obsession with post-marks. In my youth (a long time ago), I used to collect stamps. Now, I collect post-marks. Here in India, there are two hundred and five post offices that have unique post-marks. They're the inked thingie that give the name of the post office and the dateline, used to deface stamps to show they've been used. These two hundred and five post marks are only available in their respective post office, usually places of historic interest, and aren't available at all once they're retired.

Well, since stamp-collecting is going out of style, as are other forms of philately, I have decided to collect post-marks, and my friend Buvana has volunteered to accompany me. We are fresh from a success at getting the Vidhana Soudha (Parliament House) post-mark from our city's main post offices, and are now willing to venture further out.

"I hadn't -- gasp -- expected -- gasp -- such a steep climb."

"You sit and rest. I'll take pictures. I want to paint the scenery."

With the camera she has borrowed from my Dad, she begins to click. I catch my breath, take a few sips of water, watch her carefully compose her shots, and feel a bit more refreshed. "Look at the lichen on that tree," she cries. "See those clouds? If I bend over like this, they look like they're reaching for the branches. I'm going to shoot some of these in black-and-white, too, and add in the colours from my imagination when I paint it."

"I think I can walk now."

"Excellent. And we'll keep taking mini-breaks, for your breath and for my photos."

About fifty photos and I-didn't-count-how-many-breaths later, I feel a bit winded again. "Don't give up now," Buvana coaxes. "We're almost there."

My 'but we ...' is interrupted with a loud clang. Nobody told us that though cars aren't allowed up the hill, buggies are. Fifty bucks (rupees, that is) each, and we could buggy it up the hill.

"Is the post office right on top?"

He has to think a minute, the buggy-driver. Nobody has asked about the post office in years. People usually visit the temple opposite it.

"Yes, right on top, Are you mailing letters?"

I show him the letters I have ready. Thirty of them, fifteen going within India, fifteen abroad. His eyes widen as I explain about letters, stamps and post-marks. "But why not just whatsapp?"

"I don't have a smart phone," I respond. That's a fact. And, while the walk had been long, the buggy ride is too short to explain about the importance of keeping something like the postal service alive and relevant, and the importance of these post-marks. Come to think of it -- what is the importance of special post-marks?

"Here you go, ladies, that'll be a hundred bucks. You can step that way for the P.O."

As the buggy fills up with passengers going down, Buvana clicks away. "I'll paint this buggy, and the driver." She takes a close-up of his grinning face.

"Didn't he say the P.O. is this way?"

It is so tiny, we have to really focus before we see it. Sort of like the Leaky Cauldron -- Muggles look from the shop on one side to the shop on the other, not noticing the entrance to Diagon Alley. We are the only two who appear to see the post office.




It is pitch black inside.

"Sorry," a male voice says. "We don't have electricity, and my generator's conked off." He opens a window to let in some light. I hear a 'click'. Buvana is at work again. She's going to paint this dim little room with its shafts of light and darkness.

He understands what we want instantly. He's the guardian of the stamp-mark. He holds it up for us to see, but doesn't allow us to handle it.

What he doesn't know is -- how our letters are to be stamped, with the mark, and how they are to go from being pieces of paper to being official missives that the postal service has to transport and deliver.

"I'm new here," he confesses. "I just joined four days ago, and I haven't had anything to do with mail yet. I can't afford to mess up. I'm on probation, see."

Buvana puts the camera back into its case and tucks it in her handbag. She is getting battle-ready. Or shall we say, negotiation-ready. The time has come to use her management skills to get work done.

The two of them speak rapidly in a language I don't understand.

Five minutes later, she looks up, smiling. The young post clerk is holding my letters in his hand. The stamp-mark safely in a paper bag in his pocket. They step out in to the sunshine. I follow. The young man locks the little door behind him.

Buvana takes the camera out again. I hold my doll, she holds some letters. A passerby agrees to photograph us.




The clerk says a quick 'bye-bye-thank-you', takes my letters, and vanishes.

"What did you decide with him?" I demand.

"He's going down the hill, to another post office there. He'll put the pictorial date-stamp on the letters and mail them from there."

"And we'll have to wait till we receive the letters to ourselves, to know whether he has done it."

But we don't have to wait that long.

We visit the ancient temple, marvel at the architecture and the beautiful Gods there, chat a bit with the priest, and head back downhill to where our car is.

We're just settling ourselves in the car for the journey back when Buvana's phone rings. "Check your whatsapp," the young clerk says.

He has, indeed, put the mark on the letters, and we have the whatsapp photos to prove it!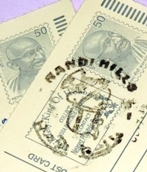 I feel pleasantly endowed, all journey back.