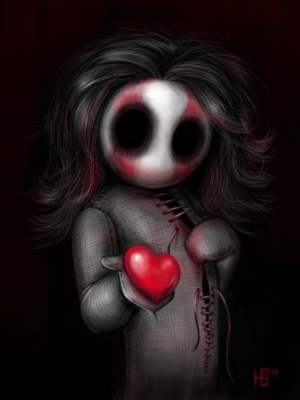 Your Voodoo Spell
I never realized what you'd made;
a doll,
a replica of me
to give you absolute control
over my thoughts,
perceptions
and actions.
I saw the false words through my left eye,
began to question
and by doing so, gave myself away.
You plucked it out,
that observant eye,
cutting down my vision by half.
Semi-blind, I buried them,
those doubts
until slowly my right eye took focus,
gave me the evidence
that you'd not be able to refute.
You gagged me then,
sealed my mouth
while you stole my sight.
Blind and dumb, I listened to those honeyed lies.
Did I believe them?
It didn't really matter in the end
for on you I had to rely then,
and I did your bidding.
'Give me your heart,' you said
and I tore my way through my skin
and ripped my heart free,
offered it to you to do with as you will.
Needle and thread in a hand
not guided by sight makes for ragged stitching,
but I'm roughly held together
by blood-blackened thread.
My heart in your hands, you can crush me now;
blind, dumb and breathless,
no more than a corpse of a life that once was,
a raggedy model of my former self
all thanks to that
voodoo spell.
(40 lines)