Printed from https://www.writing.com/main/view_item/item_id/2213512-Beware-of-the-Voodoo-Doll
(2)

by

Jeannie💐

A demonic visit sends chills down her spine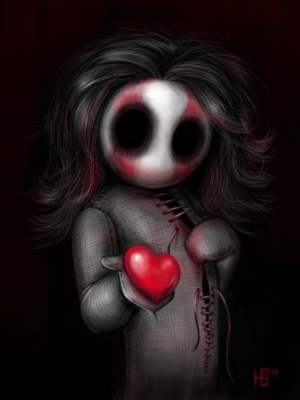 A knock on the door disturbed my frightful dream
of voodoo dolls and witch's spells that scream,
"Beware! There's evil lurking in the darkness,
Which may engulf you within its death's caress.

A feeling of eeriness envelops my core,
As I warily make my way towards the door,
Moving shadows sent alarm bells off in my brain,
Did a hinge squeak? My heart sounds like a freight train.

There upon my stoop lay this weird voodoo doll,
Her large, devilish black eyes seemed to enthrall,
Drawing my attention to a red heart held tight -
Concern grew as my eyes adjusted to the moonlight.

I stared in wonderment as the heart began beating,
"Lubb-dubb, lubb-dubb" as my own grows fleeting,
Weakness overcomes me – it's harder to stand,
I sink to the floor just as the doll's body expands.

Staring up in disbelief at an ash-haired woman,
My best friend, who practiced voodoo now and again,
Her eyes glowed with malice before pulling out a pin,
Left me dying before her as the cold chilled my skin.

20 lines

Written for:

Dark Dreamscapes Poetry Contest (13+)
Round 45 closed. Round 46 Open August 1st, 2021.
#

1971713

by 🌑 Darleen
© Copyright 2020 Jeannie💐 (sjs55049 at Writing.Com). All rights reserved.
Writing.Com, its affiliates and syndicates have been granted non-exclusive rights to display this work.
Printed from https://www.writing.com/main/view_item/item_id/2213512-Beware-of-the-Voodoo-Doll