Printed from https://www.writing.com/main/view_item/item_id/2218084-Within-A-Maniacal-Brain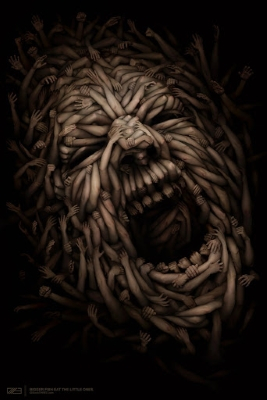 Way below the earth's crust
toward the center, close to the core,
sits a place where nightmares stem.
A location for those condemned.

Siphoned into the depths of madness;
sanity explodes into a trillion shards
—an oceanic abyss of insanity.
Clawing, drowning, lost, and alone.

Flames climb higher, licking at my heels,
searing the flesh, disintegrating resolve.
And as the sky turns an ashy black,
my body is wracked by a panic attack.

Demonic beings ripped from the ruts
of a diseased, maniacal brain.
Stealing away the essence of me.
Familiar personas are brutalized, while
demented entities spurt forth like flies.

Deafening screams reverberate.
Horrified, desperate, trampled and ravaged.

Beneath my skin, something crawls.
Digging deep, it's out of my reach.
Monsters of depravity are savage beings,
devouring every morsel of mental stability.

Passionately pleading, I warn you now,
stay away from this harrowing pit.
Once you fall in it will envelop you fully,
sucking you down into a world a pain
A land where evil is its' only reign.

(28 lines - Free Verse)


Written for April's 2020 "Dark Dreamscapes Poetry Contest"
[13+]




© Copyright 2020 Intuey (intuey at Writing.Com). All rights reserved.
Writing.Com, its affiliates and syndicates have been granted non-exclusive rights to display this work.
Printed from https://www.writing.com/main/view_item/item_id/2218084-Within-A-Maniacal-Brain