Printed from https://www.writing.com/main/view_item/item_id/2224238-Chilli-con-Carne
(7)

My favourite food recipe expressed as a cinquain (with British spelling)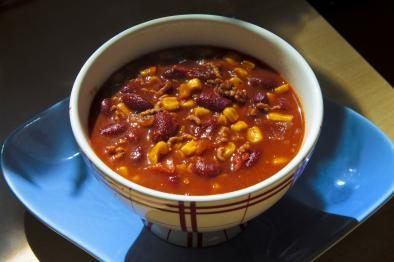 Chilli con Carne

Spicy, hot
Teasing, tempting, tantalising
Recipes with chocolate taste best
Minced, fried

Filling, warming, satisfying

Kids love eating this

Memories of dinner with Mum




Here's the recipe:
https://www.bbcgoodfood.com/recipes/chilli-con-carne-recipe

Line count: 10
Form: cinquain
Prompt: recipe using minimum 5 emoticons
Written for:
Word Chef Master Contest (E)
Word Chef Master Contest (Winners announced, Congrats!)
#

2172116

by Samberine Everose
© Copyright 2020 Robert Edward Baker (robertbaker at Writing.Com). All rights reserved.
Writing.Com, its affiliates and syndicates have been granted non-exclusive rights to display this work.
Printed from https://www.writing.com/main/view_item/item_id/2224238-Chilli-con-Carne