Printed from https://www.writing.com/main/view_item/item_id/2275210-When-you-get-Banned-from-Social-Media
by

Rossthefox

After poking fun of your brother's shenanigans, you get the boot from social media!
It was June 18th, 2022, and you are once again bored at home. Ever since your nephew nearly went to jail for an incident at the movie theater last month, you haven't exactly been in the best of moods. Out of boredom and curiosity, you decided to check in on your brother's twitter. In it, he bitches up a storm about him and a friend getting kicked out of a carnival for disruptive behavior. You chuckle at this and decided to keep tabs on it before going to bed. The next day, you check up on your brother's twitter. He is once again bitching up a storm, this time over spending $75 on gasoline. What makes this even funnier is that after this, he makes another post about going to a grocery store and buying quite a number of cases of Mountain Dew. At this point, you decided to start taking jabs at him on Twitter.



You then posted this in response to one of his bitching posts. Eventually, he sees this and blows a gasket at you, telling you to mind your own business and piss off. You get quite a good chuckle out of this and decided to poke fun at his other posts before taking a break for a while. Later that night, you try to log back onto Twitter, only to see this!



"What the Hell? Can people not take a joke right now?!?" You say as you start to get pissed. You then storm onto Youtube and go off on a tangent yourself. You even said some stuff that could be considered racist and homophobic. You then call it a night and go to bed.
The next day, after work, you come home and see a strange e-mail from Youtube. You disregard it and attempt to log onto Youtube, only to see this.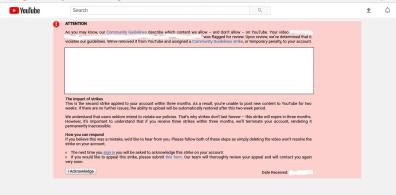 "ARE YOU FUCKING KIDDING ME?!? WHO THE FUCK FLAGGED THIS GODDAMN VIDEO?!? WELL WHOEVER IT IS, THANKS A FUCKING LOT, BECAUSE NOW I CAN'T POST SHIT ON YOUTUBE FOR A WHOLE FUCKING TWO WEEKS!!!"



You shouted angrily before you flipped your desk over...and once again throw your laptop out the window...

© Copyright 2022 Rossthefox (rossthefox at Writing.Com). All rights reserved.
Writing.Com, its affiliates and syndicates have been granted non-exclusive rights to display this work.
Printed from https://www.writing.com/main/view_item/item_id/2275210-When-you-get-Banned-from-Social-Media