Printed from https://www.writing.com/main/view_item/item_id/623917-Swinging-Fairy
| | |
| --- | --- |
| | A fantasy prose about a fairy swinging in the woods. |
The woods have trees-
streams, animals and secrets
but do you know what the best kept
secret of all is?

A little fairy with bright red hair-
swinging in a swing!
The swing is tied to a tree.
A cat and bunny sit on her lap.

She swings high and back again.
She giggles and looks so pretty
and magical with her eyes full of mischief.
A smile like a little girl.

The kitty and bunnies love her.
They sit on her lap and other
times they just watch her swing and
wave her legs in the air.

Her lavender dress flies in the breeze.
Her long red hair lays down her back
and happy is she as she laughs with glee!
She stops, gets off to pet the kitty and bunnies.

The free spirited fairy hops back on her swing
as the kitty and bunny jump on her lap.
They like to swing high in the air.
A pretty, heart warming sight to see!

Welcome to Fantasy Garden!
Notice the flowers, trees, streams,
bunnies, kitty and the fairy on the swing.
This is a treasure and a memory to cherish!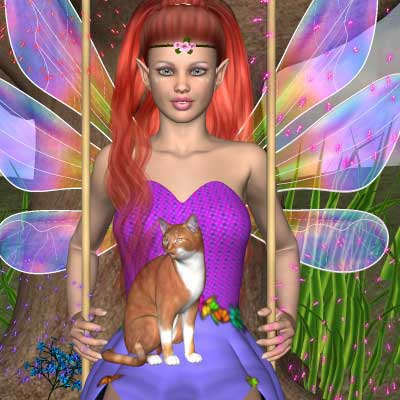 © Copyright 2003 Princess Megan Rose (tigger at Writing.Com). All rights reserved.
Writing.Com, its affiliates and syndicates have been granted non-exclusive rights to display this work.
Printed from https://www.writing.com/main/view_item/item_id/623917-Swinging-Fairy