Regardless of your opinions on the war, the men and women fighting for us need to know that we support them. These brothers, sisters, mothers, fathers, husbands, wives and best friends have volunteered to serve and defend this country...

that's certainly worth a moment of your time!

It means a great deal to these men and women to hear from the people whom they are defending.


Invalid Item
This item number is not valid.
#

654619

by Not Available.

Inspired by the above forum, SM and I have decided to jump in and show our support. We've put together personal letters and care packages for some of our troops. I've created this item with the hope that it will inspire YOU to do the same.

Below you will find the complete list of items and step-by-step process that we took to put together our care packages. I've also included some tips for purchasing and packing. I hope you'll use these ideas to put together your own care packages or simply send your support in a letter.

Know someone serving in the military that would like to receive mail? Be sure to visit "Invalid Item"
and drop off his/her name and address so that this community of readers and writers can show our support!



Here's how SM and I are showing our support!


We printed out the list of supplies from the forum's description and headed out to the grocery store to shop for care package supplies. We chose a variety of things to pack and even tucked in some Stories.Com merchandise we thought they might like or find useful. We even sent coffee... and a travel mug to drink it in!

A: Soft toilet paper
B: Stories.Com travel mugs
Stories.Com canvas bags
Stories.Com journals
Stories.Com journal pens
Stories.Com Bessie squeezies
C: Mini-boxes of cereal
Granola bars
Packs of Chips Ahoy cookies
Single packs of Pringles
Chocolate pudding packs
Lipton soup packets
D: Bags of jellybeans
Packs of gum
Bags of peanut M&Ms
Boxes of raisins
Creme Savers candies
Pixie stix
Mini-candy bars
Graham crackers snacks
E: Mini Oreos
Marshmallow Peeps
Single cup ground coffee bags
Vanilla creamers (non-refrigerated)
Hot chocolate packs
Sugar packets
F: Mini packs of tissues
Baby powder
Gallon size Ziploc bags
Torango chips (hard container)
Summer sausages
Scope mouthwash
Mini American flags
Altoid breath strips
Toothpaste
Boxes of matches
Plastic playing cards
Chapstick
Comics


Make sure that the products you purchase have a safety seal on them. If you're going to send candy, be sure that it has an airtight seal instead of just twisted paper. The product is less likely to spill if it's sealed tight and the soldier will not need to be suspicious of food that is sealed.

If you're planning on putting together a few care packages at one time, check the "buy in bulk" section at your grocery store. You might find much better deals if you buy a few products at once instead of paying for single items.

When you get home, lay everything out in front of you in an organized fashion. Group obviously similar items together, such as food with food, toiletries with toiletries, etc.

Once you have your items separated into major groups, organize them even more once again. For example, powders with powders, puddings with like products, paper with paper, etc.


Now, take your similar grouped items and seal them in ziploc bags. Don't worry about using too many ziploc bags; soldiers use these to store items such as socks, undies, toiletries, etc. Sealing items in bags keeps everything virtually safe from spills and weather conditions during transit. For example, we placed the cereal, granola bars, chips and soup packets in one bag. In another ziploc bag, we put the playing cards and boxes of matches. Since we only had one pudding type product, that item was in a bag of its own.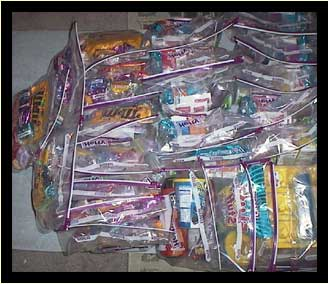 After you have all of your items sealed in ziploc bags, grab a gallon-sized Ziploc and place the smaller ziplocs in one big one. For example, we put 3 different bags of grouped foods into one large bag. Basically, we kept condensing the bags into bigger bags until we only had a few actual items to pack in each box.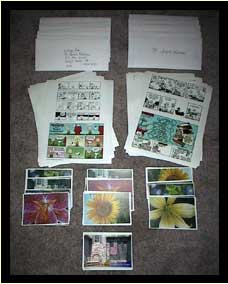 After we got our items all bagged up and ready to pack, I wrote my letter to include in the box. I introduced myself, told them how I got their name/address and expressed how much we (SM and I) support and appreciate our troops. I didn't talk about the war or my political views; I simply expressed our extreme gratitude for their service to our country.

I also included a few of my color photos. I figure they don't get to see much color, so I'd send them something pleasant to look at. I also took pictures of the flags we have hanging on our home and reassured them that we're showing our support at home, too. Photos of supportive families are great for morale!

I packed a self-addressed envelope with paper inside, in case the soldier would like to write back.

And last, but not least, I included 2 pages of non-political, light comics.

All of these items went into one larger manilla envelope, which then went into the last large ziploc bag.


Finally, we packed up the boxes! The US Postal system gives Priority Mail boxes for free. I recommend using those because they're easy to put together, come in different sizes and display the patriotic colors to your soldier when he/she picks it up.

We lined the bottom of the box with crumpled Sunday ads. I didn't want to use regular newspaper, as I didn't want to subject him or her to current news stories. We packed the boxes with the sealed bags, placed the manilla envelope bag on top and here you see the first five boxes that we sent out today!

If you're sending a package to an American base, you'll need to fill out a customs form before you send it, which you can pick up at the post office when you go to mail it (large and white paper). Just fill in your name/address, the soldier's name/address, the contents of the box and its value. If you're mailing overseas, you'll need to fill out the little green customs label.

Make sure you label it as "gift" (for personal use and consumption) and list the value at $50 or less.



And that's that!
And remember, if you don't have the means to send a care package, do the next best thing and write a letter! They will appreciate your support and communication!
Thank you for supporting our troops!