Printed from https://www.writing.com/main/view_item/item_id/745026-Spectacular-Birthdays
I clicked onto thedoctor sponsored poll item about spectacular birthdays, and it brought back memories of two that were very special. They were celebrated so long ago, yet I can recall them to the day.



SPECTACULAR BIRTHDAYS!




THE FIRST ONE was my sweet sixteen-birthday party. My mom fashioned a sugar cube corsage for me. She tied a fancy white ribbon around each white cube and sewed or glued them into a breathtaking display. When my mother pinned that corsage onto my lapel, I was ecstatic and I never wanted to take it off.

The best part about the party was that she invited both boys and girls. No grownups were allowed, except, of course, for my mom and my sister. They supervised the whole event, but they kept themselves out of view in the kitchen. They would appear once in a while to attend to our needs. I felt so special that day.

I recall chips, soda, cake and ice cream, and there was music to dance by and fun games to play. The birthday event was held in our basement. Although I knew I was having a party, my mom managed to decorate the basement with balloons, white paper ribbons, and other party fare and without my seeing the finished product. She knew how important it was for me to have some element of surprise.

It was on that happy day that I learned there are many ways to show love for one another, and this party was one of them.

ANOTHER birthday celebration that really stood out for me was when my children surprised me with a 55th Birthday party. They rented a small hall, a live band and tended to the food and beverages all by themselves. Most of my friends and neighbors as well as the immediate family and other close relatives were invited.

I was never the wiser that anything was going on. A special invitation to a bridal shower was mailed only to me. It was so genuine that I suspected nothing. I knew that we were expecting a shower invitation for a niece of mine that was getting married in a couple of months. A call from me to the mother of the bride to-be to discuss what gift she could use didn't raise any alerts that something was going on. The real shower invitations were mailed later on with the actual date of the event. That was some ruse.

Imagine me walking down the stairs to enter the hall carrying a shower gift in one hand and my other arm wrapped around a bowl of potato salad! Yes, I was asked to bring a covered dish, too. It really fooled me. The look of surprise on my face was priceless. In fact, I have pictures that were taken of my entrance to a most spectacular birthday event; one that I will never forget. Please see them below.



In this photo, I'm being relieved of my packages.
And in this photo, I demonstrate shock as I hear everyone yell "Surprise!"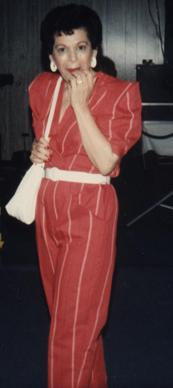 © Copyright 2003 Dottie (dillyd32 at Writing.Com). All rights reserved.
Writing.Com, its affiliates and syndicates have been granted non-exclusive rights to display this work.
Printed from https://www.writing.com/main/view_item/item_id/745026-Spectacular-Birthdays