Printed from https://www.Writing.Com/view/802750
| | |
| --- | --- |
| | A poem about a tiger's eyes. |
Look into a tiger's eyes, what do you see?
Hues of bright yellow, hint of green and gold,
They look into your soul as you think please don't go after me.
There's no need to think of a tiger's eyes as being cold.

She is a mother and the male a hunter.
Look at her face, she's content.
She rolls on the ground and you could swear you heard her purr.
You look into her eyes and your soul repents.

A tiger is a creature of beauty,
as you stare at her brightly colored stripes and stare into her eyes.
What do you really see?
She, too has sorrows and silent cries.

She is one of God's creatures,
She looks at you with her lovely well defined eyes and goes on her way.
A tiger has it's own problems to endure.
If someone asks if you ever encountered a tiger, what will you say?

Yes, I have. I looked into her eyes and saw beyond her beauty.
She isn't a predator like I thought, just a creature of the wild-
searching for peace and comfort like you and me-
for she, too is like a lost and frightened child.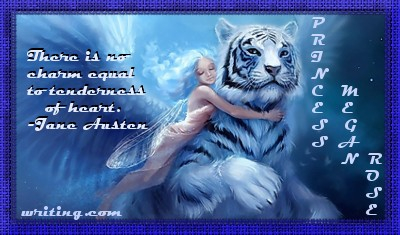 © Copyright 2004 Princess Megan Rose (tigger at Writing.Com). All rights reserved.
Writing.Com, its affiliates and syndicates have been granted non-exclusive rights to display this work.
Log in to Leave Feedback
Printed from https://www.Writing.Com/view/802750