Printed from https://www.writing.com/main/books/entry_id/1024487-Doing-this-on-phone--Jans-pile
| | |
| --- | --- |
| | Past Present and Future musings : my Big Nutty Spiritual life! |
#
1024487
added
January 11, 2022 at 1:39am
Restrictions:
None
Doing this on phone 🤳🕯️ Jan's pile!

Wow I'm here again ☺️.
I feel like s*** because of health issues.
No big deal just scoliosis and Lombard disc disease.
The big News is I'm writing something that matters.
So much darkness in the world 🌍, 📿🌌⚖️ and always fighting for justice for whomever is possible.
I feel pulled in so many directions.
Focusing isn't easy when so much going on in 🧠 brain and with 👁️ body.
Tired of people judging others. Bossing or hurtful ways/words.
Meaning to do the right thing,yet getting caught in one's own ego. Losing sight/site of someone elses feelings, background, culture Etc.
On a plus 🎵🎶 note thinking of what was going on in my head
Back 18 years ago.
When I first signed up for Writing.com!
How little I knew,yet people seemed to stop by and have some positive words for my writing.
Tips and nice conversations in email and such.
Finding a place to connect with folks who like me hadn't written much. To others that were so full of caring
and knowledge. Always glad to cheer you on!
And when good or sad times, a place of support and mostly awesome Peep's who were kind and patient.
I'm very tired and want to just keep writing tonight. Will have to pace myself for now.
Hopefully to be here couple times a week.
More later on.
Almost always writing off top of my head.
Was so proud of WDC support 📛 badge coming for Xmas/Chanukah!
Then a Calendar too,used to have years of mine.
So many things lost in time. Such a crime. It is what it is. Beyond the time of prime and rhyme.
Looking for the good souls 🙏 and signs 🙂.
Blessing's y'all💄🎶🕯️👁️🕊️🕉️☯️🔯🎸🥺🥳👽🩰🌊🎐🎹🎉📚🎼🐕‍🦺🧞‍♀️❄️😆🦴☕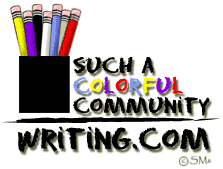 © Copyright 2022 🙏🩰 Getting back to me! (UN: dlspiritwriter at Writing.Com). All rights reserved.
🙏🩰 Getting back to me! has granted Writing.Com, its affiliates and its syndicates non-exclusive rights to display this work.
Printed from https://www.writing.com/main/books/entry_id/1024487-Doing-this-on-phone--Jans-pile