Printed from https://www.writing.com/main/books/entry_id/389061-Bambi-Lives
(16)

by

Rasputin

My thoughts on everything from albacore tuna to zebras
#
389061
added
November 28, 2005 at 6:43pm
Restrictions:
None
OK, OK, for all you animal lovers out there, you can take a coillective breath. I missed. Bambi lives. Nonetheless, I had a wonderful day in the PA woods. Saw squirrels, Black capped Chickadees, crows, grouse and even a coyote. Only saw one deer and I saw him twice. The first was at 6:25 AM when he walked under my treestand. He was an 8 point buck. Too bad legal shooting hours didn't start until 6:52 AM, Sigh. I let him pass hoping I'd get to see him again when it was legal to shoot. I did. At 7 AM about fifty yards out from me he stepped from a thicket and bedded down behind a log. All I could see was his butt, one antler, his nose and occasionally an eye. Not wanting to wound him I elected to wait him out. About an hour and a half later something got his atention and he stood up. I still didn't have a great shot but it was the only one I figured I was going to get. Did, I mention the wind? 30 mile an hour wind was bouncing me around worse than a sailor in the crow's nest. I put the cross hairs on his chest and squeezed the trigger. I missed. Clipped some brush in front of him but no blood, no hair, no deer. Oh well, at least I got a shot. Pretty tired now. Long day. Thats all for now folks.



How do you feel about your writing? (E)
Do you and your readers agree/disagree on your best stories?
#

795405

by Rasputin
Pick Your Prompt (18+)
Do you like to write to prompts?Have a prompt contest? This is the place for you.
#

819961

by Rasputin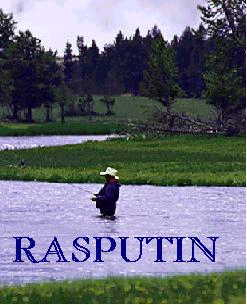 ~~Image #4000 Sharing Restricted~~


© Copyright 2005 Rasputin (UN: joeumholtz at Writing.Com). All rights reserved.
Rasputin has granted Writing.Com, its affiliates and its syndicates non-exclusive rights to display this work.
Printed from https://www.writing.com/main/books/entry_id/389061-Bambi-Lives