Printed from https://www.writing.com/main/books/entry_id/653167-Baby-Steps-and-Epiphanies
| | |
| --- | --- |
| | A glimspse into my musings ... as rambling, twisted & demented as they may be |
#
653167
added
June 4, 2009 at 11:15am
Restrictions:
None
Baby Steps and Epiphanies
I love to write ... live to write ... and would love to write for a living. I have ideas, dreams, and talent. What I don't have is focus and self discipline.

A while back I set a weekly word count goal for myself. I struggled to meet it, but most weeks I slid in at the wire plugging away into the wee hours of the morning and calling it a victory. I kept at this ... for about a month ... and then it fell to the wayside as did the project. I picked that project back up yesterday and dusted it off. Reading through it I was surprised not to cringe like I generally do when going back over past works. Reading over it ... I was actually inspired to dig back in.

Looking over the story also made me really think about what I can do and what I need to do. I am a notoriously slow writer. I envy those that can write a rough draft and edit later. That is not me. I am obsessive. I edit as I go and am completely unable to continue writing until I am happy with what I have. One former passion project I worked on for probably six months. I was actually pleased with my progress ... finished about a 100 pages ... roughly 23000 words before the story fell to the side for another. Six months ... 23000 words ... 24 wks ... roughly 950 words a week ... a WEEK. *shakes my head* Pathetic.

With a clear cut word count goal in mind I wrote 15000 words in a month. Admitedly ... I stressed a bit, but I did it ... and the quality is there. I want to get back to enjoying my writing ... letting it be the escape it used to be for me. I have set simple, completely obtainable new goals for myself and I am going to TRY LIKE HELL to keep them. 400 words a day ... 2800 a week ... a small goal it would seem ... but 145,600 words ... a book if one were to follow through with it for a simple year.

Wish me luck.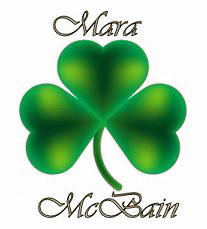 © Copyright 2009 Mara ♣ McBain (UN: irish_hussy69 at Writing.Com). All rights reserved.
Mara ♣ McBain has granted Writing.Com, its affiliates and its syndicates non-exclusive rights to display this work.
Printed from https://www.writing.com/main/books/entry_id/653167-Baby-Steps-and-Epiphanies