Printed from https://www.writing.com/main/books/entry_id/701167-BLUE
| | |
| --- | --- |
| | A glimspse into my musings ... as rambling, twisted & demented as they may be |
#
701167
added
July 9, 2010 at 12:52pm
Restrictions:
None
Opening the office a little early yesterday morning I found myself alone and caught up with the morning paperwork so I logged into my WDC account. I grumbled in question when I noted 14 emails. Not even NL day normally brings me that much mail so I was more than a tad confused/concerned.

When I opened my inbox I was overwhelmed with a flood of congratulations and c-notes! Blinking a few times I scanned down the subjects until my eyes landed on the culprit ...

***You're Now A Writing.com Moderator***
doesn't begin to describe my feelings.

I sat there staring at the subject line for a moment before carefully opening The StoryMaster
's missive. When I did, sure enough there in the TO: field was Mara ♣ McBain
. I just stared at the blue sun in shock. I tried to read through the information, but my mind was whirling so I closed out of his email and started reading the congratulations and well wishes from my friends. By the time I waded through them I had a silly
on my face that just wouldn't stop!!

A W00T and a little dance in the empty office followed.
Thennnn I wanted to share with my beloved Terror Twin Adriana Noir
BUT she was in Florida. Not wanting to bother her hubby J with a phone call in case they had drove late and slept in (like I care if I bother Adriana
) ...I bit my lip ... thought about it ... and settled for firing off a text message.
Annnnddd for a change ...
was with me. LOL

When I got off work, after grinning like a mad woman all day, my hubby and son met me at the office and took me out to dinner to celebrate. They are the best.
It is amazing how they both wanted to enjoy my achievement even though the color of my case of WDC doesn't mean a darn thing to them. I am truly blessed. Of course since I like to push my luck ... I even convinced the hubby to stop by the grocery store on the way home to grab some drumsticks for dessert.
I am blessed ... and darn spoiled.

Thank you to the WDC Staff for your confidence in me and all my friends who made yesterday super special with your c-notes, merit badges, and most of all your well wishes, smiles, and love. You are the best!


Love,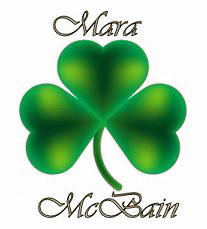 © Copyright 2010 Mara ♣ McBain (UN: irish_hussy69 at Writing.Com). All rights reserved.
Mara ♣ McBain has granted Writing.Com, its affiliates and its syndicates non-exclusive rights to display this work.
Printed from https://www.writing.com/main/books/entry_id/701167-BLUE