Printed from https://www.writing.com/main/books/entry_id/914619-Im-Aliiiiiveeee
| | |
| --- | --- |
| | A glimspse into my musings ... as rambling, twisted & demented as they may be |
#
914619
added
July 2, 2017 at 11:38pm
Restrictions:
None
I can't believe how long it has been since I've blogged! Wow!
Time flies is an understatement. I honestly can't believe it has been more than 2 1/2 years. *shame faced* I have no excuse, but do owe you at least the story. So, grab your coffee or wine …

The end of 2014 and all of 2015 was a nightmare. I was in a dark place mentally, emotionally … I didn't write more than a grocery list for 13 months. A product of the depression or the cause, I don't know. It sucked. Writing is my passion and my escape as well as my income! (thank GOD for my hard working hubby) I tried everything. I tried continuing The Trinity Falls Series .. I tried returning to the McCade's farm … I looked for new new inspiration … and couldn't break through the darkness.

With 2016 fast approaching Fyninstein
suggested I enter the official contest here on WDC. (The poor thing had tried everything else to drag me back to the land of the living) I had a month. I waited until I had 5 days to even have an idea for the picture prompt. The 2000 words that came out of that idea were like nothing I had ever wrote. They were dangerously close to what Adriana Noir
and I had always laughingly referred to as "Fluffy Bunny." It was romance without grit. The heroine was short, hippy, funny and ridiculously real in my head. Her hero was a stocky teddy bear. I fell in love with both.

I won the Short Shots contest and as January started I decided (with my friend's boot in my butt) to see where these new characters would go. I finished book 1 in June just as my son was headed off to basic training and dove into book 2 in order to survive. (SO proud of him and SO scared all at the same time) The problem was … I had this ridiculous fear/worry that the book wasn't very Mara … it was too sweet and funny and didn't have the grit or edge I usually think of, but I LOVED it and the characters. So I quietly published it under the pen name,Anneliese Brand
. In March book two joined it. Write Time for Love and Guided Home.

This isn't a surprise to some of you. I didn't do a good job of hiding it, but I really should have celebrated it instead. Even the 7 … (Soon to be 8!!) Mara McBain books are different, and appeal to different readers. Maybe some of you like funny romance. I love writing AND reading different genres. Add Fluffy Bunny Romance to the list.

So that's the story of the last 2 1/2 years plus … darkness … worries … new genre … pen name and all. If you've actually read this far you're f'n amazing and I love you. LOL


Peace & Creativity!

~ Mara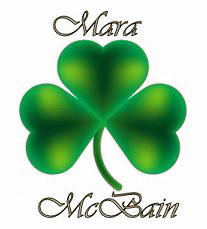 1
Like
•
Comment
•
View 2 comments
© Copyright 2017 Mara ♣ McBain (UN: irish_hussy69 at Writing.Com). All rights reserved.
Mara ♣ McBain has granted Writing.Com, its affiliates and its syndicates non-exclusive rights to display this work.
Printed from https://www.writing.com/main/books/entry_id/914619-Im-Aliiiiiveeee