<< Previous
·
Message List
·
Next >>
Days 1 & 2 done
by
spidey
I'm doing them by hand until I get my laptop back, but I've completed days 1 & 2.
NaNoWriMo
is almost here! Join us! "
Invalid Item
"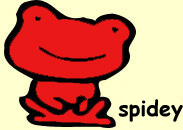 MESSAGE THREAD
Days 1 & 2 done
· 10-02-09 8:35am
by
spidey
The following section applies to this forum item as a whole, not this individual post.
Any feedback sent through it will go to the forum's owner, Brandiwyn🎶.