Printed from https://www.writing.com/main/handler/item_id/1994693-The-Iron-Bank-of-Braavos
(4)

by

Gaby

For G.o.T. Activity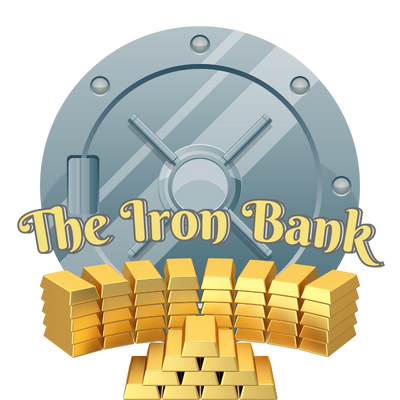 We hold a firm hand on our gold!
Our support belongs to those who support us... but we don't give it away freely.




Our funds support dozens of members as well as three winning groups, and your help and donation will give us the nudge in the right direction! If you decide to donate, it'll be greatly appreciated.


Donors donating 100+K will receive the following Merit Badge:




Donors donating 50K+ will receive a Merit Badge they don't already have yet.






If you choose to participate, I hope you have the right
!

We'll see you again one day, for the next season of GoT!

For more info, visit:

Game of Thrones (13+)
Will return one day ~ until then ~ Thank you all who've participated!
#

456789

by Gaby
July 2021 Game Of Thrones Sign Up (13+)
Are you and your team ready to commit for a month of brutal challenges?
#

2071703

by Gaby
Group Members: 1 Members
| | | |
| --- | --- | --- |
| Gaby | -- | The Keeper Of The Realm |
Printed from https://www.writing.com/main/handler/item_id/1994693-The-Iron-Bank-of-Braavos