The unique, beveled pinwheel blades of our Mix 'N Chop are the easiest way to chop and crumble food. It gets into the corners of your cookware without scratching the surface. A must for ground beef and turkey, scrambled eggs, and homemade tomato sauce!

Details

10¾".
Made of sturdy nylon.
Safe for all cookware including nonstick.
Soft-grip handle.
Heat-resistant to 428°F.
Dishwasher-safe.
Five-year guarantee.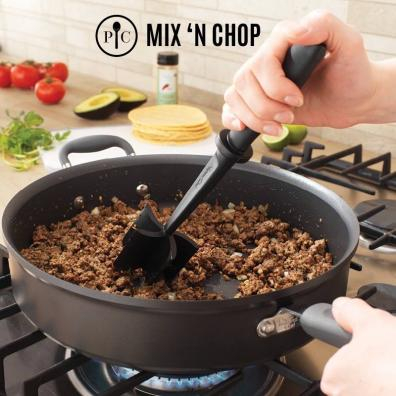 © Copyright 2018 Schnujo's Thoughts Glow (UN: schnujo at Writing.Com). All rights reserved.
Schnujo's Thoughts Glow has granted Writing.Com, its affiliates and its syndicates non-exclusive rights to display this work.
Log in to Leave Feedback
Printed from https://www.Writing.Com/view/2169163