Printed from https://www.writing.com/main/images/item_id/2211028-BONNIE
Holly my Congo African Grey Parrot and I will miss our sweet Bonnie (blue-headed pionus parrot). She left this earth 1/20/2020. This breed of parrot usually lives on an average of about 25 years. Bonnie was between 25 and 27 years old. With a sweet and loving spirit, she thrived and was a great family member and friend all of her life. For about 2 to 3 weeks things started to change. The picture below was taken on her last day with me. At about 2:30-4 am when I checked on her, she was gone. Holly is struggling with missing her feathered friend. she spent considerable time looking for Bonnie. I've spent extra time with Holly.

https://www.facebook.com/photo.php?fbid=2796624130375837&set=a.166331520071791&t...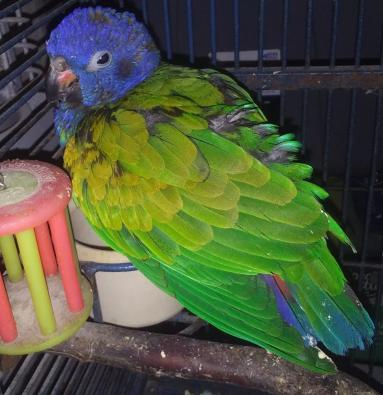 © Copyright 2020 dog pack:saving4 premium renew (UN: vpbanjo at Writing.Com). All rights reserved.
dog pack:saving4 premium renew has granted Writing.Com, its affiliates and its syndicates non-exclusive rights to display this work.
Printed from https://www.writing.com/main/images/item_id/2211028-BONNIE