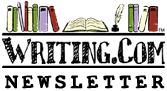 Romance/Love





This week:

Edited by: Red Writing Hood
More Newsletters By This Editor



1. About this Newsletter
2. A Word from our Sponsor
3. Letter from the Editor
4. Editor's Picks
5. A Word from Writing.Com
6. Ask & Answer
7. Removal instructions



Hi, Red Writing Hood: Romance Reporter, here!

I will cover everything from poetry and stories of every length to customs and creative projects. If it has to do with romance and love, I will share it in this newsletter.

Writing.Com presents "Writing Prompts", the app with an endless supply of creative inspiration for writers!

Get it for Apple iOS, Android or Kindle Fire.
Creative fun in the palm of your hand.





"Quit touching me."

"MOM! He's tou-u-uching me."

"Everyone keep your hands to yourselves and look out the window. Count cows or something."

Five seconds later.

"Quit looking at me."

"MOM! He's…"



As you read this, I am on a road trip.

I have boxed myself

with four children

for twenty hours.

Pray for me



I admit that the above example is less an argument and more a form of kid torture, but in such close confines, for that long, arguments are inevitable. Arguing is a part of everyday life. As a part of everyday life, it should also be a part of your romance writing.

An argument in your story can:

-propel the plot forward
-expose facets of character
-set the scene, and more.

Having actions move a plot forward is easy to picture, but how could an argument?

You could have characters reveal secrets, say regrettable things (the kind you want to suck back into your mouth before they get to the other person's ears), or even resolve problems.

Using an argument to show another side of your character is pretty straightforward. Use it to show usual or even unusual temperaments. Do they hold some things back or do they let all their feelings out. You should also take advantage of the argument to show physical features along with character traits.

You could also use arguing to set a scene. If you are in the kitchen your characters could be setting the table, washing dishes or throwing them. If you are in the bathroom they could be having trouble sharing the sink as they get ready for work or out for the night. This is as limited (or unlimited) as your imagination.

Trial lawyer Gerry Spence wrote in How to Argue and Win Every Time, "Argument is the affirmation of our being. It is the principal instrument of human intercourse. Without argument the species would perish… We must argue – to help, to warn, to lead, to love, to create, to learn, to enjoy justice – to be." (How to Argue, p. 5)

Writing in an argument is honest, is something everyone can identify with and relate to. For some of us, they are a type of communication that happens every day.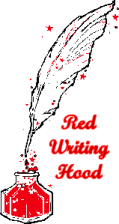 Love, summer, trips and arguments...


















Have an opinion on what you've read here today? Then send the Editor feedback! Find an item that you think would be perfect for showcasing here? Submit it for consideration in the newsletter!
https://Writing.Com/main/newsletters/action/nli_form



Don't forget to support our sponsor!










Gotta question, answer, problem, solution, tip, trick, cheer, jeer, or extra million lying around?

If so, send it through the feedback section at the bottom of this newsletter OR click the little envelope next to my name Red Writing Hood
and send it through email.


Comments on last month's newsletter:


Submitted By: Ho1ogram

Submitted Comment:

Ah, temptation, humour and forbidden love; the colours and sounds of life.


Submitted By: scribbler

Submitted Comment:

I'm working on a great forbidden lolve story. It involves the caste system :)


Submitted By: Katya the Poet

Submitted Comment:

Yet another fabulous newsletter, not to mention a romantic turn-on, with all the sedcution poems!!!


Submitted By: theivyrose
Submitted Comment:

This newsletter was a great one. I enjoyed the excerpts from the book about plots and am going to buy the book.


Thank you all for the great comments on my last newsletter.

By the way, I originally borrowed that book from the library, but have since bought a copy so I can have it all to myself.








To stop receiving this newsletter, click here for your newsletter subscription list. Simply uncheck the box next to any newsletter(s) you wish to cancel and then click to "Submit Changes". You can edit your subscriptions at any time.