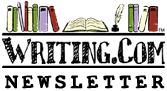 Drama





This week:

Edited by: Scottiegazelle
More Newsletters By This Editor



1. About this Newsletter
2. A Word from our Sponsor
3. Letter from the Editor
4. Editor's Picks
5. A Word from Writing.Com
6. Ask & Answer
7. Removal instructions





Families are like fudge... mostly sweet with a few nuts. ~Author Unknown



Certain situations demand dramatic music. Now you have it!

Get it for Apple iOS, Android or Kindle Fire.
Creative fun in the palm of your hand.



In my last newsletter, I talked about using the drama of real life as fodder for your short stories and poetry. Today, I'd like to delve into what is certainly the best source of that drama – your family.

We love them, but they can drive us insane. Whether they are acting with misguided intentions or really are out to get us, or just being themselves, families can introduce us to some great stories. In fact, a large number of my stories have characters that are in some way (usually distantly) related to my family. I have mother-in-law stories that build off things my in-laws (and grandmother-in-law) have said to me. I have stories containing single working mothers suspiciously like my own. I have menfolk in the stories who resemble my husband, whether in his younger days or at present.

What type of incidents can spark stories? Anything from words or actions. Think about how something they said or did made you feel, then expand on that. Or reverse the situtation and put yourself in their shoes. Then overreact. Blow it out of proportion. Personally, I tend to keep everything inside, but in my stories, I make it a thousand times worse than it really is and then let myself react. Fiction gives me the chance to vent without hurting anyone's feelings – a great gift when you have a mother-in-law who really does cry at the drop of a hat (not exaggerating here).

The downside, I must confess, is when other family members believe your fiction is fact. A case in point is my father. He simply refuses to believe that I have used my imagination to expand on little escapades, and insists that my mother-in-law is truly horrific. Of course, he was also worried about my caveman cop story; perhaps he thought I'd witnessed a crime? You never know with fathers…

The point is, when you are looking for bits of drama in your life to expand into a story, often the best place to start is, literally, in your own backyard.






Editor's Picks

I decided to pick stories that everyone can relate to. All the stories this week have to do with parents – family members that everyone has.


Invalid Item
This item number is not valid.
#938521 by Not Available.
Excerpt:
At his mother's knee he quickly absorbed the fact that he could do nothing right without her support; his views were, at best, stupid if they varied one iota from hers and he was at his smartest when he did and said nothing.
Invalid Item
This item number is not valid.
#984521 by Not Available.
Excerpt:
"Come out with your hands up! You're surrounded!!" He looked to his side and, I'm sure now, the sight of me standing there surprised him. After a frozen moment, he gingerly stepped over to me. "It's alright boy," he said. His gums were dark purple and his teeth were long and wide. "Where did your daddy go?"
Excerpt:
"She . . . she never . . . did love . . . me, but . . . how could she . . . How could she?" Chelsea forced herself to gain control. Raising her head and heaving a jerky sigh, she gently pushed away and reached for a paper towel from the roll on the cabinet. "I, uh, I never . . . knew . . . She must really, uh, hate me."
Invalid Item
This item number is not valid.
#941699 by Not Available.
Excerpt:
At that she ran out of the room, crying and shouting for Mom who was outside taking clothes off the line. Leaving me alone with this spider that was taunting me and daring me find the nerve to step closer. The spider all at once became the target of all my anger.
Invalid Item
This item number is not valid.
#980989 by Not Available.
Excerpt:
We bought Billy a horse when he was nine, hoping to deter his bull-riding dreams. Eager at first, he began taking lessons from a friend of Robbie's. After learning that horses – especially tamed ones – rarely bucked, he lost interest and began searching for a more dangerous hobby.
Invalid Item
This item number is not valid.
#983275 by Not Available.
Excerpt:
Tell me you love me
And point out my flaws



Have an opinion on what you've read here today? Then send the Editor feedback! Find an item that you think would be perfect for showcasing here? Submit it for consideration in the newsletter!
https://Writing.Com/main/newsletters/action/nli_form



Don't forget to support our sponsor!






Challenge: Take a look at your family. Write a story about them, and submit it to the drama newsletter. Use the box below or email Scottiegazelle



To stop receiving this newsletter, click here for your newsletter subscription list. Simply uncheck the box next to any newsletter(s) you wish to cancel and then click to "Submit Changes". You can edit your subscriptions at any time.