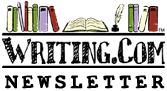 Horror/Scary





This week: Strange Details

Edited by: LJPC - the tortoise
More Newsletters By This Editor



1. About this Newsletter
2. A Word from our Sponsor
3. Letter from the Editor
4. Editor's Picks
5. A Word from Writing.Com
6. Ask & Answer
7. Removal instructions





This newsletter is about using strange details to keep readers riveted.

Sage Quotes:

"Beware of the person who can't be bothered by details."
~ William Feather, publisher

"I've been called many names like perfectionist, difficult and obsessive. I think it takes obsession, takes searching for the details for any artist to be good."
~ Barbara Streisand

"It's the little details that are vital. Little things make big things happen."
~ John Wooden






Writing.Com presents "Writing Prompts", the app with an endless supply of creative inspiration for writers!

Get it for Apple iOS, Android or Kindle Fire.
Creative fun in the palm of your hand.





Sometimes readers skim for a good reason: they're excited and want to find out what happens next.


Sometimes readers skim for a bad reason: they're bored.


In flash fiction or stories under 2000 words, you probably don't have to worry about readers skimming. But when the word count is high, you probably have a longer, more complex story. Let's assume you've already cut backstory and long physical description to a bare minimum, but you still have scenes to introduce characters, to have them find clues, to transition between scenes, or to set up the next scene.

If the details of settings and characters are typical and predictable—that's when readers start skimming.

So how do you keep readers interested and reading every line?

You give them strange details.




Make Strange Details Work for You



It can be tempting to stick with typical things when describing setting or supporting characters, especially when you're writing horror. In the horror genre, it's important to make things realistic, so the villain/monster is more believable and frightening. However, don't make things so realistic that your reader has seen it all before and starts yawning.

Here's an example of a "typical" scene:



The moon hung in the sky between steel gray clouds, its beams lighting the path to Lissa's apartment building. She jogged up the steps, let herself in, and stopped to open her mailbox. Same old bills and circulars for neighborhood stores. A cold draft whipped across her neck, and she spun toward the door. The letters spilled across the floor as her hand dove into her purse to grip the pistol hidden there.

The front door creaked open, and old Mrs. Dobson shuffled in. "Good evening, dearie. It's a bit fresh out, isn't it?"

"Yes, it is." Lissa released the gun, but her hand shook. After being chased through the cemetery by the murderer, she was understandably jumpy, but shooting her sweet upstairs neighbor was hardly the way to handle stress.

"Come along," Mrs. Dobson said to her little dog, and the pug trotted behind her as she crossed to the elevator. She patted her white hair into place and rang the call button. A moment later, the bell chimed and the doors slid open. After she stepped inside, she leaned out again. "Shall I hold it for you? Are you coming up?"

"Uh, no. You go ahead." Lissa smiled as if everything was okay.

"Good night, dear." Mrs. Dobson waved and allowed the doors to close.

Lissa took a steadying breath. Chill out, she scolded herself. After all, it wasn't as if the killer would turn up on her doorstep. When she crouched to pick up her mail, her joints cracked and her muscles protested. What a lousy day. All she wanted was a hot shower and to fall into bed.

The elevator chimed again. The doors parted, and the pug raced out, dragging its leash. It ran past Lissa and halted, shivering, at the exit.

Blood coated the little dog's fur.



(I couldn't resist putting a hook/cliffhanger at the end. I love those things!
)

However, if there was no cliffhanger, if the scene simply followed Lissa upstairs and described her apartment, some readers would definitely start skimming. There's nothing strange or special enough about this scene to grab the reader's attention. Mrs. Dobson's a stereotypical little old lady. There's nothing unusual about the building or the mail or the conversation.

So let's take the "typical" elements and see how we can add in some strange details.
"The moon hung in the sky between steel gray clouds..."
When writing night scenes, writers often describe the moon. Very often. Very, very often.

Research the flora and fauna of your setting and look for strange creatures, smells, and sounds. Plus, add in a simple clue like "the dark" or "streetlights" to let readers know it's nighttime.

Tree frogs' mating calls filled the dark with a sound like tearing paper, so loud it seemed a hundred people hid in the nearby cypress trees, busily ripping up the Sunday Times.
Moths fluttered around the porch light while lizards made quick dashes across the ceiling to slurp them up.
Average apartment building, lobby, and elevator.
Make the setting strange instead of average.

Lissa jiggled her key in the antique Victorian lock-plate. It never opened first try. One of the many quirks she had to get used to living in the renovated 1900s asylum. The elevator was the worst thing. It shuddered, clanked, and rattled up to every floor at the pace of a geriatric turtle.
Lissa jogged up the steps, let herself in, and stopped at her mailbox beneath a roaring lion. She didn't mind that the entire lobby was tiled floor to ceiling, but the Italian owners had paid extra for mosaics of the Colosseum and gladiator games. With all the bloody weapons, dripping wounds, and beheadings, the lobby's gladiator artwork got a big thumbs down from her.
Stereotypical little old lady with tiny dog.
Some writers don't bother describing supporting characters who are only in one scene, but to keep a reader riveted, create a strange character with a distinct, memorable personality.

Fiona Fredricks clattered through the front door in four-inch heels. With a squeak of horror, she grabbed a circular off the floor. "Don't throw this away, Lissa! It's for my salon. Half off a cut and blow-out. And if you don't mind me saying so, you could use a new style." She gave Lissa a broad wink. "How're you gonna catch a man if you don't bait your hook?" Stuffing the paper in Lissa's hands, she clip-clopped to the elevator. Her toy poodle, Rufus, struggled to keep up, hampered by a rhinestone-encrusted velvet coat that weighed as much as he did.
Walter Grimshaw shuffled through the front door and gave Lissa his usual timid nod. "Good evening, Miss Fry," he said with his gaze fastened on the floor. He edged past, giving her a wide berth, and crept toward the elevator. From beneath his overcoat, he pulled out a fluffy little Pekinese dog. "Is my baby Chou-chou cold? Don't worry, your Dadsy-wadsy will cook you warm yummies as soon as we get upstairs. Dadsy-wadsy wuvs you. Yes, he does."


I wouldn't use all the descriptions above. It's best to choose one or two things to spice up a scene. Too many may confuse the reader.

Next time you're afraid a scene might be a bit too typical and readers may start skimming, remember that you can use strange details to surprise readers and keep them glued to the page!
Until next time: Let the horror bleed onto the pages with every word!

Here are some spooky stories with strange details for your reading pleasure!
Invalid Item
This item number is not valid.
#542528 by Not Available.
Invalid Item
This item number is not valid.
#1799756 by Not Available.
Invalid Item
This item number is not valid.
#1999262 by Not Available.
The Hollow Keys (18+)
Lief is sent to a monastery by his writing group to find the key to his writer's block.
#1824064 by Early
Invalid Item
This item number is not valid.
#1979384 by Not Available.



Have an opinion on what you've read here today? Then send the Editor feedback! Find an item that you think would be perfect for showcasing here? Submit it for consideration in the newsletter!
https://Writing.Com/main/newsletters/action/nli_form



Don't forget to support our sponsor!




Your full time Horror Newsletter Editors:
billwilcox and
LJPC - the tortoise
have published --

Soul Cutter--Lexa Cain (Amazon)
The Watercourse--W.D.Wilcox (Amazon)
Possession--W.D.Wilcox (Amazon)



To my delight, some writers took the time to comment on my last newsletter: "WANTED: CHARACTER VOICE"
Thank you!
Comments listed in the order they were received.
Wayne Foster
writes: I loved this newsletter! So much that I'm not erasing it so I can use it at a later date. As a writer knows, building a character can be hard! When ones finally gives the right voice, or savvy with another character…it us a very great feeling...yea..she'd say that. Future use guaranteed!

Thanks so much, Wayne! I'm glad the NL will be helpful for you, and I really appreciate your comment!
Patrick
writes: Great newsletter article, Laura!
Your bullet points on how to write in a character's voice were thorough and insightful.
Forsooth!

Thanks, Patrick! This means a lot coming from you.
Vampyr14
writes: Ah, voice... It's so tricky to nail this sucker. Great tips for buzzwords for individual characters!

I think an interesting and realistic character voice is the hardest—and most important—thing to master in every story. Thanks for commenting! Your thoughts are always a delight to read.
lotte
writes: This is such great info! I really love the Voice/No Voice comparison; it'll be something I refer to a lot, I bet. I'm just going to copy this and save it for frequent use. Thanks for writing it, and I hope you're well!

Thanks so much for replying to the NL! I'm good, and I hope you are, too. Happy writing!


billwilcox writes: Dunno whatcha mean 'bout writin' dialect. But what I do know, is that I'ma fixin' to give it a go.
You always crack me up, Bill!
Tina's TEN YR Anniv
writes: I literally copied and pasted this into a word doc and saved it. It's the first time I've seen this explained so simply that I understood it. I read a self-pubbed book where all the characters spoke in accents and were written in phonetics. It was horrible to read. I had to stop and read all the conversation aloud. It was stop and go until I gave up and went to the end.

When I decided to write my story which included people from the Allegheny Mts and are Hillbilly's, I chose one character to speak in dialect, Yore, jus', ain't, gwin, (going) and left the others to flavor now and then. It isn't about the way they talk that tells the story. If there is a misunderstanding because of dialect then you'd better put it in. If its just conversation I left it "normal." The reader adds their own version of the accent and dialect.

I learned from this NL that I can and have given my character's voice, but not as well as I should. Thank you for turning on my dim light and making all things brighter.
You're so right about using dialect sparingly. I bet you're doing a great job!
Joy
writes: Thank you for a great Newsletter. It is frustrating to read a novel or a story when it is written as if the same person is talking for everybody. Although voice is a very difficult tool to master, as writers we should make every effort to make each character sound real and different from the others.

Voice is difficult to master, and it can take a long time—but it's worth it! Thanks so much for replying to the newsletter!
Phoenix
writes: I can't agree strongly enough. Character voice is so integral to making characters that readers want to read, and as writers our efforts at making them distinct is well placed. Great topic!

It's true—good character voice sets a writer apart. Even if it takes many revisions to get there, as we both know!
BIG BAD WOLF Is Thankful
submits "Monster Cowboys The Book"
and writes: Don't forget about the lingo of world like ours, yet totally different.

The word "lingo" itself is a great example of voice. Thanks, BBW!
Detective
writes: This newsletter gave me a few things to think about when writing how my characters speak. I think the hardest part for me is the dialects and slang usage. My characters are all very different, and no two of them talk exactly alike even if they're from the same place and in the same profession.

If all your characters sound different—that's perfect! That's the essence of character voice. Thanks for replying to the NL.
Taniuska
writes: You've perfectly illustrated character voice... I'm loving your posts:)

Thanks so much, Tania! That means a lot coming from you!


blunderbuss writes: Thank you for the newsletter LJPC. To get character voices I find it helps to exaggerate each character's main tendencies (in my head) and then pull it back a bit for actual dialogue on the page, so that they don't ever border on the caricature.

I do have a question, since you mention that. I hate gore but I love horror/scary. Is there a good way of signposting that a story you have written is not going to be gory, but more subtly scary, with perhaps the most punch at the end? I would also like to have this indicator when selecting stories to read and review. Any suggestions?

Hi Diane! Since there can be three genre designations for every story, you might try Thriller/Suspense as your main category, in addition to Horror/Scary as the next category. Also, depending on your story (or the type of story you want to read) you might try Dark, Supernatural, Occult, Ghost, or even Psychology. Those may contain elements of horror but are not "gory."

Another way to categorize mild horror is to use the Horror/Scary category but keep it rated 13+ instead of 18+ or GC. Those things marked 13+ cannot contain explicit violence or sex, and references to drugs or swearing should be only the mildest forms. (See "Content Rating System (CRS)"
)

This is a great, topic, Diane, and I may use it in a future newsletter. Thanks!
Jeff
writes: What a great NL this week. Wonderful info and advice on developing a voice for one's writing and characters. Well done!

Thanks so much, Jeff. I really appreciate your comment!
Lornda
writes: I enjoyed reading your latest newsletter! Fantastic tips and examples to help a writer develop a 'character's voice'.
I would like to highlight this newsletter at "The Classic Story Contest"
. I'm sure that anyone who drops by to check it out would enjoy reading this helpful information.
Thanks so much for the reply and the shout out in your activity, Lornda! You rock!
Noyoki
writes: Thank you! Your examples were all useful and made your points stick better in my mind. Thank you for sharing and helping us develop character voice.

You're very welcome. I'm so glad it's useful to you. Thanks for replying to the NL!
Tileira
writes: I'm not sure whether I would put this under syntax or dialect, but one of my (fantasy genre) characters has a sort of sing-song accent. To help carry that I deliberately measure a beat to his words and pick out vocabulary which keeps the voice dancing. It's not always the same beat, but everything he says from the mundane to the poetic has a palpable rhythm.

In the game Child of Light the character Rubella is the only character who fails to carry on the ABAB rhyming persistent in the rest of the game's script. The forth line of everything she says is corrected by one of the other characters.

I've heard that Dean Koontz sometimes uses poetic meter in his writing too. That's a great way to make sure a character's voice is distinct. Thanks for bringing it up and explaining!
Ŵeb☆Ŵiɫch
writes:
Love, love this article on character voice. Great newsletter, Laura. A character has to connect with the reader. Thus, we have a better image of the protagonist and antagonist, and our mind's eye will take it from there, they are multi-dimensional -- they are ALIVE!



WW

Thanks, WW! It's always a delight to hear from you—I love your opinion on things. Thanks so much for replying to the NL!



To stop receiving this newsletter, click here for your newsletter subscription list. Simply uncheck the box next to any newsletter(s) you wish to cancel and then click to "Submit Changes". You can edit your subscriptions at any time.