This week: GIF-er-ific

Edited by: Lornda
More Newsletters By This Editor



1. About this Newsletter
2. A Word from our Sponsor
3. Letter from the Editor
4. Editor's Picks
5. A Word from Writing.Com
6. Ask & Answer
7. Removal instructions



This week's Comedy Editor:
Lornda
"Funny is an attitude."
"He who laughs last didn't get the joke."
GIFs: One little image which was created many years ago, has now caused a huge sensation everywhere to make people a laugh.

Our writing prompt generators use current events, scene elements, words, sketches, colors, genres and writing types, unleashing endless random bits of fantasy to fuel your muse. Plus, we've included our database of 600 creative writing prompts so you've got them right at your finger tips!

Get it for Apple iOS, Android or Kindle Fire.
Creative fun in the palm of your hand.

In November of 2018, Writing.Com announced the use of GIFs. (Check out how The StoryMaster announced it here "Note: People: Do you love GIFs? ...") These snippets of fun are popping up everywhere to make you smile, laugh, or groan.

The newsfeed was one of the first areas where people started to use them. It's hilarious to see how members post them for a laugh, or use one to respond to a question. You can also add one for fun in a forum post or email.

What exactly is a GIF, and how did it all begin? A GIF stands for graphics interchange format and was created by American computer scientist, Steve Wilhite on June 15, 1987—33 years ago. There's a great deal of science behind the semantics of the GIF, and it's probably best to leave it behind, because reading about the inner workings of this image sensation would require a scientist to explain it.

One funny thing of interest is the proper way of pronouncing GIF. Who knew it would almost cause a zombie apocalypse after a public debate. Some say it's a hard 'G', others say it's a soft 'G'. The expert who created it says it's pronounced as a soft 'G'. I think many of us have been saying it wrong for, let's say, 33 years.

So that means it's said the same way as JIF the peanut butter. In February of this year, the makers of JIF peanut butter (The J. M. Smucker Company) partnered with Gify to create their own GIF's in light of the way it's pronounced. Check them out here—they are hilarious:

https://giphy.com/search/Jif

GIFs are one way to send a little humor to someone to make their day. In 2016, Gify had 100 million daily users who sent 1 billion GIFs a day. It's also become a part of Writing.Com to post a GIF on the newsfeed. If you're looking to send bit of cheer or a laugh, consider scrolling the newsfeed. It's fun to see what people post or how they use a GIFs as a reply.

There's a lot of ways to send GIFs to make someone's day:


If someone reached a goal or something noteworthy with their writing, consider posting a GIF to make their day: "Note:
Thanks so much to the fo...
"
Maybe they are celebrating a milestone in their life. Try sending a GIF or two to make them laugh. Here's one example: "
Yay!
"
You could just post something for the laugh out loud moment: "Note:

I long for a world that is fil...

" & "Note:

It's MONDAY ... [Emb...

"



The next time you want to send someone a giggle, smile, or an outright laugh, consider a GIF—you will also receive a laugh scrolling through them to find the perfect one!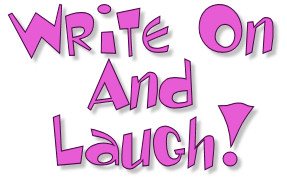 Before you run away, let's crown a GIF-er-ific Queen or King.


The newsfeed has regular posters of GIFs. Have you noticed a member who posts more than others? Here's a fun poll to crown the ultimate GIF master.






Have an opinion on what you've read here today? Then send the Editor feedback! Find an item that you think would be perfect for showcasing here? Submit it for consideration in the newsletter!
https://Writing.Com/main/newsletters/action/nli_form



Don't forget to support our sponsor!




How do you feel about GIFs? Is it something you have fun in posting or not?


Can I ask you readers for a favor?

As the new editor of this newsletter, I'm looking for what interests you in Comedy. What would you like to read about, or what subject would interest you? If you have a moment, you can send your ideas directly to me here, and there's gift points for filling it out:



Thank you, and laugh on!



To stop receiving this newsletter, click here for your newsletter subscription list. Simply uncheck the box next to any newsletter(s) you wish to cancel and then click to "Submit Changes". You can edit your subscriptions at any time.