This week: Cats in Dramatic Fiction

Edited by: Joy
More Newsletters By This Editor



1. About this Newsletter
2. A Word from our Sponsor
3. Letter from the Editor
4. Editor's Picks
5. A Word from Writing.Com
6. Ask & Answer
7. Removal instructions



"And how do you know that you're mad? "To begin with," said the Cat, "a dog's not mad. You grant that?" I suppose so, said Alice. "Well then," the Cat went on, "you see a dog growls when it's angry, and wags it's tail when it's pleased. Now I growl when I'm pleased, and wag my tail when I'm angry. Therefore I'm mad."
Lewis Carroll, Alice's Adventures in Wonderland & Through the Looking-Glass

"Women and cats will do as they please, and men and dogs should relax and get used to the idea."
Robert A. Heinlein

"A cat has absolute emotional honesty: human beings, for one reason or another, may hide their feelings, but a cat does not."
Ernest Hemingway

"I have lived with several Zen masters -- all of them cats."
Eckhart Tolle, The Power of Now: A Guide to Spiritual Enlightenment

"Arise from sleep, old cat,
And with great yawns and stretchings...
Amble out for love"
Issa, Japanese Haiku

Hello, I am Joy
, this week's drama editor. This issue is about cats.

Thank you for reading our newsletters and for supplying the editors with feedback and encouragement.

| | |
| --- | --- |
| ASIN: 0995498113 | |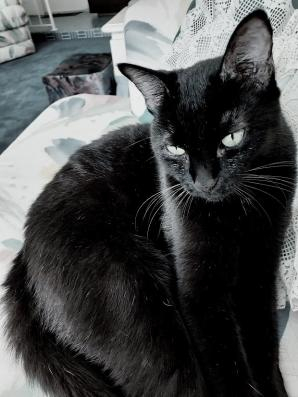 Welcome to the Drama newsletter
Now that I am living with a cat, a totally black one at that, I can see how authors and cats can share a special bond. First, let me tell you about my cat. Noche is 11 years old and was very unhappy in my son and daughter-in-law's home, not because of them but because of the second larger cat and a headstrong Chesapeake Bay Retriever they adopted after her. Noche was misbehaving so badly that her owners were seriously considering to take her to a no-kill shelter. So, me, the pets' grandma, had to take over. Noche has been with me just about four months, now. It took her a month to warm up to me, yet right now, she can't have enough of me and I love having her around. Still, how I can use Noche in my fiction is a mystery to me, but the idea will come, just like Noche, on its own. I'm quite sure of that.

What makes cats so fiction-friendly is their personality. Although there may be differences among cats, in general most of them are very much like humans with brilliant and shadowy sides. They can be charming, elegant, and mysterious but also, selfish and head-strong. They can be willful, psychopathic, and creatively introverted. That's why they fit so well into the worlds of authors who are mostly imaginative introverts.

I have to add a middle-eastern belief here before I proceed with the authors and their cats. Right after God created the Humankind, he created the cat and the snake, hinting at the positive and negative sides of his creation. We know what the snake did; therefore, the cat must be the snake's antithesis. No wonder the cat is the most favored pet in that area.

Coming back to fiction and drama, remember the musical stage-play Cats with all the human characteristics applied to the starring cats? The differences in the cats' behaviors and personalities must have inspired T. S. Eliot who came up with the 1939 poetry collection Old Possum's Book of Practical Cats, which in turn inspired Andrew Lloyd Webber to turn it into a musical. If you wish to see the names of the Cats in this musical, here's a link.
https://stageagent.com/shows/musical/1057/cats/characters

Then, another tomcat named Pete has inspired its author Robert A. Heinlein to write a time-travel story, Pete in The Door Into Summer, only because Pete didn't like the snow and winter and was looking for a door in the author's house that opened to summer.

Plus, those of us who have enjoyed Harry Potter must recall Crookshanks, Hermione's smart cat that could solve puzzles and sniff out bad guys even if some magic disguised them. As well as starring in children's books by Dr. Seuss, Beverly Mcleary, LewisCaroll, JK Rowling, and many other authors, cats have also crept into the Gothic and scary literature.

As such, one of the popular Edgar Allen Poe stories was The Black Cat, which was about a cat that took revenge from his alcoholic murderer-owner. Bram Stoker's The Squaw was written first; then, it showed the way to Dracula. In Lovecraft's The Cats of Ulthar, revengeful cats rule the town, with a good reason, of course. In addition, there is Stephen King's Pet Sematary where otherworldly cats come back to life.

All this is because cats have a tendency to act as drama queens. They want what they want when they want it. Their urgent meowing, running around in circles, and their cuddliness when their wishes are met make them perfect protagonists. To star a cat in our stories, then, it is a good idea to endow them with human qualities with the addition of magic, second sight, and a bit of creepiness.

May all our cats stay healthy and our cat stories shine and sparkle!

Until next time!

Enjoy!
Prince Cat-lin (E)
A kitten is on a mission for a treat
#

2231835

by Lornda~ "Onward" ~
Invalid Item
This item number is not valid.
#

2236445

by Not Available.
Pookie Learns a Lesson (E)
Pookie the cat learns her lesson.. or does she? Written for Writing 4 Kids Contest
#

2233653

by Ned
Halloween Day, The Cat Inside The Moon (E)
Short Shots: Official WDC Contest
#

2236132

by Anna Marie Carlson
SYLVESTER (E)
SYLVESTER MY CAT
#

2233189

by Mary Ann MCPhedran
Unconditional Love Our Boots (E)
a poem of the unconditional love of our cat Boots
#

2230872

by Innerlight has Inner Peace
Cats- Day 12 (13+)
something that makes noise in my house without a reason
#

1957664

by Witchy woman prays 4 Ukraine
A Most Unusual Birthday (ASR)
old friends from da' hood celebrate. Simple plot. Cat POV.
#

2233002

by Nixie
We meet again [239] (18+)
Jack, black cat, a man in a hat and a squadron of bats? For Dark Dreamscape.
#

2234350

by Kåre Enga 🇹🇭 Udon Thani
Invalid Item
This item number is not valid.
#

2236242

by Not Available.
Cats Are Family, Not Small Game! (13+)
Wisconsin hunters are proposing that cats be treated as "small game"...
#

947773

by The StoryMistress
Bella The Cat's Point Of View (E)
My cat Bella and her point of view.
#

2230477

by Princess Megan Rose 21 WDC



Have an opinion on what you've read here today? Then send the Editor feedback! Find an item that you think would be perfect for showcasing here? Submit it for consideration in the newsletter!
https://Writing.Com/main/newsletters/action/nli_form



Don't forget to support our sponsor!




| | |
| --- | --- |
| ASIN: B083RZ37SZ | |

*~*~*~*~*~*~*~*~*~*~*~*~*~*~*~*
This Issue's Tip: Watch your cats for inspiration and ideas.The way the cat leans into you for a head rub or meows in panic or chirps or talks ot purrs could be the next inspiration. Imagine her words. Observe your cat and ideas will find you.


*~*~*~*~*~*~*~*~*~*~*~*~*~*~*~*


Feedback for "Adding Surprise to Drama"
*~*~*~*~*~*~*~*~*~*~*~*~*~*~*~*
dogpack:saving 4 premium: DWG

Like adventure, twisting and turning, searching for treasure, and allowing my imagination off the leash as I write. God has blessed me with the ability to create a story any time based on a prompt or genre, or just because I intend to write and create word art. Surprise in stories is a great condament or sauce for adding flavor and interest to stories. I appreciate your article because it brought to me ideas that I hadn't yet discovered.


Thank you for the feedback.
I do believe, as you do, that we can create something just because we intend to. Happy writing!


*~*~*~*~*~*~*~*~*~*~*~*~*~*~*~*


Quick-Quill

It what we as authors try to do. Holding a reading's attention to the end of the story. Adding a surprise or twist in the story causes the writer, usually, to remember their story long after the cover is closed. The Bone Collector is one book. I'm sure there are many more that can be listed. We love surprises.


Readers love surprises, too. They keep them on their toes. Thanks.
*~*~*~*~*~*~*~*~*~*~*~*~*~*~*~*
brom21

I am writing a story with time travel. A paradox is an easy and sure way to make a surprise. But it is tricky. If you can pull it off, it is an effective tool. It is essential to keep a timeline for this purpose. I discovered this too late. lol. Thanks you for the NL!


Thanks for the input.
Surprises have to make sense and also relate to the plot in some way. Taking notes as we go, and as you say, having a timeline helps.


*~*~*~*~*~*~*~*~*~*~*~*~*~*~*~*

| | |
| --- | --- |
| ASIN: B07YJZZGW4 | Kindle |



To stop receiving this newsletter, click here for your newsletter subscription list. Simply uncheck the box next to any newsletter(s) you wish to cancel and then click to "Submit Changes". You can edit your subscriptions at any time.