This week: Similes for a Smile

Edited by: Lornda
More Newsletters By This Editor



1. About this Newsletter
2. A Word from our Sponsor
3. Letter from the Editor
4. Editor's Picks
5. A Word from Writing.Com
6. Ask & Answer
7. Removal instructions



"Read, read, read. Read everything – trash, classics, good and bad, and see how they do it. Just like a carpenter who works as an apprentice and studies the master. Read! You'll absorb it. Then write. If it's good, you'll find out. If it's not, throw it out of the window"
~ William Faulkner - American Writer

"My writing process is a mix of research, personal experiences, washing the dishes, raising kids while thinking - then writing."
~ Jean Craighead George - American Writer

"Asking a working writer what he thinks about critics is like asking a lamppost how it feels about dogs."
~ Christopher Hampton - British Playwright
Writing a simile or two can add a punch of humor in a comedy story or poem.

| | |
| --- | --- |
| ASIN: 0910355479 | |

"The simile has to match the tone of its surroundings and has to be like a little joke" – Ned Beauman – British Novelist
A simile is one of the easiest ways to add humor, and if writing a comedy is in your plans, it's a good place to start. What's involved to add this component of humor? The quote above explains what a simile will accomplish for a smile or laugh – write it as a little joke.

Merriam-Webster dictionary explains a simile to mean comparing two unlike things that is often introduced by like or as.' Some of the common ones are:



Cool as a cucumber
We're like two peas in a pod
Busy as a bee
Lornda laughs like a hyena



To enhance a character or a scene, a simile can be written anywhere in the story to provide a clear image. Be cautious with how many you write, especially in poetry. If too many are clumped together, it can distract the reader. Another tip is to avoid clichés. Use your own original similes which are pertinent to the story and write it in a clear way by using every day speech. To grab the reader's attention, writing a simile near the beginning will set the humor in motion and make them laugh.


Here are examples on how not to write a simile. Check out the list found here:
"Bad Examples of Similes"
They were all written by high school students during an exam and they're hilarious in a terrible way. A couple of the entertaining ones are posted below. Beware — laughter guaranteed:



He was as tall as a 6′3″ tree.

John and Mary had never met. They were like two hummingbirds who had also never met.

She grew on him like she was a colony of E. coli and he was room-temperature Canadian beef.




How to write the perfect simile will take practice. If you laugh at it then go for it! You can also read other author's work to see how they used similes. For example, William Shakespeare wrote them all the time.

Give similes a try in your next funny story or poem. In the Highlighted Editor's Picks Section, check out how a few author's at WdC have written them – an excerpt is quoted to inspire you to write your own. Feel free to send in your funny similes because I want to laugh like a hyena!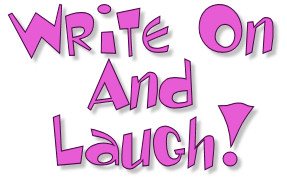 Stories where the author wrote similes:



Simile excerpt:

... one of my fellow sufferers found that if the two groups of chickens were held up, then brought together like pom-poms at a high school basketball game, ...





Simile excerpt:

He had a mop of unwashed hair and dressed like the 1990's never ended.





Simile excerpt:

Bottles of perfume and tubes of cream lined up on the countertop like obedient little soldiers, everything in its place.





Simile excerpt:

His ragged ears stuck out like jug handles.




Other highlighted comedies to read:













Have an opinion on what you've read here today? Then send the Editor feedback! Find an item that you think would be perfect for showcasing here? Submit it for consideration in the newsletter!
https://Writing.Com/main/newsletters/action/nli_form



Don't forget to support our sponsor!




| | |
| --- | --- |
| ASIN: B00KN0JEYA | |

Are similes a part of your writing, and do you have a favorite? (Share one of your own)
Feedback from my last newsletter, "Shakespeare - A Comedy Hero"
:

eyestar~*
: "Oh this was an entertaining read and I like how you began with Shakespeare's comedies and how we could begin to see our own dramas as comedy eventually. Oh, if it could be sooner would be great! I had a great laugh at your own cat incident...sounds like you should have been called sooner.
EW. Your poor feet! I enjoy British comedy as does my mom so thanks for the link and for sharing your humour."
I'm glad you enjoyed reading it.
Thanks for the comment!
Elfin Dragon-finally published
: "I always have days where everything goes wrong but I never laugh at it later....I laugh at it while it's happening!"
That's hilarious!
Thanks for all of the newsfeed comments, too!


"Note: View this Note"


| | |
| --- | --- |
| ASIN: B01FST8A90 | |



To stop receiving this newsletter, click here for your newsletter subscription list. Simply uncheck the box next to any newsletter(s) you wish to cancel and then click to "Submit Changes". You can edit your subscriptions at any time.