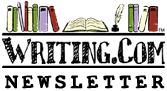 Noticing Newbies





This week: Ideanary? What's that?

Edited by: I like big books #2233315
More Newsletters By This Editor



1. About this Newsletter
2. A Word from our Sponsor
3. Letter from the Editor
4. Editor's Picks
5. A Word from Writing.Com
6. Ask & Answer
7. Removal instructions




The Noticing Newbies Newsletter's goal is to make the newer members feel welcome and encourage them with useful information and/or links to make navigating Writing.com easier. Writing.com members of all ages and even veteran members can find useful information here. If you have specific questions, try visiting "Writing.Com 101"
and/or "Noticing Newbies"
.



Noticing Newbies Full-Time Newsletter Editors Cubby
and
I like big books #2233315

| | |
| --- | --- |
| ASIN: 1542722411 | Book |




Ideanary? What's that?



It surprised me in my last newsletter how many people either hadn't been aware of the "Count" feature or simply didn't know what it was used for. This month I thought I'd share another really unique tool we have at our disposal - our Ideanary. What is the Ideanary you ask? Well, it's an amazing tool similar to a thersaurus only much more creative. Just like the desciption says, in this amazing tool, words are linked against meanings instead of predetermined synonyms so when you search a word, the results can be quite amazing. Let's try. In the image below, I show you where to find the Ideanary. Your list may look slightly different than mine due to membership levels etc. but this will give you a basic idea where to find it.


You may be asking yourself, what can I use this tool for? Well, I'm glad you asked! There are many uses and not just in story writing. This could also be helpful when you're writing poetry but for this example, let's use dialogue.

I'm a firm believer in well-written dialogue. Many of the most popular verbs are overused. Maybe you would like to say something else besides, he asked, she said, or he screamed, etc. Dialogue is an important part of fiction so choosing the right words to keep your audiences attention is a very important lesson to learn. Writing realistic dialogue doesn't come easily to everyone. However, it is an extremely useful tool in fleshing out a character and advancing the story. Unfortunately, bad dialogue has the opposite effect. Nothing can send a reader running faster than bad dialogue.

Writing effective dialogue is an art. It comes from truly knowing your characters. It can show not only how they speak but how they act and who they are. A tense conversation between a husband and wife can reveal more about their relationship than several paragraphs of descriptive narrative. Readers often skip narrative, but seldom skip dialogue. Readers are actually drawn to dialogue, because it is often where conflict is built and secrets are revealed. Whenever possible, try and break up long stretches of narrative with well-written dialogue.

Let's say your character is speaking quietly but you don't want to say quietly. It's always a good idea not to overuse adverbs in speech/dialogue. When you find yourself writing "He said quietly" what you should be writing is "He whispered." You can use this creative tool to help discover alternate words. After clicking the link to the Ideanary - you'll see this box pop up: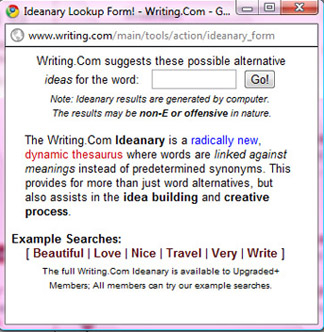 You can use quiet or try typing in whisper. Don't type whisper-ing or quiet-ly, you won't get nearly the same result. Always use the basic form of the word for the best results. Here are 40 of the 221 words it found for whisper - yes, that's right - 221 words!

** tell **
1. announce
2. articulate
3. aspirate
4. bespeak
5. breathe
6. chime
7. chorus
8. communicate
9. convey
10. deliver
11. disclose
12. disseminate
13. emit
14. enunciate
15. express
16. fling off
17. formulate
18. give
19. impart
20. let out
21. lip
22. phonate
23. phrase
24. pour forth
25. present
26. pronounce
27. put forth
28. raise
29. say
30. set forth
31. sound
32. tell
33. throw off
34. utter
35. verbalize
36. vocalize
37. voice
38. whisper
39. word

From this enormous list, you can choose another word or just stick with "whisper" but either way, your muse will love the ideas that spark from looking through this list. It may just spark ideas, dialogue, or even a whole new story! When your muse is inspired, make sure you take the time to listen.

Listen to your characters. Hear their voices and they will tell a wonderful story.

Interested in testing out your dialogue skills? Check this challenge out.



Hope you enjoyed this article. If you would like to share your thoughts, please send me a note using the box at the bottom of this newsletter.

Write and Review on! ~ Brooke




Here are some talented new member's items that caught my eye. I hope you enjoy them as much as I did.



Excerpt:
Horrid and vapid those staring eyes
and I try not to listen to his words
I instinctively know to beware his lies
and not become tempted by the absurd



~
~



Excerpt:
"Tell me, Heart, why do you keep offering yourself completely to Man even if, most of the times, you get hurt, scarred and broken?"

"What would be a heart without its scars if not a useless perfect monument of stone? How would Man be able to say 'I lived' if he does not bear inside an imperfect heart?"



~
~



Excerpt:
The rain soon stopped as the stormy clouds moved, revealing the moon.
The moonlight, from the window behind me, made my off-white comforters look even brighter making the rest of the room look darker.

I lay awake for a while unable to fall back asleep.
Soon I felt an eerie sensation, like someone or something was watching me.



~
~



Excerpt:
Those unspoken little ideas that twinkle in our minds. Dancing, as if they were our friends. Welcoming us in, when we should be walking out. Yet deep down we feel the shame. The hurt. The pain. It floats inside our shattered hearts. Trapped. Unable to escape as if it were a bird within a cage.



~
~



Excerpt:
That night Jerry left his bedroom window open enough to let in the crisp fall air. The light from the street lamp filtered in through the thin shade that fluttered gently in the evening breeze. As he waited for sleep to come he found his thoughts drifting to his father again. Growing up, he knew his father loved him but much of the time there seemed to be a distance between them. He'd never really gotten the approval that every child craves.



~
~



Excerpt:
I touched the surface and found me,
but I could not get in.
I looked behind the covering,
helpless to find my kin.



~
~



Excerpt:
"There's no tomorrow Billups, I need them now! If I don't see them on my desk by the time I get back from lunch, you're fired. Got that Billups? Fired!"

"Yes, sir, I'll have it to you by...." Dwight notices he is speaking to dial tone and listlessly hangs up the receiver. Dwight Billups hated his account analyst job at Premiere Financial Corporation.



~
~



Excerpt:
Hanging over my head is the taunting
doom of fate that everyone has once known
without knowing what I speak of as shown.



~
~



Have an opinion on what you've read here today? Then send the Editor feedback! Find an item that you think would be perfect for showcasing here? Submit it for consideration in the newsletter!
https://Writing.Com/main/newsletters/action/nli_form



Don't forget to support our sponsor!




| | |
| --- | --- |
| ASIN: B083RZ2C5F | Kindle |


I received some wonderful feedback to my last newsletter [#4200] "Avoid Repeating Words"
and I'm proud to share it with you.

From cookie_writer
Hi Brooke, I enjoyed reading your NL. It is something I had not really thought about, repeating words, and a helpful point to consider when editing. I had always wondered what the count application was for. Thanks for the great advice.

I'm so glad you found it helpful! Thank you for taking the time to write in and tell me.


From nalaiscool99
II like the pokemon stories out there, so I would like to create one of my own. Trouble is, I can't get any of my friends to add onto it.
It stinks.
So I could use a little publicity, can you help me please?
With respect, Ryudo-kin

Submitted with this item: "Invalid Item"




I hope this brings you some additions! Thanks for writing in.



From LeBuert

I liked your editorial very much and as a newbie it is helpful. Avoid repeating words and phrases is something we should all be more aware of. I do enjoy the count function on this site. Although my Death Poem repeats quite often? I don't think it would make sense otherwise? I guess it's more acceptable in poetry though? Thanks for the advice Brooke.

Submitted with this item: "DEATH POEM"
Sometimes poetry is a completely different animal.
Repetition is often very welcome and enjoyable in poetry.

From ~*Arpita*~

Hi!
I'm a newbie ant WDC myself, and it's been great to read this newsletter. I'll definitely keep your suggestions in mind when I write the next time.
Best wishes,
Arpita



I'm glad you found this issue useful. Thank you so much for writing in.



From Legerdemain

Hi Brooke,
Thanks for covering the Count tool in your newsletter! It's an awesome edit tool once you know where it is and how to use it.

Leger~

Thank you Leger, I couldn't agree more.


From Free_Rip

And this right here is why I still subscribe to the newbie newsletter. Wasn't aware of this, looks pretty cool. Thanks!
That's awesome to hear! Thank you so much for taking the time to write me.


From BIG BAD WOLF 34 on June 3

Writing can be scary work.
Submitted with the item: "Monster Justice"




Thanks for submitting an item for the readers!



Received in email

From to.make.you.think.

I loved this letter, mostly because repetition is big pet peeve of mine. I get extremely annoyed when I especially things like said or great. :).
I am sorry if should have put this in the little box above, but I didn't know. I haven't figured out how to work this sight yet :D



Not a problem, I'm glad you found my article helpful!



From: lovely

Thank you for this information, it is very helpful. I went through some of my poems and I found that the words I repeated I really didnot need.

sincerely,
Thank you

Thank you for taking the time to share your thoughts. It means a lot to me.

| | |
| --- | --- |
| ASIN: B07YXBT9JT | |



To stop receiving this newsletter, click here for your newsletter subscription list. Simply uncheck the box next to any newsletter(s) you wish to cancel and then click to "Submit Changes". You can edit your subscriptions at any time.