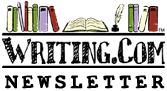 Romance/Love





This week: Sometimes, I Don't Believe in Love

Edited by: Crys-not really here
More Newsletters By This Editor



1. About this Newsletter
2. A Word from our Sponsor
3. Letter from the Editor
4. Editor's Picks
5. A Word from Writing.Com
6. Ask & Answer
7. Removal instructions





Welcome to the Romance/Love Newsletter! I'm Crys-not really here
and I'll be your editor this week.



| | |
| --- | --- |
| ASIN: B083RZ37SZ | |





Sometimes, I Don't Believe in Love



Sometimes, I don't believe in love. I know, that's terrible for the author of Romance/Love Newsletter to say. I guess what I really mean is, I don't believe in love in the traditional, romantic sense. I don't think love is supposed to be a cliche like so many people (and writers) think it is.

Here's something you can do before writing a love poem or story: Make a list of all the people, places and things that you associate with love.

For me that list would begin something like this:


puppies

cuddles

my nieces

the smell of clean hair

a warm sweater

sunshine

leave falling from trees

You don't see red, long-stemmed red roses on this list, do you? There's no candlelight, no hearts beating. You might even be asking yourself what some of the things on my list have to do with love. That's because my experience with love is different from yours. Everyone's experience with love is different, so why do so many romance novels and love poems rely on traditional aspects of love or cliches?

I'm really baffled sometimes by the poems I see that are labeled "love poems." Maybe it's just me, but how does using "roses are red" in your poem make it romantic? How does taking a line from an ancient love poem and inserting it into your own make it really say what you want it to about the person you're writing to or about?

How about love poems to pets, children, grandchildren, etc.? Many of us probably have great experiences with those in our life that aren't romantic partners, and for some of us the memories of the times we spent with them might be even more special than those with girlfriends/boyfriends/dates. I consider all poems that celebrate our affection for someone else love poems, don't you?

Before you write your next love poem, I encouarage you to make a list like I did above. It's a surefire way to make sure your poems don't come out cliche!







Have an opinion on what you've read here today? Then send the Editor feedback! Find an item that you think would be perfect for showcasing here? Submit it for consideration in the newsletter!
https://Writing.Com/main/newsletters/action/nli_form



Don't forget to support our sponsor!




| | |
| --- | --- |
| ASIN: B01MQP5740 | Kindle |



Crys, I'm like you - Sandy changed her appearance for a guy? I much prefer modern romantic movies with a strong heroine. She's someone I think we all can identify with and ultimately the romance is for the woman. It's best to have a strong heroine. -StephB aka Rona Virus


Thank you for featuring my poem 'Mattress' in your newsletter! Great question about romantic movies. I think I teeter-totter on the edge myself. I can't help but adore 'The Notebook' and 'P.S. I Love You', but other romantic movies often rub me the wrong way. If I can feel true passion in the main characters' relationship then I tend to enjoy the story, but if their isn't a dose of imperfect reality in the movie I won't enjoy it. I guess I tend to prefer the bitter sweet romances because they seem more true to life. -Alexandra Jones


Whether or not I like romance movies really depends on the movie itself. I enjoy some of the more serious romances, such as well-done adaptations of Jane Austen, but much of the "love" in newer movies doesn't portray what it really should be. We teenagers, as a result, often have a very shallow idea of true love. It's not just about passion, as many movies would have us believe. Some are still fun to watch, though :) -Fiona Hassan


Hi Crys, I enjoyed reading your NL. Interesting question and I think that the line in Sleepless in Seattle says it perfectly, "You don't want to be in love, you want to be in love in a movie." Don't we all.
I read an article a couple of months ago in the paper saying that romantic movies have changed our expectations on romance and placed them sky high. Maybe this is true.
I love some and hate others, but my favourite is While You Were Sleeping. For me the movies are an escape from my reality and it is nice to believe in some magic even if only for a while. -cookie_writer

Dear Crys, I am a 60 year old man who is as romantic as it gets. While I have watched my share of movies, I have my own ideas of romance and chivalry,etc. I am very old fashioned and a very good lover.(been told by many women) I think romance should be whatever your idea of it is , whether by what you watch or read. Sure it cannot always be perfect but being as romantic as you can is great. Remember the days when romance over great distances consisted of writing letters? People fell in love across oceans and never laid eyes on each other. Thats romance. - BEAR

| | |
| --- | --- |
| ASIN: B07YJZZGW4 | Kindle |



To stop receiving this newsletter, click here for your newsletter subscription list. Simply uncheck the box next to any newsletter(s) you wish to cancel and then click to "Submit Changes". You can edit your subscriptions at any time.