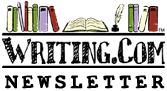 Noticing Newbies





This week: Build Your Audience

Edited by: I like big books #2233315
More Newsletters By This Editor



1. About this Newsletter
2. A Word from our Sponsor
3. Letter from the Editor
4. Editor's Picks
5. A Word from Writing.Com
6. Ask & Answer
7. Removal instructions




The Noticing Newbies Newsletter's goal is to make the newer members feel welcome and encourage them with useful information and/or links to make navigating Writing.com easier. Writing.com members of all ages and even veteran members can find useful information here. If you have specific questions, try visiting "Writing.Com 101"
and/or "Noticing Newbies"
.



Noticing Newbies Full-Time Newsletter Editors Cubby
and
I like big books #2233315

| | |
| --- | --- |
| ASIN: B07NPKP5BF | Toy |




Build Your Audience



I've been discussing each month some of the great points of being a registered author here. One of those is although you may not yet be published, you can still have "Fans". As soon as you post your first item, people can read, rate and review your work and decide if they like your style and want to read more. Have you ever picked up a paperback book at the store and after reading the synopsis, flipped open the back cover to learn more about the author themselves? I know I have and it's because we're naturally curious what other interests an author has besides writing. Your potential "Fans" are often times wondering the same thing. You may not have your inside cover "blurb" as they call it, but you do have your bio-block and your biography section in your portfolio. If you're new you may ask - what's that? Well let me tell you.


If you open up your portfolio, you'll see there is a space at the top. In the upper right-hand corner you'll see the words [Manage your Bio-Block and Highlighted Items] When you click that you can type whatever message you would like to greet your new fans. It could say something about you or perhaps something entirely different. It's up to you. Just remember this particular section must be "E" rated just like your handle and username.

If your new fans like what they read, they may want to click on your Biography tab to learn more about you. Some readers may want to even read your bio before they read or review your work. I find it useful to know a little about who I'm reviewing to make sure I review them appropriately. Let me clarify, if a writer is just starting out and may not know a lot about the publishing process, you don't want to bore them (or confuse) them with literary terms and language that won't help them grow. I'm not suggesting you baby them, I'm just saying using language appropriate for your audience goes a long way toward a review being helpful.

Anyway, back to the Biography tab. In the upper right-hand corner you have the option showing to [Manage Your Biography]. If you click that your screen will provide you with a selection of blanks to fill out. Now I know, some of you may look at this and say Whoa! I don't want to tell them every detail! That's a LOT of information you're asking for. That's just fine. You don't have to answer every question. Only fill out the ones you feel comfortable answering. In the birthday area, you can leave it blank, fill it out completely or even just the month and day leaving out the year. No one needs to know how old you are. It's just an option. There are several spots on mine that I chose to leave blank. It's entirely up to you how much you'd like to share.

I do recommend filling out your biography. It's a great way to identify with people and encourage readers to check out your work. You can connect with them via similar interests or perhaps even the same geographical region. You can add and change information anytime you'd like.

Invent yourself and tell the world! Be creative! Be active!
Share yourself with the community and the community will share back.


Hope you enjoyed this article. If you would like to share your thoughts, please send me a note using the box at the bottom of this newsletter.

Write and Review on! ~ Brooke

[Useful Related Links]


"The Angel Army"
by iKïyå§ama

"TEEN WRITING CLUB"
by Write-fully Loti

"Teen Writers Info-Sharing Team (TWIST)"
by NickiD89

"Invalid Item"
by A Guest Visitor
"SIMPLY POSITIVE NEWBIE REVIEWERS GROUP"
by Simply Positive

"Invalid Item"
by A Guest Visitor
"Invalid Item"
by A Guest Visitor
"Let's help each other grow- Closed"
by ~*Arpita*~


Here are some talented new member's items that caught my eye. I hope you enjoy them as much as I did.



Excerpt:
The fact of the matter is, most of your potential fans are unpublished. Regardless of whether or not the judgment is true, it probably applies to some (if not all) of your fanbase. A reader, no matter his or her circumstances, is a potential fan.



~
~




Excerpt:
Remembering that day with the kind of clarity saved normally for special occasions - the crispness of that fall morning, the cold of the city air making it feel cleaner than it actually was. The reds and oranges of the trees which sparsely sprinkled the city, giving it more charm and intimacy, like a small New England town with steeples peeking out through the tree tops. It had been a day like so many others, yet it had been a day like no other, and it still felt like it had just happened.



~
~



Excerpt:
Millions of candles in a room
Faces behind I see loom
Scared as I am, I check behind



~
~



Excerpt:
With the street lights twinkling breaking the darkness of the night, I walk the streets as they turn quiet. I hear so many unheard voices on the streets sometimes contented with the triumph of their achievements and sometimes mellowed and lamented by the pain of disgruntlement.



~
~



Excerpt:
I guess my story started out just like everyone else's, I was born. As a tiny kitten I was unaware of what my life was going to be like. I was born blind so I was unaware of my surroundings, the only thing that made me sure of life was my mother.



~
~



Excerpt:
Once Again
I found your embrace and
Once again
I looked in your face



~
~



Excerpt:
The lights snapped on and he awoke to the sound of bootsteps and rattling keys. Gene knew he had slept soundly through the last night he would have to be incarcerated. He rose to his feet and stretched out the kinks in his muscles.



~
~



Excerpt:
I'm 15 years old or at least that is what I'm told. I don't remember much from my childhood. Old Mother said I came to live with her when I was 4 years old. But I don't remember being anywhere else but here, with Old Mother, Guy, and Bob.



~
~



Excerpt:
"Jocelyn, I have to talk to you" walked in my brother with desperation in his voice. He sits next to me on the couch watching the TV with me. I turn my head in his direction and take a deep breath. I ask "What is it now?" In my head I am rolling my eyes. I knew where this was going.



~
~



Excerpt:
I'm Sandara Belle. That's not my real name of course, I just wish it is. I live in Vancouver, Canada and no, I do not say "eh". But then again, I'm just an immigrant - maybe some people who were born here fit the stereotype.



~
~



Excerpt:
Once upon a time, in a place not too far away, there lived a popsicle with two sticks. Merry and two-sticked was he, hoping that someday a young child would come along and buy him, splitting him in half to be shared with a friend.



~
~



Have an opinion on what you've read here today? Then send the Editor feedback! Find an item that you think would be perfect for showcasing here? Submit it for consideration in the newsletter!
https://Writing.Com/main/newsletters/action/nli_form



Don't forget to support our sponsor!




| | |
| --- | --- |
| ASIN: B085272J6B | Kindle |


I received some wonderful feedback to my last newsletter [#4351] "Why am I not getting any reviews?"
and I'm proud to share it with you.

From Joy

Very helpful newsletter, Brooke.

You wrote clear and step-by-step explanations, just what a newbie needs.

Thank you Joy. I really appreciate the feedback.


From jblackgloves number 35.

It is in the best interest of the authors we have on WDC to have read this newsletter. My fault is that I don't use the keywords section when I post. I will change that the next time I post. Thank you for pointing it out to me. cubby/jblackgloves

I'm glad the newsletter topic was helpful to you. Thanks for writing in.


From Mareli F

I admit I haven't finished the entire newsletter yet. But I saw this: "I've noticed his newer work all has real descriptions."

Shouldn't it be, " I've noticed his newer work all HAVE real descriptions." I think "work" with "all" makes this plural. (Even though we sometimes say "works," too, for plural.) Since it is plural, the correct verb should be HAVE.

Don;t meant to be picky!

Not a problem, it's just a typo, sort of like how you used a semi-colon above instead of an apostrophe in the word "Don't".
Thanks for pointing it out.


From atwhatcost
One other version of "Brief Description" that makes me scroll down for something else to read. It comes in two flavors - "This is a first draft. Help me fix it." or "I just wrote this, what do you think?" Uh, no! I won't think for you. If you don't find it important enough to you to revise yourself, I'm not your English teacher.
Not everything I write is wonderful. Some are complete flops, but one thing for sure, I took the time and effort to make them as good as I could in the alloted time, before presenting them to fellow writers. I'm game for experimenting, but I'm not game for editing something the writer didn't care enough about in the first place to make it shine to the best of their abilities. Have pride and I'll read with pride for you.

Good point, that is one that baffles me also and doesn't really peak my interest. Thanks for sharing your opinion.


From ~*Arpita*~

Excellent NL! Exactly accurate for fresh newbies out here...it is almost like holding their hands and explaining things. Very good work!

Thank you very much. I really appreciate you taking the time to write in. If you have any suggestions on future topics, don't hesitate to let me know.


From gemyny

Why am I getting so many views but so little reviews?

That's a hard question to answer. I looked in your port and don't see anything that would deter me from reviewing you. I have featured your only item rated under 18+ so hopefully that will bring you some reviews. Sometimes higher rated items take a little more time. May I suggest checking out the group -"Unofficial Erotica Newsletter Group"
[18+] if you haven't already. That may put you in touch with other authors that share your interests.

From Maverick

Respected Editor,
I am a registered author in your esteemed web site. I am very much interested in publishing my writings in your Newsletters. Its motivating and helps me improving my writing with valuable reviews.
Kindly let me know how I can do the same.
--
Regards
maverick

Of all your items, I see two have no reviews. I noticed they are listed in the genre "Other" which doesn't exist. If you would like them to get more exposure, I would suggest updating the genres. I'm also featuring one of your items this month so hopefully that will bring you some readers also. thanks for writing in.


From eros2010
I know these points were directed at the Newbies amung us but these are great reminders for those of us, including myself, who may have gotten lax on some of the set-up work for our items. I know I forget to add tag words and the item type alot. I am always going back and fixing it after the fact. Thanks for the reminders.

You're very welcome. I always love to hear when my newsletter topics are useful by veterans from the site. Thank you for writing in and letting me know.


From lochinver

Submitted with: "Invalid Item"

Hey thanks for the vital information you shared in this newsletter.it makes me feel much better-equipped for exposing my work to other members..having posted just a single item so far,I've received two reviews for it but I would like you to check it out and please do let me know your views on it if any..thanks again!



You're very welcome. I hope this month's editorial helps you just as much. Write on!



From e_bgem

Thank you so much for the newsletter,i just learnt from my mistakes,thank you for pointing them to me

Well that's good to hear. I hope it brings you some new fans for your work.
Thanks for taking the time to write in!


From Kaya

Nice and informative newsletter doll! I still occasionally find a story or poem where I used that awful 'other' - from back in the day of course!
Thank you dear! I was surprised to see your name in my comments.
Thank you for your comments.


From allegroconbrio
Hello! Thanks for writing this newsletter. I basically followed all the steps outlined in the newsletter for each of my items, but so far I haven't gotten too many reviews yet. I'll just continue to read and review and hope that someone will come by and check me out!

That's a wonderful attitude. I have also featured one of your items this month so hopefully that will help open up your portfolio to some new eyes. Good luck!


From hbar

Nice newsletter Brooke. something that wasn't mentioned regarding getting reviews is the remainder of a portfolio. Often when I review a piece I will read the authors bio and port welcome or whatever you call that thing on the first page. Just to give me an idea if I am reading a younger author and perhaps some of the author's perspective. Anyway, if the author hasn't taken the time to write in intro and fill out a bio I am much less likely to review one of their pieces. As if it matters.

Thank you John, you had a very valid point and I appreciate you sharing it. As you can see, it inspired this topic.
I appreciate you writing in and telling me your thoughts, especially in language that's fit to print.

| | |
| --- | --- |
| ASIN: B01IEVJVAG | |



To stop receiving this newsletter, click here for your newsletter subscription list. Simply uncheck the box next to any newsletter(s) you wish to cancel and then click to "Submit Changes". You can edit your subscriptions at any time.