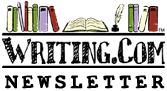 Romance/Love





This week: Traditions

Edited by: Fyn
More Newsletters By This Editor



1. About this Newsletter
2. A Word from our Sponsor
3. Letter from the Editor
4. Editor's Picks
5. A Word from Writing.Com
6. Ask & Answer
7. Removal instructions





Family traditions counter alienation and confusion. They help us define who we are; they provide something steady, reliable and safe in a confusing world.
~~Susan Lieberman

"Tradition is the illusion of permanence."~~ Woody Allen

"What an enormous magnifier is tradition! How a thing grows in the human memory and in the human imagination, when love, worship, and all that lies in the human heart, is there to encourage it"~~ Thomas Carlyle

"Often, the less there is to justify a traditional custom, the harder it is to get rid of it."~~ Mark Twain






| | |
| --- | --- |
| ASIN: 0996254145 | |



Traditions. Everyone has them. We grow up with them, get married and mesh ours with those of our spouse creating new ones along the way that somehow, at some point, become 'the way we've always done' whatever it is we do.

As a child, we lived out in the middle of nowhere in New Jersey. Yes, you can be in the middle of nowhere in New Jersey! Our driveway was two and a half miles of narrow, twisty-curvy road. Every Christmas Eve it seemed that we had a storm of some sort and lost power. Getting the electric company up on our mountain on Christmas Eve was not easy! So we built fires in the fireplaces, read the Christmas Story by candle light and every year, ate hotdogs cooked on sticks over the fire. The one year we actually HAD power, we did it any way because, by then, it was a tradition. To this day, albeit with power, we still always, always have hot dogs on Christmas Eve. When my Navy daughter was stationed in Rota, Spain, she called on Christmas Eve asking, "You are having hot dogs, right?" We were. Of course. She did too! It meant 'home.' Most traditions surrounding the holidays do.

The song, "I'll Be Home For Christmas" never meant more to either of us than when she was overseas. Ever since, now that she can be 'home' for Christmas, it still brings tears to my eyes when I hear it. Of course I remember when she wasn't home, but now I think of all those who aren't home either. Hubby just found it on the computer and is playing it. Hard to type through tears. *Sniff*

I remember Mom and Dad going to St Croix for 12th Night. Down there, they first heard a song called 'Mary's Little Boy Child.' Ever since it has been a special song to us as it became the first Christmas song we'd play every year just after Santa and his sleigh went by on the Macy's Thanksgiving Parade. As we grew up and scattered across the country, Mom would call and play the song over the phone at a moment or two after noon. Mom and Dad are no longer with us. Yet I call my brother and each of my kids in turn and play it for them. Usually when they answer the phone, I can hear it in the background there too. It is like a string pulled tight, linking us together regardless of where we are. Now even the grandkids wait to hear the special song.

As a child and then later as a mom, I'd sit and just enjoy looking at the tree. As the kids were growing up, I could look under the tree and know what was in each prettily wrapped box. When my hubby and i got together, he began a new tradition. I got to bed first...before my youngest daughter and her other half arrive early in the wee hours of Christmas morning. Then he and they put out their 'stuff.' When I get up in the morning, early (!--I'm such a kid at Christmas) the pile has grown and i no longer have a clue what is in many of the boxes. I love that.

My youngest was nine or so and Grammy wanted one last photo with Santa. Youngest balked at the idea, embarrassed and not one bit happy about it at all. But she did it because she wasn't about to mess with Grammy at the mall. When Santa asked her what she wanted, she whispered something to him. He asked her if that was all she wasnted and, with a mean little face, she nodded, hopped off and that was that. We went off in different directions, youngest with my mother and I off to the book store. A moment later, someone tapped my shoulder and I turned to see Santa. He said that he had to find me!

"Do you know what Christmas Magic is?" he asked.
"Yes, it is like confetti, usually red stars or something Christmas-y like, that," I grinned, "Santa leaves behind."
"Well, your daughter whispered to me that if I was real, this year there'd be purple Christmas Magic."

I was sooo glad Santa found me!!! I went and got some to replace the red and green candy cane magic I'd already gotten. Christmas morning, she came downstairs to find purple Christmas magic sprinkled all the way from the note he left by the cookies to the tree, in the stockings and inside presents from Santa. The look on her face was priceless! His note, written specifically to her cautioned her to always believe in the magic of Christmas. She did, does. As do I. And yes, we still wake up to Christmas magic scattered everywhere.


When Hubby and I decorate the tree, there is a drummer boy made out of felt and styrofoam that is always, ALWAYS the first ornament on the tree. He got it from his mom when he was nine, the year he first started playing the drums. It is fifty years old this year. The second ornament on the tree for the past twenty-four years has been a blown glass ship I got him back in 1987. That time around, we didn't stick and parted as friends but going our separate ways. When we got back together in 2005, imagine my surprise when I found out that all those years in-between, it was the second ornament on the tree!

Traditions are the glue that keeps families and friends together regardless of where they are. So too in our writing. Working on a novel, chances are there are characters whose story spans years or generations. They need their traditions too! They need their special songs, their specific ornaments, their gift-giving idiosyncrasies and their 'not to be messed with' traditions. They need new ones to grow as they do, or to be missed if necessary. They need their routines, their normal 'way it is done' traditions every bit as much as the rest of us. It makes our characters human, alive and tangible.







Main Street (E)
1950's shopping traditions
#

1088660

by Barbs
Invalid Item
This item number is not valid.
#

1041818

by Not Available.
Christmas Traditions (E)
New Christmas traditions are formed as a result of family changes.
#

919534

by Diane
Invalid Item
This item number is not valid.
#

764237

by Not Available.
Invalid Item
This item number is not valid.
#

568105

by Not Available.
Winter Solstice (E)
This is the song of an ancient worshipper of Solstice.
#

1048136

by Shaara
Invalid Item
This item number is not valid.
#

1829801

by Not Available.
My Drummer Boy (E)
He's playing again after too many years!
#

1730668

by Fyn



Have an opinion on what you've read here today? Then send the Editor feedback! Find an item that you think would be perfect for showcasing here? Submit it for consideration in the newsletter!
https://Writing.Com/main/newsletters/action/nli_form



Don't forget to support our sponsor!




| | |
| --- | --- |
| ASIN: B07RKLNKH7 | Kindle |

Seabreeze
suggested: All I can say is, why did you waste the moment and the Bailey's. You and hubby should have created your own love scene.

HmmmmIf only! *grin*

ElizabethHayes -SpringMistress
says: Hi Fyn. Great newsletter. I read about your hubby interrupting so conveniently when you were about to write that certain scene. My advice: Hogtie him to the nearest pole or whatever long enough to write it.
If he says anything say, "I bet you won't interrupt me again."
*Sitting here giggling!
Mia - in motion
writes: Loved your letter.
I no longer wonder why I have difficulties getting down my writing. Sometimes it can be a toss up between getting together with the live partner or with characters in a story.

Jace
adds: Loved your newsletter, Fyn. Ya can't top reality for drama, huh?
I really want to read that story when those two finally get together. Will it be like the kiss at the end of "The Princess Bride?"
As you wiiiish...well, no, actually, even better! *grin* And yes, I did get it written!

| | |
| --- | --- |
| ASIN: B07RKLNKH7 | Kindle |



To stop receiving this newsletter, click here for your newsletter subscription list. Simply uncheck the box next to any newsletter(s) you wish to cancel and then click to "Submit Changes". You can edit your subscriptions at any time.