Printed from https://www.writing.com/main/newsletters/action/archives/id/4805-You-Do-What.html
Horror/Scary: January 04, 2012 Issue [#4805]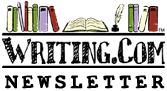 Horror/Scary





This week: You Do What???

Edited by: darkin
More Newsletters By This Editor



1. About this Newsletter
2. A Word from our Sponsor
3. Letter from the Editor
4. Editor's Picks
5. A Word from Writing.Com
6. Ask & Answer
7. Removal instructions



Creaky doors, cold spots, shrieks in the night. These are a few of horror writers favorite things!!

My name is darkin and I'll be your guest editor for this edition of the Horror/Scary Newsletter.

| | |
| --- | --- |
| ASIN: 0995498113 | |

Recently I was watching a pretty bad horror movie with a very unique character. The hero came across a cryptozoologist tracking the same creature terrorizing the hero's town. Together, they tracked and destroyed the creature. I thought to myself "what a creative idea for a character".

Cryptozoology is the search for animals believed to exist, but haven't been proven to exist. While normally considered to be a joke among the scientific community, Cryptozoologists are serious about finding proof of the creatures they seek.

You can't take courses in Cryptozoology. There isn't a degree you can get to prove you are one. Cryptozoologists come from all walks of life. Some are highly educated while others are just dedicated researchers. But they all share a common goal -- finding and proving the unknown species.

But how can you use this wonderful character in your horror story?

Every monster horror tale has a character who knows the history of the area or the creature being hunted. This character can be a helper of the hero, or an antagonist who is fighting to stop the hero from destroying the monster. This character can even be the hero himself.

Here are some of the ways you can use a Cryptozoologist in your story. One thing you should do before writing a Cryptozoologist into your horror tale is to research the field. There are many web sites devoted to the study of Cryptids, the creatures they search for. An internet search will bring you plenty of research material to use.

As a Hero
He can be many things to a story. Mild and meek, rough and tough, know what he is doing, or even be the one who has to learn to be strong. Having him as the hero means you can do without a secondary character who gives the hero the information he needs to locate the creature.

As a Helper
He can be used to give the hero area or creature information, help track the creature, document the event, or even help capture the beast. He can be a serious or comedic character.

As an Antagonist
He can be a wonderfully fun character. Pretending to be a helper, only to sabotage the hero's plans. He can be fully evil, driven insane by his desire to find and prove this creature's existence. Or simply someone who needs the status this monster's proof would give him.

There are so many ways to use this type of character, above the standard information giver. It all depends on the kind of story you want to write and what you want to do with this terrific character.


Here are some tales I found while traveling the backroads of WDC....Enjoy!!


Invalid Item
This item number is not valid.
#

1797745

by Not Available.
Invalid Item
This item number is not valid.
#

1376625

by Not Available.
Do Not Go Gently (18+)
They come at night. Stay by the nightlight.
#

1820206

by Early
Soul Survivor (13+)
Some monsters draw strength from a crucifix.
#

900005

by Eurokraken
Ball (18+)
Where do all the monsters go when Halloween's over? What do they do.....?
#

1822922

by elizjohn
The Lake (13+)
Seeking revenge for his daughter's death, Daniel goes out to fish...
#

1123863

by iKïyå§ama
Invalid Item
This item number is not valid.
#

1810338

by Not Available.
Pumpkin Carver (13+)
A short story about an eight year old girl and her imaginary friend.
#

1789033

by Ghost
The Monster (E)
Story for Writers Cramp about a bunny with bulging eyes.
#

837722

by Diane
The Monster Under the Bed (13+)
A little girl is terrorized by a monster under her bed.
#

1218916

by Turtle



Have an opinion on what you've read here today? Then send the Editor feedback! Find an item that you think would be perfect for showcasing here? Submit it for consideration in the newsletter!
https://Writing.Com/main/newsletters/action/nli_form



Don't forget to support our sponsor!




| | |
| --- | --- |
| ASIN: B01CJ2TNQI | Kindle Store |

Thank you for taking the time to read. Please let me know if you have any questions or comments.

darkin

| | |
| --- | --- |
| ASIN: B01MQP5740 | Kindle Store |



To stop receiving this newsletter, click here for your newsletter subscription list. Simply uncheck the box next to any newsletter(s) you wish to cancel and then click to "Submit Changes". You can edit your subscriptions at any time.



Printed from https://www.writing.com/main/newsletters/action/archives/id/4805-You-Do-What.html