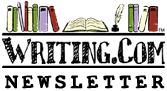 Romance/Love





This week: The Romantic Movie Night

Edited by: Lonewolf
More Newsletters By This Editor



1. About this Newsletter
2. A Word from our Sponsor
3. Letter from the Editor
4. Editor's Picks
5. A Word from Writing.Com
6. Ask & Answer
7. Removal instructions





In this edition I go over a few movies that I deem to be romantic. When having a little private time with your beloved, or just wanting a quiet night to yourself there is nothing like a good movie to set the mood. I hope you enjoy the read, and if you have any comments feel free to shoot me an email. I would love to hear your feedback. If you have any movies that should have been added don't hesitate to send me your own list of Romantic movies.

I'm Lonewolf
and I am honored to be your editor this week.



| | |
| --- | --- |
| ASIN: B07NPKP5BF | Toy |



Romance movies can be wonderful for a chilly day, a starlit night, or really any time in between. This popular movie genre is so diverse that it may be difficult to choose the best romance movies for a specific occasion, a date, or even a girls' night. When choosing romance movies, some things to consider include the specific genre, any particular personal associations with the film, and reviews from movie critics or friends.

Each year, studios release a half dozen films about love and romance. But really, most of them lack originality, or are predictable. If you want to see one of the best romantic movies, you need a reliable list of those that have stood the test of time, or are simply unique love stories you'll enjoy again and again. Outstanding romantic movies include just the right blend of drama, angst, longing and even humor. The list contains new movies along with classic picks---but be sure, every single one of these are worth watching.




Titanic



The genius of Titanic does not lie in the story itself. It lies in how the story is told.



After winning a trip on the RMS Titanic during a dockside card game, American Jack Dawson spots the society girl Rose DeWitt Bukater who is on her way to Philadelphia to marry her rich snob fiance Cal Hockley. Rose feels helplessly trapped by her situation and makes her way to the aft deck and thinks of suicide until she is rescued by Jack. Cal is therefore obliged to invite Jack to dine at their first-class table where he suffers through the slights of his snobbish hosts. In return, he spirits Rose off to third class for an evening of dancing, giving her the time of her life

.




An Affair To Remember



The basic story of An Affair To Remember, a man and a woman meeting on a ship crossing an ocean and falling in love, is just the foundation of this wonderful and witty tale of true Love.

Cary Grant and Deborah Kerr are perfection as the two people who meet on a ship and fall in love. Because they are each engaged to other people, they decide to put their feelings to the test of time. They agree to meet atop the Empire State Building in six months if they feel the same. One shows up, one doesn't because of tragic circumstances. When they accidentally meet months later at a ballet, it is awkward, yet the chemistry cannot be denied.





Pure Country



Good movie and purely entertaining. George Strait and Isabel Glasser as well as the rest of the cast make this movie very enjoyable.


Wyatt "Dusty" Chandler, one of the hottest performers in country music. Dusty feels that his elaborate stage show is overwhelming his music, a suspicion confirmed one night when he forgets several bars of a chart-topping hit and his fans don't even notice. Disillusioned, Dusty tells his manager Lula and best buddy Earl that he's taking a break. After shaving his beard and cutting off his ponytail, Dusty heads for the small farm town where he grew up, visiting his wise old grandmother and ending up at the ranch of the Tucker family, where nobody recognizes him. He stays on at the ranch, paying room and board and taking roping lessons, all the while earning the respect of owner Ernest and falling in love with Ernest's daughter, Harley.



The Enchanted Cottage



Just a very simple and elegant parable about how it's what's on the inside of a person that counts, and not one's outward appearance.



After a crash disfigures his face and maims his body, pilot Oliver Bradford (Robert Young) hides from family and friends in a seaside cottage. There he befriends homely, gentle Laura Pennington (Dorothy McGuire). The two marry for companionship - until some rare magic within the cottage transforms them into ardent and beautiful lovers.





You've Got Mail



I came across this movie by accident, and just loved the chemistry between Meg Ryan and Tom Hanks. It reminded me of something I would do.

This sweet romantic comedy reunites "Sleepless In Seattle" stars Meg Ryan and Tom Hanks. He's the owner of a bookstore chain; she's the woman he falls for online. Both are unaware that she runs the little shop his company is trying to shut down.



50 First Dates



I heard so much about the movie I decided to finally check it out for myself. I was pleasantly surprised by the movie, and the feeling it gave while watching it. The comedy was perfect for the situation of the film. I loved the romantic lengths Henry was willing to go through.

Henry Roth is a man afraid of commitment up until he meets the beautiful Lucy. They hit it off and Henry think he's finally found the girl of his dreams, until he discovers she has short-term memory loss and forgets him the very next day.



A Walk to Remember



I came across this story by chance. My mother talked about Nicholas Sparks, and how he had a way with words. She let me borrow the audiobook, and I just had to have it for my collection after listening to it twice. The book now resides in my bookcase. When I discovered they were making a film adaptation I jumped at the chance to see if they did the book justice. The film was good, and I'd recommend it to anyone, but I'll always love the book more.



In Beaufort, North Carolina, a prank on a student goes terribly wrong and puts the student in the hospital. Landon Carter, a popular student with no defined plans for the future, is held responsible and forced to participate in after-school community service activities as punishment, which include starring as the lead in the school play.







The Winner's of my "Love and Romance Newsletter Contest"
are as follows:



First
Expressions of love (18+)
What makes special occasions special?Small, yet powerful expressions of love...
#

1845617

by lochinver
Second
Invalid Item
This item number is not valid.
#

1843360

by Not Available.
Third
Invalid Item
This item number is not valid.
#

1843769

by Not Available.
Honorable Mentions
Invalid Item
This item number is not valid.
#

1846209

by Not Available.
Invalid Item
This item number is not valid.
#

1843158

by Not Available.
Invalid Item
This item number is not valid.
#

1849020

by Not Available.



Have an opinion on what you've read here today? Then send the Editor feedback! Find an item that you think would be perfect for showcasing here? Submit it for consideration in the newsletter!
https://Writing.Com/main/newsletters/action/nli_form



Don't forget to support our sponsor!




| | |
| --- | --- |
| ASIN: B00KN0JEYA | |


| | |
| --- | --- |
| ASIN: 197380364X | |



To stop receiving this newsletter, click here for your newsletter subscription list. Simply uncheck the box next to any newsletter(s) you wish to cancel and then click to "Submit Changes". You can edit your subscriptions at any time.