Printed from https://www.writing.com/main/newsletters/action/archives/id/5440-Whodunit-to-who.html
Mystery: January 01, 2013 Issue [#5440]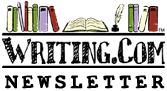 Mystery





This week: Whodunit to who?

Edited by: Arakun the Twisted Raccoon
More Newsletters By This Editor



1. About this Newsletter
2. A Word from our Sponsor
3. Letter from the Editor
4. Editor's Picks
5. A Word from Writing.Com
6. Ask & Answer
7. Removal instructions





Quote for the week: It is easy to kill when you don't see your victim.
~Friedrich Durrenmatt





| | |
| --- | --- |
| ASIN: B01IEVJVAG | |



Mystery stories are called whodunits because the plot usually involves discovering the person who committed a murder or some other crime. You can add an extra layer of mystery and more challenges for your detectives if the victim is also unknown. This can be done in several ways:

Someone sees or hears a murder, but no evidence is found at the scene. What the witness saw may actually have an innocent explanation, or maybe the killer is just very good at covering his tracks.

There is evidence of foul play, but no body. Evidence may include items such as blood, broken windows, or a ransacked house. Your main character may wake up with a bloody knife in his hand, but no memory of how it got there.

A body is found but identifying features are missing. Crime victims are commonly identified through facial recognition or dental records. The killer may remove fingertips or even decapitate the victim. Identification with DNA testing is still possible, but it will be more difficult and will take more time. Maybe the victim is well known or powerful and the killer is a lookalike who has assumed the victim's identity, or maybe... well you decide!

The body is intact, but still cannot be identified. In order to identify a body, investigators need to have some idea who it might be to start with. Maybe the person has not been reported missing yet, or he or she may be a loner with no family or friends to notice they are gone. Dental structure or fingerprints are only useful if records exist for comparison. The victim could be a poor individual who has never been to a dentist, or might be from another country where the records are not easily obtained. Fingerprint records exist only if the victim has an arrest record or was a member of a profession routinely fingerprinted, such as the military. Comparisons with DNA of family members makes DNA identification possible, but the authorities must have some idea of who it might be to start with. Unfortunately, thousands of people go missing every year, many of whom are never identified.

Knowing and understanding the victim is an important step in catching a killer. Even a serial killer who seems to choose victims at random often selects them on the basis of some shared characteristic. If they cannot identify the victims, investigators may not notice this pattern, and may not even realize that the crimes are connected.

Something to try: Write a murder mystery in which the killer is known from the beginning, but the victim's identity and the killer's motive must be discovered.





Immortal Sin (13+)
An Immortal State tale: Immortality of a sort exists, so what is murder?
#

1905509

by Mage
Invalid Item
This item number is not valid.
#

935554

by Not Available.
The Case of Matthew Stone (13+)
A puzzling case for a quirky detective.
#

1464312

by Lornda
Turning Dark (18+)
What will a cop's life be worth in the future?
#

1826777

by George R. Lasher
Detective HyperCube (13+)
A detective argues with a computer designed to solve murders.
#

1867209

by MrBugSir



Have an opinion on what you've read here today? Then send the Editor feedback! Find an item that you think would be perfect for showcasing here? Submit it for consideration in the newsletter!
https://Writing.Com/main/newsletters/action/nli_form



Don't forget to support our sponsor!




| | |
| --- | --- |
| ASIN: B07NPKP5BF | Toy |



Question for next time:When you develop a story, do you think of plot or characters first?


| | |
| --- | --- |
| ASIN: B07K6Z2ZBF | |



To stop receiving this newsletter, click here for your newsletter subscription list. Simply uncheck the box next to any newsletter(s) you wish to cancel and then click to "Submit Changes". You can edit your subscriptions at any time.



Printed from https://www.writing.com/main/newsletters/action/archives/id/5440-Whodunit-to-who.html