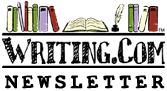 Drama





This week: The Drama of Writing: Trial and Error

Edited by: Joy
More Newsletters By This Editor



1. About this Newsletter
2. A Word from our Sponsor
3. Letter from the Editor
4. Editor's Picks
5. A Word from Writing.Com
6. Ask & Answer
7. Removal instructions



It is perfectly okay to write garbage—as long as you edit brilliantly.
C. J. Cherryh

One of the hardest things for me, now that I'm famous, is finding people who can read my stuff and give me an honest critique.
Ken Follett

I started writing short stories. I tried writing horror, mystery, science fiction. I joined a little critique group here in town and ran my stories past them. After about three years, I tackled my first novel, Subterranean. It took me 11 months to write.
James Rollins


Hello, I am Joy
, this week's drama editor. This issue is about paying attention to helpful reviews.


Your Drama Newsletter Editors: zwisis NickiD89
kittiara
Joy

Thank you for reading our newsletters and for supplying the editors with feedback and encouragement.

Note: In the editorial, I refer to third person singular as he, to also mean the female gender, because I don't like to use they or he/she.


| | |
| --- | --- |
| ASIN: B07B63CTKX | Kindle Store |

Welcome to the Drama newsletter
Since the act of writing is drama in itself, this newsletter is addressing us writers as the drama queens and kings.

You sit at your desk at your computer or hold your pen on paper, and you create your baby, your story from the heart, dripping blood and tears, but then, come the reviews and critiques.

You shudder. The terror is profound and real, but at least, the verdict you get from a qualified reviewer is honest. By now, you have learned, through experience, whose comments to discard and who is being helpful.

Even if the wording of the review sounds harsh, you know to give the reviewer credit because it has been a while since your story was born, and you know in your heart that this baby needs a diaper change, and maybe even some medical intervention. Time to blink away the stars in your eyes and get to work.

For your baby's sake, it is a good idea to mind these rules.





Rule number 1. Pay attention to honest reviews



Honest reviews are free lessons. Do welcome helpful comments, even if they are not laudatory; even if they do not focus on the pretty blue eyes of your baby but show you the smelly bottom or the missing hair. Think about them for a while, and if you think they really apply to your work, then consider changing a thing or two.



Rule number 2. Reread your story and try to be objective.



Truth is, practically all authors are scorned in the beginning. So, what will you do? Will you keep entering your not-quite-ready story in other contests without any corrections? Are you going to throw the baby with the bathwater out in the recycling bin here in WdC or in the thrash inside your computer because you are heartbroken and disillusioned?

I hope you do neither. I hope you rewrite your piece, taking your time, because almost all work is redeemable. You never know, sometimes the brightest gems are hidden under jagged rocks.



Rule number 3. Get more opinions



After the editing and rewriting, seek out several varied opinions. You may need even more editing and rewriting sessions, but for the sake of your baby, for him to reach a successful adulthood, you'll need to be willing to do as much as it takes. Truth is, soon, you'll get a feel for what the readers, reviewers, judges, agents, or publishers are looking for.



Rule number 4. Accept the result.



If you have done all you could, but you still feel something is lacking and you don't know what else to do, it is time to move on. At this time, maybe you should attempt projects that are lower risk and be content with small successes, as small successes have a way of building up.

Then, after a while when you feel ready, you start with your next baby, as every new birth will teach a new craft skill.

Surely, several variables may exist where these rules are concerned. The expectations of different types of readers, genres, and publishers may differ from one another or, in some way, contradict what you mean to say. Even honest reviewers may hold opposing views. You have to adjust to those as you go along because what remains the same is the demands and standards of the craft, and through trial and error, you the writer will come to assess and improve your own work better.

As a rung on the ladder to victory, even a botched-up attempt is good for you, but persistence is ultimately better because it is the power that drives you to raise your babies to success

In addition:
Top-Reviewers


Until next time…


Enjoy!
Invalid Item
This item number is not valid.
#

1951194

by Not Available.
The Fun House (13+)
"Come on in ... if you dare."
#

1881045

by Tom Buck
Final Flight (13+)
Day 7 Entry (History) - "The Baker's Dozen"
#

1951666

by 🌕 HuntersMoon
An Ordinary Day in June (18+)
A dysfunctional family shares dinner but not secrets. Written on and in honor of June 3
#

1936639

by Max Griffin 🏳️‍🌈
Invalid Item
This item number is not valid.
#

1952555

by Not Available.
What Could Have Been (13+)
A woman's place is ...
#

1951141

by Thankful Sonali HAPPY 23 WDC!
Tongue Stud (18+)
Day 3 Writer's Baker's Dozen Contest Entry
#

1950882

by Annette
The Ice Lake (13+)
A journey deep into a forgotten place in my mind.
#

1693611

by Paul J. Belanger
October Novel Prep Challenge (13+)
A month-long novel-planning challenge with prizes galore!
#

1474311

by Brandiwyn🎶
Daily Flash Fiction Challenge (13+)
Enter your story of 300 words or less.
#

896794

by Arakun the Twisted Raccoon
The Writer's Cramp (13+)
Write the best STORY or POEM in 24 hours or less and win 10K GPs!
#

333655

by Sophy
The Dialogue 500 (18+)
Dialogues of 500 words or less.
#

941862

by W.D.Wilcox
Twisted Tales Contest (13+)
A monthly contest for stories with a twist. Get 500 GPs for entering! Sept round open!
#

1269187

by Arakun the Twisted Raccoon



Have an opinion on what you've read here today? Then send the Editor feedback! Find an item that you think would be perfect for showcasing here? Submit it for consideration in the newsletter!
https://Writing.Com/main/newsletters/action/nli_form



Don't forget to support our sponsor!




| | |
| --- | --- |
| ASIN: B07P4NVL51 | |

*~*~*~*~*~*~*~*~*~*~*~*~*~*~*~*
This Issue's Tip:
Give a character --not just the protagonist but other important characters, too-- some passion for something he or she cannot have, then come up with ideas for them to find a way to get that thing.
*~*~*~*~*~*~*~*~*~*~*~*~*~*~*~*
Reading Recommendation: A book with drama
If you have a recommendation, a few words on a book or a product review, send it to me or to this newsletter. I'll highlight it here.

[[ Product review #111667 does not exist. ]]


*~*~*~*~*~*~*~*~*~*~*~*~*~*~*~*

Feedback for "

Fatal Flaws Create Powerful Stories

"
Happy autumn everyone!

Yes, fatal flaw is the real hook. I'm thinking Under the Dome's Jim Rennie. S.K. has the secret
. Thanks for a great newsletter.
Thanks for the feedback, Connie.

I am not familiar with that book, but yes, some authors are better at with coming up with strong fatal flaws.


*~*~*~*~*~*~*~*~*~*~*~*~*~*~*~*


Quick-Quill

The link was great. I haven't read Percy so some questions I had to guess at. I didn't agree that my character's personal flaw was he would sacrifice anything for his family or loved one. I think I didn't answer the questions right.
Thanks for the input, Quick-Quill
.
*~*~*~*~*~*~*~*~*~*~*~*~*~*~*~*
BBWOLF is Armor Monster

Submitted item: "Redwall Interactive"
[13+]
The Redwall series is good.
Of that, I am sure.
*~*~*~*~*~*~*~*~*~*~*~*~*~*~*~*

| | |
| --- | --- |
| ASIN: B07P4NVL51 | |



To stop receiving this newsletter, click here for your newsletter subscription list. Simply uncheck the box next to any newsletter(s) you wish to cancel and then click to "Submit Changes". You can edit your subscriptions at any time.