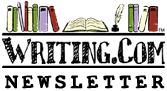 Horror/Scary





This week: Publishing Horror

Edited by: LJPC - the tortoise
More Newsletters By This Editor



1. About this Newsletter
2. A Word from our Sponsor
3. Letter from the Editor
4. Editor's Picks
5. A Word from Writing.Com
6. Ask & Answer
7. Removal instructions



This newsletter is about how to get your short stories published.

Sage Quotes:

"I had a period where I thought I might not be good enough to publish."
~ Stephen King

"I was always so relieved that anyone wants to publish anything I've written."
~ Neil Gaiman

"If you want to publish two books a year under your own name and your publisher doesn't, maybe you need a different publisher."
~ Dean Koontz

"The thing is, emotion -- if it's visibly felt by the writer -- will go through all the processes it takes to publish a story and still hit the reader right in the gut. But you have to really mean it."
~ Anne McCaffrey




| | |
| --- | --- |
| ASIN: B01MQP5740 | Kindle |

Publishing Horror



First Things First



You've written a story and are proud of how good it is. Yay!
So why not try to get it published and out in front of even more readers?

First, make sure the story is really your best effort.


Has the story been revised enough?


If you think it could use more feedback, enter it in a contest (the contest owner will almost always review it) or put it on WDC's Review Request Page
or the Shameless Plug Page
or some of the other awesome review request forums on WDC.


Is the story marketable?
Magazines, online e-zines, and anthology editors receive thousands of stories a year and reject almost all of them. Sometimes it's because the writer's "unique" idea isn't so unique, or the story has problems the writer doesn't realize are there. Here are "What Not To Write" guidelines from some of
the Top Magazines and Writers' Associations
that accept horror:
ASIM: What We Want and Don't
Strange Horizons: Stories We've Seen Too Often
Strange Horizons: Horror Stories We've Seen Too Often
Andromeda Spaceways Advice on Every Writerly Problem
Science Fiction & Fantasy Writers of America (SFWA) List of Writing Don'ts: Turkey City Lexicon





Now that you're sure your story has been revised enough and is marketable, it's time to find a place to publish it. You can Google "Horror fiction submission" or "Short story market horror" and look over the results to find venues -- plus, I've put a list together to help you out!


Lists of Publishing Venues

Flash Fiction
Flash Markets (Huge list; up to 1500 words): http://www.everydayfiction.com/flashfictionblog/flash-markets-2/
Flash Fiction Markets (Fiction under 1000 words): http://suite101.com/a/flash-fiction-markets-a43211
AW List of Flash Fiction Markets: http://www.absolutewrite.com/forums/showthread.php?t=59234

Flash Fiction, Short and Long Fiction, and Novels
The Grinder (Huge list w/search engine - FREE) http://thegrinder.diabolicalplots.com/thegrinder/Search.aspx
Ralan Fiction Markets (Huge list - Free): http://ralan.com/
Duotrope (Huge list - Pay $5/month for subscription): https://duotrope.com/index.aspx




Now you've got a ton of places to submit your story to -- but WAIT!
You can't just send your story with "Please publish this" in the email. That'll get you a rejection.



READ THE VENUE'S SUBMISSION GUIDELINES
This may sound obvious, but as many editors will tell you, the "Rejected Pile" is full of stories that should never have been submitted. Stories that are 5000 words when the limit is 3000. Stories about serial killers when the ezine doesn't publish those. Stories that are attached instead of pasted or pasted instead of attached. Stories that are badly formatted.


FORMAT YOUR STORY
If the venue's Submission Guidelines indicate specific format -- pay attention! Fonts, font sizes, line spacing, and margin size are very important to some publishers and will earn you a quick rejection if the guidelines aren't followed.

If the submission guidelines don't indicate any preference for fonts or other styles, a good rule of thumb is a simple font (Courier or Times New Roman), in 12pt size on a double spaced page with one-inch margins, and saved in a doc file. (If you're sending a hard copy, print on one side of the page only.)

Editors expect to find certain information on each short story submitted. For example, your contact information (name, address, phone, and email) should go in the upper left, and the word count of the story should be in the upper right. Here's a link for an example: William Shunn Manuscript Formatting -- Short Story



COVER LETTER
Again, follow the venue's Submission Guidelines for the cover letter. If they don't list cover letter guidelines, it's best to write a short one with these things included.


Magazine Editor's Name (find it on the inside front cover or in the online "about us" section) and Magazine Name in the upper left.


In one clear sentence, preferably at the beginning, tell the editor what you want. Example: I would like to submit my story "Short Story Title" to your publication.


Write one line explaining what your story is about. Example: It is a 3000-word Horror/Western story about the citizens of a small town in the 1800s being changed into monsters after taking a con man's Miracle Cure-All potion. (Hey, that sounds good! Maybe I should write that one.
)
Include a brief bio. Emphasis on brief. It's not your entire life story and shouldn't be more than fifty words. You can include things like where you live, degrees you've received, your current job, and what you like to write. Read the bios of other writers to get ideas (bios usually appear below the author's story or article).


Include a short list of where you've published before. If you haven't published anything, don't worry. There's always a first time!


For an example of the cover letter that got my zombie story "Invalid Item"
published in a print anthology, go here: "Invalid Item"



TRACK YOUR SUBMISSIONS
Unfortunately, some emails get lost by venues or they don't reply in their stated time frame, but you'll never be able to send a follow up query unless you keep a record of WHO you sent the story to and WHEN you sent it. If their guidelines say they'll reply within two months, but you check your records and it's been four months with no word, it's okay to write them and ask about it.




Good Luck Getting Your Story Published!
Great news! My novel, Soul Cutter, releases this week!
** Image ID #1962458 Unavailable **
Soul Cutter
Coming on Dec 6

"I thought the third act was fantastic, and perhaps the strongest part of the story. There's a certain point where the pages fly by ... It's like Indiana Jones, if Indy was a seventeen-year old girl exploring the feelings and emotions seventeen-year old girls feel. It's worth the journey."
~ Horror Novel Reviews

"Pace was amazing, non-stop, and kept me coming back for more. Characters, every one of them, had depth that far surpassed your usual debut novel's cast -- in fact, it far surpassed many veteran writers' casts. The plot twists were unexpected and brought me even deeper into a story that I was already fully invested in."
~ Matthew Keith Reviews

"The book is rich in Egyptian/Middle Eastern culture and that added mystery and intrigue. Everyone was double crossing someone. It was most definitely a wild and wonderful ride. I was so sure I'd worked out the bad guys, I hadn't. I was so sure I knew who was going to die, I didn't. For a first book or even any book this was well written and had great pace."
~ Never Judge a Book By Its Movie (Book Reviews)

"Soul Cutter had a lot of aspects I loved. Lexa Cain writes a really great action scene, and Soul Cutter fully takes advantage of that, featuring plenty of suspenseful scenes and action-packed moments. I thought that Élan was a great heroine -- a good blend of strength and vulnerability. The non-Western setting and characters provided a great change from the typical YA."
~ YA Romantics Reviews

BUY LINKS:
Amazon
~
Barnes & Noble
~
Smashwords
~
Kobo
~
MuseItUp Publishing
Visit Lexa Cain's blog for more info:
http://lexacain.blogspot.com/
Until next time: Let the horror bleed onto the pages with every word!
-----------------------------------------------------------------------------------------------------------
EDITED ON JAN 4, 2014 TO INCLUDE IMPORTANT INFO:

Michael Thomas-Knight
and Pepper
brought to my attention that some publishers and magazine editors consider stories that appear online to be "published" and will not accept their submission.

Although you aren't allowed to put your writing up on a blog or a publicly accessible site, you are allowed to put your work into an online critique group -- and WDC can be considered a critique group if you keep your work from being publicly accessible.

How do you keep your work from being considered published?

Here are four ways to do that when you create or edit an item in your port:

In "Section 2. Content and Access Control Settings"



Do NOT leave the access like this:



Access Restrictions: Make PUBLIC, Allow EVERYONE

Membership Restrictions: No Restriction, Allow Everyone

Instead, change the setting to one of these four:


HIGHEST RESTRICTION
Access Restrictions: Keep PRIVATE, for my eyes only!
Membership Restrictions: Basic Membership or Higher
Passkey:

(Choose a number and ONLY give it to those you want to read your work)




HIGH RESTRICTION
Access Restrictions: Group Only – (Name of your group)
Membership Restrictions: Basic Membership or Higher


(Only members of the group can access the item)




GOOD RESTRICTION
Access Restrictions: Registered Authors and Higher only
Membership Restrictions: Basic Membership or Higher


(This allows only WDC members who are Authors and have something in their portfolio to see your work)




FAIR RESTRICTION
Access Restrictions: Registered Users and Higher only
Membership Restrictions: Basic Membership or Higher


(This allows only WDC members to see your work.)




To see if your work is on the net where the public (and editors and agents) can find it, simply put your item's title into a search engine (Google, Yahoo, etc.) to see if anything comes up. If nothing does, you're safe. If you get links that people can click on to, change your settings. (If you've recently changed the access restriction, it may not disappear from the search engines for several weeks because it's "cached." Keep checking.


Here are some PUBLISHED items by our fellow WDC members!
Short Stories:
In the Wake of Silence (13+)
This story was published in Slice Literary Magazine, Issue #10 2012
#

1738934

by NickiD89
Road to World's End (18+)
Published by Horror Bound, March 2010
#

1635099

by Michael
Invalid Item
This item number is not valid.
#

1687742

by Not Available.
Invalid Item
This item number is not valid.
#

1897586

by Not Available.
Invalid Item
This item number is not valid.
#

1931095

by Not Available.
Invalid Item
This item number is not valid.
#

1894702

by Not Available.
Invalid Item
This item number is not valid.
#

1536892

by Not Available.
Spider and Fly, a Love Story ()
This was a flash fiction piece published in "Twisted Dreams" magazine last year. Enjoy!
#

1209265

by RedRuby
The Cube (18+)
What happens when a discovery goes wrong?(Published)
#

1612187

by EvilDawg - Vigilante Ranger!!
Invalid Item
This item number is not valid.
#

1730784

by Not Available.
Poetry:
Invalid Item
This item number is not valid.
#

1921620

by Not Available.
The Fix (GC)
This is my first published poem. Tell me what you think. It is in memory of a friend.
#

1322474

by Doctored Climber
The Cry (E)
This got published in an anthology.Rate It!
#

275690

by linkin_park_goth



Have an opinion on what you've read here today? Then send the Editor feedback! Find an item that you think would be perfect for showcasing here? Submit it for consideration in the newsletter!
https://Writing.Com/main/newsletters/action/nli_form



Don't forget to support our sponsor!




| | |
| --- | --- |
| ASIN: B07RKLNKH7 | Kindle |

Your full time Horror Newsletter Editors:

billwilcox
and
LJPC - the tortoise
.


To my delight, some writers took the time to comment on my last newsletter: "Secrets of Psychological Horror"
Thank you!
Comments listed in the order they were received.
Vampyr14
writes: I love psychological horror. I think your own imagination will take you to far darker places than anything a writer can put on the page, so leaving the reason for the terror up to the reader/viewer, makes for a far darker journey. I mean, just look at Poe. He never tells you what's in the pit, does he?

And I've published a short horror (as you know)....

Good point about Poe. I love his "Telltale Heart," which is psychological horror, too. And your published short story is featured!


aegreenfield submits "Invalid Item"
and writes: This is the most critical scene in my paranormal romance novel. I tried to achieve good pacing in order to keep the reader interested.

Pacing is super important for any novel. Thanks for submitting your excerpt to the newsletter! I hope the readers give you feedback.
Loreli
submits "Invisibility"
and writes: Thank you for exploring this side of Horror. It is my preferred type of horror writing. My reference for this type of writing that my parents (mostly dad) watched growing up was Twilight Zone.

I added a piece that is most geared toward this type of horror.

Thank you again for focusing on what I think is a forgotten side of horror wrting.

I love Twilight Zone! And you're right, it absolutely relies on psychological horror. I'm so glad you enjoyed the newsletter, and I hope my readers will give your story a try!
Quick-Quill
writes: Good explanation. I just watched a documentary on Alfred Hitchcock and then the movie about him. He was amazing at pulling the fear out of any story. I see all the elements you listed. Good Job!

Hitchcock was a brilliant filmmaker, and there's a lot to learn from studying his movies. Thanks so much for reading the NL and for the compliment. I look forward to your comments each month!
BIG BAD WOLF 34 on June 3
submits "The Reptilian Chronicles"
and writes: Personally, I recommend the Tremors series- you never know where those graboids will show up at, or when they'll attack. Hopefully you've hired Burt Gummer to take care of the problem, right?

I love that series! It's the perfect blend of horror and comedy.
Taniuska
writes: Using the secrets device is one of my favorite methods to build tension in a story... great newsletter:)

Your characters are always keeping secrets from one another, and it's one of the reasons your books/stories are so successful!
Thanks for commenting!
Phoenix
writes: Psychological horror is my favorite type of horror. Tapping into people's fears can really ratchet up the conflict. Great newsletter!

Thanks, Kim! I think you have a lot of people who agree with you about psychological horror, judging by the response to the NL!
dejavu_BIG computerprobs
writes: Another one to print and save! You answered what I needed to know perfectly, LJPC. It's going to be interesting mixing up a story using these techniques, fear of abandonment is my favorite one. My favorite movie in this genre, Burnt Offerings, lordy, it gives me the creeps every time. Book, Stephen King's 'The Watcher.' The mc's interaction with that Beast was heartbreaking.
That's my favorite King book, too (except it's by Koontz
). I'm so glad I answered what you wanted to know about psychological horror. Thank you for suggesting it!
KMH
writes: Hi there, Tortoise. I just read your newsletter on psychological horror, and I must say I think you did a great job. Informative and interesting. I am not a fan of blatant horror or gore either - I prefer to think while I read.

Thanks for commenting, Kat! I'm so excited we're "sisters" with the same book publisher, MuseItUp. I can't wait to see your book, The Oddity, come out next year! I've featured all the published stories you submitted.
blue jellybaby
writes: A really great newsletter which just happens to be at a brilliant time for me, Nano! I love the way you delve into the depths of psychological horror and explain where it comes from and how it is experienced as well as the causes behind it too. Thank you!
Thanks! NaNo is over now, and I hope you have a huge first draft you'll be busy revising soon.
Lornda
writes: Awesome newsletter! The reference to the movies are an excellent example on the different types of psychological horror. Also, the tips for tapping into the universal fears were great! I plan on reading all of your picks, and I hope your tips inspire many authors to consider writing this type of horror!
If it wasn't for you suggesting it, I wouldn't have done the NL. I had no idea so many people were interested in the subject of psychological horror! So thank you, Lornda!


drifter46 writes: There is nothing quite so frightening or disturbing than not being able to wake up from a dream. The mind held captive but something or someone, real or imagined, will haunt you long after the event has passed. And no one, NO ONE is above that type of horror.

I agree with you. Nightmares have a strange power to terrify us even when we're awake.
Thanks for commenting on the newsletter!

| | |
| --- | --- |
| ASIN: B000FC0SIM | |



To stop receiving this newsletter, click here for your newsletter subscription list. Simply uncheck the box next to any newsletter(s) you wish to cancel and then click to "Submit Changes". You can edit your subscriptions at any time.