Printed from https://www.writing.com/main/newsletters/action/archives/id/6164-God-is-in-the-Details.html
Mystery: February 19, 2014 Issue [#6164]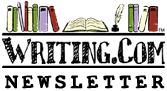 Mystery





This week: God is in the Details

Edited by: ember_rain
More Newsletters By This Editor



1. About this Newsletter
2. A Word from our Sponsor
3. Letter from the Editor
4. Editor's Picks
5. A Word from Writing.Com
6. Ask & Answer
7. Removal instructions





Mysteries have always been one of my favorite genres. I am happy to get to share some of my knowledge with you.



| | |
| --- | --- |
| ASIN: 0995498113 | |



For those of you who know anything about me at all, you know that I love to talk about my father and that he was a church of Christ Preacher. Daddy wasn't the kind of preacher who ranted about hellfire and brimstone. Instead he told jokes about preachers who carried it around in a sample case with them. He was an amazing storyteller. As I grew up I noticed that Daddy's stories were never really the same. He changed them a lot, It was just a minor detail here or there but after you have heard the same story so many times, you learn to recognize the changes.


"Daddy, why didn't you tell that story the same way as you did last time."

"Well punkin' God and the Devil are both in the details. They are in the details you leave in and the details you leave out. Sometimes when I am trying to make a point, I change the details to fit the point. I leave some things that don't help my argument out and put things that do in. When telling a story you should never tell it the same way twice. You should cater it to your audience."

Now the last part of that is only true if your verbally telling a story. But, over the years, as I have tried and failed to finish a mystery novel, I keep coming back to those words. "God and the Devil are both in the details." That is true for all fiction, but never more true than it is for Mysteries.

A mystery isn't just a well written story. It's a well timed piece of art that must time the release of details perfectly. To much detail to soon and you have given away the mystery before you have even started, or worse. I did worse in that I had so much detail in my first novel that I bored myself. That was 20 years ago and I didn't quite understand that a guided tour of a thirty year old murder scene kept just as it was when the murder was discovered, minus the bodies of course, wasn't such a good idea. Persevering the scene as a museum... genius. Trying to cram a bunch of clues into one small part of the story without letting anyone know they were clues... not so much.

The story idea was sound. My execution was flawed. The devil got me with too many details. Back then everything I wrote was done on a typewriter and I didn't have the heart to start all over. Today though we have not just the power to start over without starting over, we have the obligation to make sure that we are timing our stories correctly.

Bad timing in a mystery is like bad rhythm in a poem. You might not always know exactly whats wrong, but you always know that something is wrong.

I challenge you to go back over your old mysteries and read for timing. Does the story have places where it is bogged down by details? Are their places that are confusing because you didn't give enough detail? If so rework them, find your own rhythm. It will make your future work that much better and your readers will thank you for it.







All these stories were discovered while using the browse by genre option in the left hand sidebar. I highly recommend it if trying to narrow down your reading options to a certain type of story.



The Atlantis Discovery (18+)
Framed for a grisly crime, Jericho must find Atlantis, save the girl and clear his name.
#

1075789

by DP
The Case of Matthew Stone (13+)
A puzzling case for a quirky detective.
#

1464312

by Lornda
Mystery of an Old Photograph (E)
Emma finds a sixty year old photograph on the sidewalk and searches for answers.
#

1789559

by Jeannie🐴
ABCD : Any Body Can Die (13+)
A crime is going on in the city. Can ACP Debda prevent it from happening?
#

1973545

by Debayush Chakraborty
Invalid Item
This item number is not valid.
#

1967661

by Not Available.
Finding the Black Sheep (E)
A story about a detective who finds a lost jewel.
#

1969785

by dragon
A Tale of Murder and Fog (GC)
A body is discovered under mysterious circumstances.
#

1969621

by Duane Engelhardt
Digging up the Truth (13+)
mysterious short story.
#

1917615

by The Shane-O-Mac Attack
Invalid Item
This item number is not valid.
#

1963327

by Not Available.
Simple Deduction (13+)
As a normal high school student detective work isn't a reality but for two it's very real.
#

1964210

by SarahJuniperBerry



Have an opinion on what you've read here today? Then send the Editor feedback! Find an item that you think would be perfect for showcasing here? Submit it for consideration in the newsletter!
https://Writing.Com/main/newsletters/action/nli_form



Don't forget to support our sponsor!




| | |
| --- | --- |
| ASIN: B01DSJSURY | |



Have you ever struggled with timing? If so how did you fix it, if you fixed it?


| | |
| --- | --- |
| ASIN: B07YJZZGW4 | Kindle |



To stop receiving this newsletter, click here for your newsletter subscription list. Simply uncheck the box next to any newsletter(s) you wish to cancel and then click to "Submit Changes". You can edit your subscriptions at any time.



Printed from https://www.writing.com/main/newsletters/action/archives/id/6164-God-is-in-the-Details.html