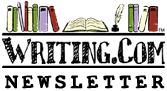 Noticing Newbies





This week: Life: Don't let it get in the way...

Edited by: ember_rain
More Newsletters By This Editor



1. About this Newsletter
2. A Word from our Sponsor
3. Letter from the Editor
4. Editor's Picks
5. A Word from Writing.Com
6. Ask & Answer
7. Removal instructions





As a Newbie, I struggled to find my place here. It took a couple of tries. Then I found a group and a friend that put a smile on my face and made me want to be here. I want to be that friend for all of you. So grab a cup of tea, and have a nice read as I help you find your ways through the ends and outs of Writing.com.

These week we will look at the thing that takes a lot of our newbies away before they ever really get started... Life.



| | |
| --- | --- |
| ASIN: B01DSJSURY | |



Good! You're all here already I see. I must apologize, I almost wasn't. I can feel my husband laughing right now. "Sweets, if life gets in the way just kick it in the shins. Your happier when your writing." He says shins because apparently I am to short and blind to actually kick life in the teeth.

You see, these last couple of weeks, Life has gotten in the way. My 17 year old range finally bit the dust between Christmas and New Year and I had to buy a new one. I hate shopping for anything, but that was hard. I remember commenting that I would rather take on a broody vampire than an appliance salesmen. But hey... Writers block hit about the same time my range went out so no broody vampires for me.

The icing on the cake was my cousin had her baby and needed my help watching her other kids. So, I headed north, well as far north as I like to be, and stayed there for a while. Again, no writing happened. Why? Writers block? Or the fact that my extended family has as many kids as I do and they are constantly on the go. My head was spinning. I came home from that to find that the inside glass on my new ranges oven door had shattered in a blast that would have made an asteroid proud.

"Hon, are you just going to stand there looking at it," My husband asked probably ten times before I finally answered.

"Yes, because the shatter pattern in the larger pieces look like snowflakes and that idea I had on the drive home is gone" Still no broody vampires for me and what was worse, I wanted to cry.

Then of course there was the two day ice storm that took out the power and shredded my internet connection. If it wasn't one thing it was another. The kids thought mom had lost her mind. I just kept wandering around asking, "What was that idea again?"

As I write this, I am realizing that my eldest daughter will turn 21 in about ten hours and I can't help but wonder where the time went and how I made it this long without even trying to get published. Well, I did make one effort but it wasn't much of an effort.


Does that seem at all familiar? I'm sure it does. You found our way to writing.com for a reason and though for a few it might be to spread the word about a book you have published, for most of us we find our way here because we want to know if we are good enough.

Those first reviews are murder, as you learn to separate out your emotions from your project. With the help of those you meet here you find your voice and your path. You start to write your story and bam... there it is, staring your right in the face. A week has past and that project you were so excited about hasn't been touched. Sure the house is clean, the kids are fed, or homework is done, but not your story. Nope, it's languishing over there some where just waiting on you to come back to it and every time you picture picking up with that last scene, you think I'll do it later. Right now I have something better to do.


Yes, it even happens to those of us who have been here and active long enough to become mods. The question is what do you do about it?

If you're like me and suffer with a seasonal mood disorder, you grit your teeth make your apologizes and pray really hard you didn't miss the deadline for your first issue of the Newbie Newsletter. Then you fight your way back. You find someone say with the same WDC anniversary as yourself and do a couple of reviews for them. Then, you hit the random review button and do a few more.

You remember not to beat yourself up about it. Broody Vampire will still be there tomorrow. You jot down a few notes to be considered when your ready to go forward, go outside and play, or better yet... Find a book written by your favorite author, find a warm sunny spot and read.

When your done, you stand up, dust yourself off, look that broody vampire in the face and say, "Not this time, we still have work to do."

It happens to all of us. Be it writers block or life (the most common cause of writers block). It happens to us all. Sometimes you have to just left life happen, just don't take to long before you kick it in the shins and get back to work.

The turning point for me? My Maytag man finally arrived and fixed my stove. So, the smell of freshly baked bread can once again waft through my house and open up the path to my creativity.

Need help finding your path? Join a group, request a review, do a review, make a friend. Sometimes the best cure for writers block is just a kind word from someone who knows your struggling. This site has many many people ready and wiling to help you become better. The better you are, the better we are.





The Lost Kingdom (E)
This is a Haiku poem about the Lost Kingdom
#

1980919

by marylou4
The life of a sim (E)
I was about to play The Sims and I just thought about this. Thanks for reading. :)
#

1980785

by F.T.Cleo
The Sims has helped me out of my slump more than once. I couldn't resist sharing this one!
A Sticker For His Suitcase (ASR)
He has his ticket. Today's the day.
#

1980776

by Robyn is PUBLISHED!
Washed Away in the Sands of Time (E)
Corroded by love
#

1980484

by Inspired Soul
Invalid Item
This item number is not valid.
#

1980474

by Not Available.
Invalid Item
This item number is not valid.
#

1980313

by Not Available.
Don't Speak (NPL)
OLD DRAFT - Go to item:1998357 for the full MS
#

1980269

by Robyn is PUBLISHED!
Are our thoughts of society wrong? (E)
People seem to think society is wrong, but does anyone really understand what society is?
#

1980251

by Emily A. Ervin
Learn to Dance in the Rain (13+)
Life is about learning to dance in the rain
#

1980200

by HelloDalek
Invalid Item
This item number is not valid.
#

1980033

by Not Available.



Have an opinion on what you've read here today? Then send the Editor feedback! Find an item that you think would be perfect for showcasing here? Submit it for consideration in the newsletter!
https://Writing.Com/main/newsletters/action/nli_form



Don't forget to support our sponsor!




| | |
| --- | --- |
| ASIN: 197380364X | |



So how are you going to combat life when it gets in the way?


| | |
| --- | --- |
| ASIN: B07K6Z2ZBF | |



To stop receiving this newsletter, click here for your newsletter subscription list. Simply uncheck the box next to any newsletter(s) you wish to cancel and then click to "Submit Changes". You can edit your subscriptions at any time.