Printed from https://www.writing.com/main/newsletters/action/archives/id/6227-Starter-tips-for-your-story.html
Romance/Love: March 26, 2014 Issue [#6227]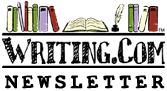 Romance/Love





This week: Starter tips for your story

Edited by: Lonewolf
More Newsletters By This Editor



1. About this Newsletter
2. A Word from our Sponsor
3. Letter from the Editor
4. Editor's Picks
5. A Word from Writing.Com
6. Ask & Answer
7. Removal instructions



Coming up with new story ideas is important to any fiction writer. Many writers have no shortage of ideas for stories...their problem is coping with having too many ideas. If you're like most writers, you probably have notebooks or computer files swarming with ideas. Yet sometimes, you reach that point where none of the stories in those swarms are right for you. This Newsletter will focus on creating a plot starter to focus on one story.

| | |
| --- | --- |
| ASIN: B01CJ2TNQI | |

The first cardinal rule of opening lines is that they should possess most of the individual craft elements that make up the story as a whole. An opening line should have a distinctive voice, a point of view, rudimentary plot, and some hint of characterization. By the end of the first paragraph, we should also know the setting and conflict, unless there is a particular reason to withhold this information.

Resist the urge to start too early. If you're anything like me you might be tempted to begin your narrative before the action actually starts, such as when a character wakes up to what will eventually be a challenging or dramatic day. Often, when we start this way, it's because we're struggling to write our way into the narrative, rather than letting the story develop momentum of its own. Far better to begin at the first moment of a large-scale conflict. If the protagonist's early-morning rituals are essential to the story line, or merely entertaining, they can always be included in back-story or flashbacks, when he/she wakes up for a second time.

Many romance plot conflicts stem from the careers of the hero and heroine. Think of possible careers for your characters, and then think of plots that can stem from those careers. You can find a lot of ideas this way, just by asking yourself who might have a dispute with someone in that profession. Is your heroine an Interior Designer? Maybe the hero is a Lawyer who distrusts all Judges. Perhaps your hero is a cop who has a problem with fellow member of the PD? Working from the seed of a career, you can also start to come up with ideas for your secondary characters.

If you feel compelled to begin a story with dialogue, keep in mind that you're thrusting your readers directly into a storm in which it's easy to lose them. One possible way around this is to begin with a single line of dialogue to draw back and to offer additional context before proceeding with the rest of the conversation a rare instance in which starting close up and then providing a panorama sometimes works.
But long sequences of dialogue at the outset of a story usually prove difficult to follow.

Sometimes a story evolves so significantly during the writing process that an opening line, no matter how brilliant, no longer applies to the story that follows. The only way to know this is to reconsider the opening sentence, like the title, once the final draft of the story is complete. Often a new opening is called for. That doesn't mean your first opening needs to be scrapped entirely; instead, file it away for use in a future project.

Tea and Blossoms (18+)
A woman's fate depends on the men in her life. A samurai tale.
#

934738

by Kotaro
A Quest For Seanna (WIP) (13+)
Dydion's bravest set out to stop a sorceress from ruining all they've ever loved.
#

277459

by caillefille
Shackled (Part 1) (OLD VERSION) (18+)
An ongoing novel about a girl who is captured and enslaved.
#

1245942

by Inky
The Rider's Return (13+)
Reworking this! Please, if you read the old, read the new!
#

486749

by Gwen wants her white knight
Invalid Item
This item number is not valid.
#

423579

by Not Available.
Crash Landing (ASR)
A crash landing is a horrible thing, but where it leads can be life-changing...
#

591480

by Shaara



Have an opinion on what you've read here today? Then send the Editor feedback! Find an item that you think would be perfect for showcasing here? Submit it for consideration in the newsletter!
https://Writing.Com/main/newsletters/action/nli_form



Don't forget to support our sponsor!




| | |
| --- | --- |
| ASIN: B07YXBT9JT | |


| | |
| --- | --- |
| ASIN: B085272J6B | Kindle |



To stop receiving this newsletter, click here for your newsletter subscription list. Simply uncheck the box next to any newsletter(s) you wish to cancel and then click to "Submit Changes". You can edit your subscriptions at any time.



Printed from https://www.writing.com/main/newsletters/action/archives/id/6227-Starter-tips-for-your-story.html