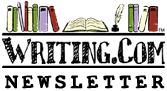 Noticing Newbies





This week: Paid Memberships for FREE!

Edited by: Reader? Check out 2233315
More Newsletters By This Editor



1. About this Newsletter
2. A Word from our Sponsor
3. Letter from the Editor
4. Editor's Picks
5. A Word from Writing.Com
6. Ask & Answer
7. Removal instructions




The Noticing Newbies Newsletter's goal is to make the newer members feel welcome and encourage them with useful information and/or links to make navigating Writing.com easier. Writing.com members of all ages and even veteran members can find useful information here. If you have specific questions, try visiting "Writing.Com 101"
and/or "Noticing Newbies"
.

Meet The Noticing Newbies Full-Time Newsletter Editors

| | |
| --- | --- |
| ASIN: B01DSJSURY | |



Paid Memberships for FREE!

In the past 24hrs as of this writing, we have 204 new members and 193 new items created. So needless to say, we're a busy bunch here and there are many opportunities to find items to read and review.

There are currently 530,055 members maintaining free memberships. Care to guess how many members maintain paid membership (of all levels added together)? You might be surprised. I know I was.

Only 2,136 members.


People maintain a paid membership for many reasons. When asked why people don't have a paid membership, I've never heard someone reply, because I don't want one or I wouldn't use one. It's usually something along the lines of "I really can't afford it right now". Well, I have a solution.

Before I tell you, let's see if you can guess how many new reviews have been posted in the last 24 hours? 375! That's one review every 3.84 minutes. Can you believe there have been almost four MILLION reviews sent since this site began? That's a lot of reviews! Can you imagine how many gift points have changed hands in the processing of those reviews? It's mind-boggling!


What Are Gift Points?

Writing.Com Gift Points are "virtual tokens" used within the community and website to advertise items and links, purchase products and memberships or show another member your sincere appreciation. Basically, Gift Points are like the tokens you buy in an arcade. You put a dollar in the change machine; you receive 4 tokens. At most arcades, each token is worth 25 cents. Here at Writing.Com, if you give us a dollar, we give you 10,000 Gift Points.


10,000 Gift Points = $1.00 US
Where Do I Find Mine?

You will find your Gift Point area by clicking the POINTS link in the left column navigation under the Writing.Com logo. From this area, you are able to Send Gift Points, Shop with Gift Points, and view your Gift Point Logs.


What Can I Do With Gift Points?
Shopping for Yourself: Gift Points may be spent on Writing.Com memberships as well as products from our "The Writing.Com Shop"
.

Shopping for Others: Gift Points may also be used to purchase products and memberships for other members.

Send Merit Badges and Awardicons: Show your appreciation for members and items on Writing.Com by awarding them

Advertising Items: All advertising of items and links within Writing.Com is done using Gift Points.

Add Auto-Rewards to Items: Increase your chances of getting those reviews by automatically awarding your reviewers with Gift Points.

Rewarding Authors: You can award Gift Points to an author when you submit your review or send them an email with Gift Points attached to it.

Rewarding Reviewers: Want to thank someone for a helpful review that they gave you? Send Gift Points right along with your thank you email.

That's right. You read that correctly. Writing.com will pay for your Writing.com membership through reviewing. You earn Gift Points reviewing and you can purchase and maintain your membership through being active on the site. How cool is that? In addition to gift points, the site also gives out CASH for reviews! Keep reading to find out more.


Okay, I'm ready! How Can I Earn Gift Points?
"The Review Mixer"
Writing.Com's Review Mixer program encourages member interaction. Each time you review a work of an author whom you have not reviewed before, the review system will automatically send you 50 Gift Points from the Review Mixer.
The Review Mixer runs special promotions quite often that increase review rewards, sometimes as much as
Five Times
! That's 250 gift points PER review!
"Daily Review Rewards"
Qualifying Reviews = Gift Points Award
1 to 2 = 25 GPs
3 to 4 = 75 GPs
5 to 9 = 200 GPs
10+ = 500 GPs
"Auto-Rewards"
Auto-Rewards stand out on the public listings, so they help members find the items that provide instant Gift Points for reviews, Writing.Com provides a listing of all items that pay reviewers for their efforts. The *Dollar* found at the top of each page links directly to the complete listing of these items.
In addition, all public listing areas can be resorted to "Best Reward First". Under each item that Auto-Rewards GPs, the system will display:
Auto-Reward: Item's author pays reviewers X,XXX GPs per review
Good Deeds Go Noticed! Contest
"Good Deeds Get CASH!"
First Place: $100 cash through PayPal
Second Place: $50 cash through PayPal
Third Place: $25 cash through PayPal
Each winner will also received an exclusive Good Deeds Merit Badge.
To learn all about the incentives mentioned above, see "Incentives For Reviewing"


Support Writing.com by being active! ~ Brooke


"One of America's most influential writing teachers offers a toolbox from which writers of all kinds can draw practical inspiration."
| | |
| --- | --- |
| ASIN: B000SEIW9E | Kindle |
[Related Links]

This month's links are to active reviewing groups in our community that also reward you for reviews with you guessed it - MORE GIFT POINTS!
"WdC SuperPower Reviewers Group"
by Maryann

Join the fun! We inspire reviewers through kindness and learning! A 2012 Quill Winner!


"Anniversary Reviews"
by Same Ol' Sum1

Celebrate Writing.Com member account anniversaries with reviews. Earn GPs and MBs.


"Showering Acts of Joy Group"
by Pat ~ Rejoice always!

Winner of 2013 Quill Award for Best Group


"Invalid Item"
by A Guest Visitor
A group dedicated to honest, and positive reviews. This is NOT a review request forum.


" The Rockin' Review Academy "
by Hannah ♫♥♫

A 4-8 week review workshop- Quality over Quantity






How do I choose items to highlight? First and most important - your title and brief description then after I open it up, I check to make sure you haven't made the mistake of leaving your item listed as "Other". For more on that read: [#5242] "Oh No, Don't Do That!"
then I check for proper rating and last (strangely enough) the effort you've put into writing. It doesn't have to be perfect, not at all. You just have to put forth the effort and it will be noticed.


Excerpt:


A baby.
It's the one thing that every woman should have the chance to have. It also happened to be the one thing that I wanted more than anything. My pulse sped and I smiled every time I thought about holding a baby in my arms, my baby.
Of course, that would mean I'd actually have to sleep with somebody. Or, you know, have any semblance of a love life.
I sighed and leaned back in the chair behind my desk and looked out the window the very anti-climactic view of the empty field outside my building. For the billionth time I wished that I had a nicer view. It would have been much nicer if anything happened in the field other than the occasional person cutting across it on their way to or from the bus station on the other side of it. Of course, it was just an offhand thought as my mind wondered to the topic that had been plaguing my waking thoughts for months.




~
~



Excerpt:


I hate the word 'blog'.

To me, it sounds like an onomatopoeia

summoned after an evening of gin and eggnog,

and followed by a bad case of diarrhea.




~
~



Excerpt:


She woke slowly but didn't open her eyes. Her head ached fiercely; the mother of all migraines bearing down on her, making her cringe. She groaned and burrowed deeper into the blankets, snuggling into the downy warmth surrounding her. She inhaled deeply and her brow furrowed as she realized that something was off. Her bed didn't smell like her; it smelled like… a man? That was odd. She moved and felt a sharp pain in her stomach. She hissed between her teeth, her hand dropping low to caress her abdomen under her t-shirt. Her eyes shot open in surprise; it was bandaged. The dim light of the room was still too much for her eyes to take. She blinked rapidly, trying to force the room into focus. The room obeyed slowly, the ceiling revealing itself to be made of wood. She frowned. Her ceiling was white, not cedar wood. She wasn't in her own room.




~
~



Excerpt:


Auctions, Raffles, Lemonade Stand
Opal awards are rather grand
Angel Aid and Amazing Quotations
Charity, upgrades, and donations.




~
~



Excerpt:


It had been seven days since the outbreak and five since they had abandoned the cars. They had used the last of their water the night before after they made their dinner of rice and unsalted sunflower seeds.
"Hey, I think I see a puddle up there! Finally, something to drink!" a blonde boy in a ratty tee-shirt and ripped jeans exclaimed.
"You can't drink that. It's stagnant." a dark haired boy replied dismissively.
"It's better than nothing!"
"No it's not. If it's stagnant there's going to be all kinds of bacteria and probably bug larva swimming around." the brunette girl, who was at the front of the group, retorted.




~
~



Excerpt:


I watched you as you paced in front of my bed, running your hands over the blonde fuzz laying claim to your scalp once more. You were crying again, like you had a few times too many. It was wrong for us to be together from the start, both so sick, both so weak. But somehow we stuck together through it all as different as our outcomes had been.

And then, there we were, you walking, talking, growing your hair back as I remained in the bed, consistently being told my family needed to make plans. What was I to wear? What songs did I want the church choir to sing? The entire time I answered I wasn't paying attention to my words. I was only focused on you, standing in the back of the room, tears pouring from your blue eyes, nails in between your teeth as you tried not to speak.




~
~



Excerpt:


When snow has fallen, 'cross the glen
with apples piled in the pen
Its good to sit about the fire
and on this fruit,to quench the mire:




~
~



Excerpt:


The water dripping down the front steps was the first indication that anything was wrong. The silence was the second. There should have been the sound of dogs announcing his arrival. He couldn't remember a time when he had come to visit without being greeted by the high pitched, frenetic barking of these or the many other dogs she had owned over his lifetime. To say he wasn't an animal lover was putting it mildly but while he hated those dogs he had to admit they were good company for an elderly woman on her own.

But now there was just silence. No dogs, no grating voice calling "Brian, is that you?" Yet when he stood, quietly, listening, he could make out the faint sound of the water, slowly making its way down the steps.




~
~



Excerpt:


The bravado of the crowd echoes throughout the whole stadium as the Great Ringmaster of Florence holds up his arms and introduces the rest of the gang: a group of rambunctious overly face-painted circus people whose looks, in other circumstances, would cause them to be sent straight to the mental ward, but after all this is "Il Grande Circo di Firenze" - The Great Circus of Florence. Multi-colored lights danced around the ceiling, and the dome-shaped tent magnified the shouts of the people. The paint on the wooden stands displayed faded colors of the rainbow and the patterns that lined up the stone pillars were barely even understandable. The smeared image of a golden lion had already lost its head, and the smiles of the circus people on the pillars were already blanketed by multiple layers of vandalism, the result of time making its mark on the old circus. With every year a letter from the gold embossment of the circus's name outside the big red dome dematerialized - but none of it mattered.




~
~



Excerpt:


For those who shook their heads,
and for those who only dreamt on beds.
For those who walk and run,
but don't look at the colour of the sky or sun.
For those who think the sky's the limit,
for those who don't know it's infinite.
For those who can speak and spell,
but have nothing to write or tell.




~
~



Have an opinion on what you've read here today? Then send the Editor feedback! Find an item that you think would be perfect for showcasing here? Submit it for consideration in the newsletter!
https://Writing.Com/main/newsletters/action/nli_form



Don't forget to support our sponsor!




| | |
| --- | --- |
| ASIN: B083RZJVJ8 | |


I received some wonderful feedback to my last newsletter [#6320] "Your Brain is Lying to You"
and I'm proud to share it with you.

From Connieann loves to write!

Okay, I answered your brain questions, scrolled to the bottom and looked at the answers, scrolled up to the look at the questions, and then back down again to see if I had looked correctly. Does that tell you something? LOL Good newsletter, Brooke!


Sounds like something I would have done. I'm glad you enjoyed it! Thanks for letting me know you enjoyed it. It's nice to hear your reaction.


From Kenzie

You had me until myth #5. Sorry but the "facts" do not show that mercury/thermisol doesn't cause autism. I get so tired of people saying this.

[Link removed from www.ageofautism.com] - Editors' Note: I removed the links because this site is flagged with a warning not to proceed by WOT - a Chrome add-on that will warn you of unscrupulous and scam sites.

[Link removed from; www.ageofautism.com] - Editors' Note:The author of this article is at least studying in the medical field, that's good. Unfortunately, he's not well respected by his peers (to put it kindly) in every link I can find when I went to research his name.

[Link removed from; www.collective-evolution.com] Editors' Note: This is an article written by an actor. I can find no qualifications when I searched him. They have no editorial bios on the site so I had to search him to find out anything about him. His links (some dead) are blogs and non-scientific studies which means they are only opinion.

When you're the parent of a child who changed overnight - after receiving massive doses of vaccines (to catch up after having been a sickly child for years) - you know that something in those shots damaged your child. When you're in groups of parents with the same kinds of stories - legs of you kid that didn't just swell slightly but that were swollen to 2 and 3 times their normal sizes and stayed that way for days, you know that something in the vaccines caused problems. When you had an outgoing kid one minute and one who barely wants to face the world ever after a series of shots, you know something caused the changes.

Sorry if I sound angry. I am. I'm tired of misinformation being passed around. And, isn't that what your newsletter was all about?

Thanks and God bless,
Kenzie


Hello and thank you for writing in. I'm sorry if your child has had a bad experience with vaccinations. I know many children have had reactions, which is true and can be found in medical studies available on the internet or any public library. However, the myth quoted was that they cause autism which is correctly written as they do not. I did my research and I stand behind it. Your links provided are not based in medical fact. They were blogs and/or media sites. There is no link in any legitimate medical study that vaccines cause autism. Can they cause reactions and medical conditions such as you mentioned (swollen legs, etc.)? Yes and that is something that is very unfortunate but many drugs, in fact most drugs, in society today have side effects. It's just a matter of weighing if the side effects are worth the good the drug or vaccine does for each individual. Again, thank you for writing in.~ Brooke



From Jewell

Thank you for your highlight! I couldn't believe it when I saw my little piece in your newsletter today. It really does help inspire me to do more work. :)



You're very welcome! Thanks for writing in!


From Joy

Great NL, Brooke, and what a great take on Brain!
I have to admit I bought on the Mozart effect, not for babies but for improving brain function. I tried writing to a CD made specially for that purpose, but the result was not good at all. I like complete silence when I write seriously. The only thing that music, which I love, did was to distract me.




I think music is great for infants myself but I don't think it can make them 'smarter'. Oddly enough, music distracts me too usually. Although, I can put on a television show that I've seen several times and it never bothers me, music - the exact opposite. Strange huh?



From Jeff

Great NL this week, Brooke! Very informative and I loved the way you presented information with a mix of facts, trivia, and questions.
Thanks Jeff! I am glad you enjoyed it. It was actually fun to write too.


From Michael Thomas-Knight

This was a fun and fantastic newsletter topic. I sometimes find when I write a story people will quote one of these myths and say, "Well, isn't it true that...(add false info here). I'll have to tell them, no, that isn't true. Most people accept info much too easily. I think for the most part writers like to get the facts straight before they put pen to paper.



Yes, I hope so. Though many times, you have heard something so many times that you don't realize it isn't a fact until someone points it out.
Thanks for writing in!



From Elle

Thanks Brooke, that was a fun and interesting newsletter.




Thank you! I really appreciate you letting me know. I'm glad you enjoyed it.



From Joto-Kai

The Mozart effect did work, it just only lasted about fifteen minutes, and it did not have to be Mozart. Anything that stimulates the mind would work.
Ten percent: Ignoring the "Dead Zone" fallacy, the ten percent idea is useful. It turns out that if people ask, "How can I do something ten times more effective?" -they often find it's an answerable question.



But sometimes an answer isn't always a solution.
Thanks for writing in.

| | |
| --- | --- |
| ASIN: B01CJ2TNQI | |



To stop receiving this newsletter, click here for your newsletter subscription list. Simply uncheck the box next to any newsletter(s) you wish to cancel and then click to "Submit Changes". You can edit your subscriptions at any time.